Facebook, Twitter get lashing on Capitol Hill — and brownie points for showing up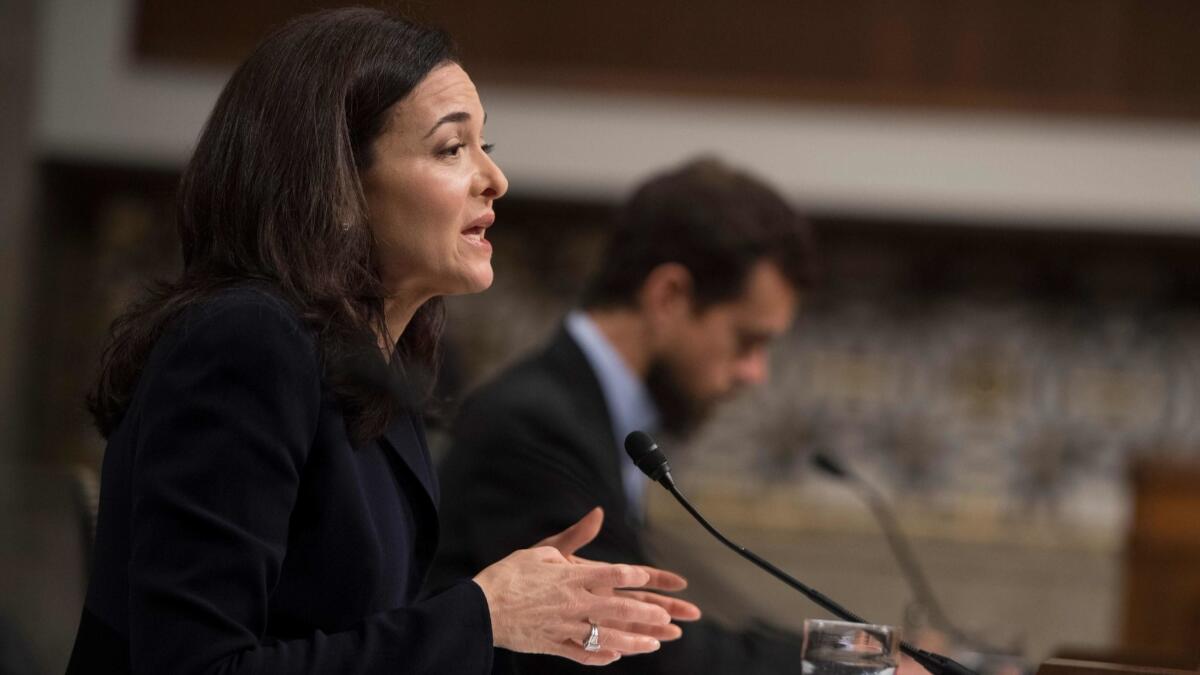 Lawmakers on Capitol Hill had no shortage of complaints for Facebook and Twitter at a hearing Wednesday. They decried the platforms' vulnerability to foreign influence, their arcane handling of user data and the perception that they buried conservative voices.
But members of the Senate Select Committee on Intelligence agreed the companies deserved credit for at least one thing: they showed up.
The same couldn't be said for Google, which was pilloried for refusing to send an executive on par with attendees Sheryl Sandberg, Facebook Inc.'s billionaire chief operating officer, and Jack Dorsey, Twitter Inc.'s chief executive.
Congress wanted to send a signal that Silicon Valley would no longer get a free pass — and that the laissez faire environment that has allowed them to reap billions in profits despite the vitriolic culture that social media has engendered was not guaranteed to last.
"There's an empty chair next to you from Google and they're not here today, and maybe it's because they're arrogant," said Sen. Marco Rubio (R-Fla.), who tussled with conspiracy theorist and InfoWars host Alex Jones outside the hearing in a bizarre example of online trolling come to life.
The Senate committee had invited Larry Page, chief executive of Google's parent company, Alphabet Inc. But Google declined and countered by offering to send its chief legal officer, Kent Walker. The committee rejected Page's replacement and Google submitted written testimony instead that focused on security measures.
Members of the committee wanted to ask about reports that Google was working on a censored search engine for China. The company has also been criticized for its handling of YouTube, which has also been exploited for foreign propaganda.
Google's absence comes at a time when social media titans such as Facebook and Twitter are trying to be on their best behavior.
These are delicate times for Silicon Valley, which is being blamed for amplifying social ills such as hate speech, selling personal information to the highest bidder and driving a deeper wedge into partisan politics.
The companies have responded by trying to police themselves by adding more moderators, introducing transparency in advertising and shutting down fake and automated accounts.
Still, lawmakers hinted Wednesday that industry regulations may be coming.
The "size and reach of your platforms demand that we, as policymakers, do our job, to ensure proper oversight, transparency and protections for American users and for our democratic institutions," Sen. Mark Warner (D-Va.), vice chairman of the Senate Select Committee on Intelligence, said in his opening remarks. "The era of the Wild West in social media is coming to an end."
After the hearing, in a move that echoed right-wing complaints about censorship, the Department of Justice issued a statement saying Atty. Gen. Jeff Sessions would meet with a number of state attorneys general this month to discuss "a growing concern that these companies may be hurting competition and intentionally stifling the free exchange of ideas on their platforms."
Investors responded gloomily to the proceedings. Shares of Twitter fell 6% Wednesday. Facebook shares declined 2.3%.
Sandberg's appearance before the Senate panel comes five months after her boss, Facebook Chief Executive Mark Zuckerberg, faced members of Congress in hearings that mostly underscored how ill-equipped lawmakers were to deal with the complexity of foreign influence and data privacy.
In prepared remarks, Sandberg reiterated Facebook's regret for not acting more swiftly to prevent foreign meddling on its networks in the lead-up to the 2016 election, and highlighted how much the company has done since to block fake accounts and limit data collection.
Those efforts have come at a considerable cost. Facebook, which has 2 billion users compared with Twitter's 300 million, reported disappointing second-quarter financial results that sparked a massive sell-off.
Dorsey alone faced the more partisan House Energy and Commerce Committee later in the day to address accusations of political bias on Twitter. Conservatives, led by President Trump, have accused Twitter of stifling right-wing voices on the platform. Twitter has vehemently denied censoring conservatives — and has even angered critics on the left for allowing Jones back onto the social network after a brief suspension.
"I want to start by making something clear: We don't consider political viewpoints, perspectives, or party affiliation in any of our policies or enforcement decisions," Dorsey said during his opening remarks to the House committee. "Impartiality is our guiding principle."
However, Dorsey gave some credence to the belief that Twitter was suppressing conservative accounts in its search field — a charge dubbed "shadow banning."
"Recently we failed our intended impartiality," Dorsey said. "Our algorithms were unfairly filtering 600,000 accounts, including some members of Congress, from our search auto-complete and latest results. We fixed it."
Dorsey said the company's algorithm did this because it weighed the "behavior" of people following the accounts.
Still, critics called charges of censorship dubious. The hearing, they said, was political theater. That's because Twitter has no obligation to uphold the 1st Amendment; free-speech laws apply only to government entities.
"Other than election-related activity of non-U.S. actors, there is almost nothing Congress can do when it comes to policing speech in any medium, as Congress surely knows," said Larry Downes, project director at the Georgetown Center for Business and Public Policy.
"The platforms can voluntarily police their sites all they want, but as we've seen in the last few years, starting down that path never leads to a destination that anyone thinks is better than where we started. These hearings are almost entirely for show."
Google apparently felt the same way about the Senate hearing. In a prepared statement, the company said it had already met with committee members over the last 18 months and reiterated that Walker, the company's chief lawyer, was the best person to address foreign influence.
"We had informed the Senate Intelligence Committee of this in late July and had understood that he would be an appropriate witness for this hearing," a Google spokesperson said.
Rubio used the company's absence as the impetus to ask Sandberg and Dorsey about whether they retain their company values in foreign markets with nondemocratic leadership.
"Are your companies really built on these core values or are they global companies like all these other companies that come around here, who see their No. 1 obligation to make money?" Rubio said.
He cited Twitter's willingness to block government critics in Turkey and reports that Facebook had worked on a program that would restrict certain content depending on a user's geography.
"We support our principles all around the world," Sandberg responded.
Dorsey said Twitter has to comply with local laws. He said people in Turkey are still able to read banned accounts by using virtual private network software.
Separately, Rubio appeared to have gotten into an altercation with Jones outside the hearing, video shows. Jones, whose content has been taken down by YouTube and Facebook, wanted Rubio to address allegations that the platforms are censoring conservatives.
"Don't touch me again," Rubio told Jones after the host patted the senator on the shoulder during an interview with reporters. Jones called Rubio a "frat boy" as the senator walked away.
Twitter: @dhpierson
---
UPDATES:
11:10 a.m.: This article was updated with Twitter Chief Executive Jack Dorsey's remarks before the House Energy and Commerce Committee and comments by media experts Larry Downes and Jennifer M. Grygiel.
10:15 a.m.: This article was updated with an announcement by Atty. Gen. Jeff Sessions.
9:40 a.m.: This article was updated with remarks by Sen. Mark Warner and an account of an altercation between Rubio and conspiracy theorist Alex Jones.
8:25 a.m.: This article was updated with remarks made at the hearing, including those by Sens. Marco Rubio and Ron Wyden.
This article was originally published at 6:40 a.m.