Soylent CEO charged over defiance of permits and codes for 'unsightly' container home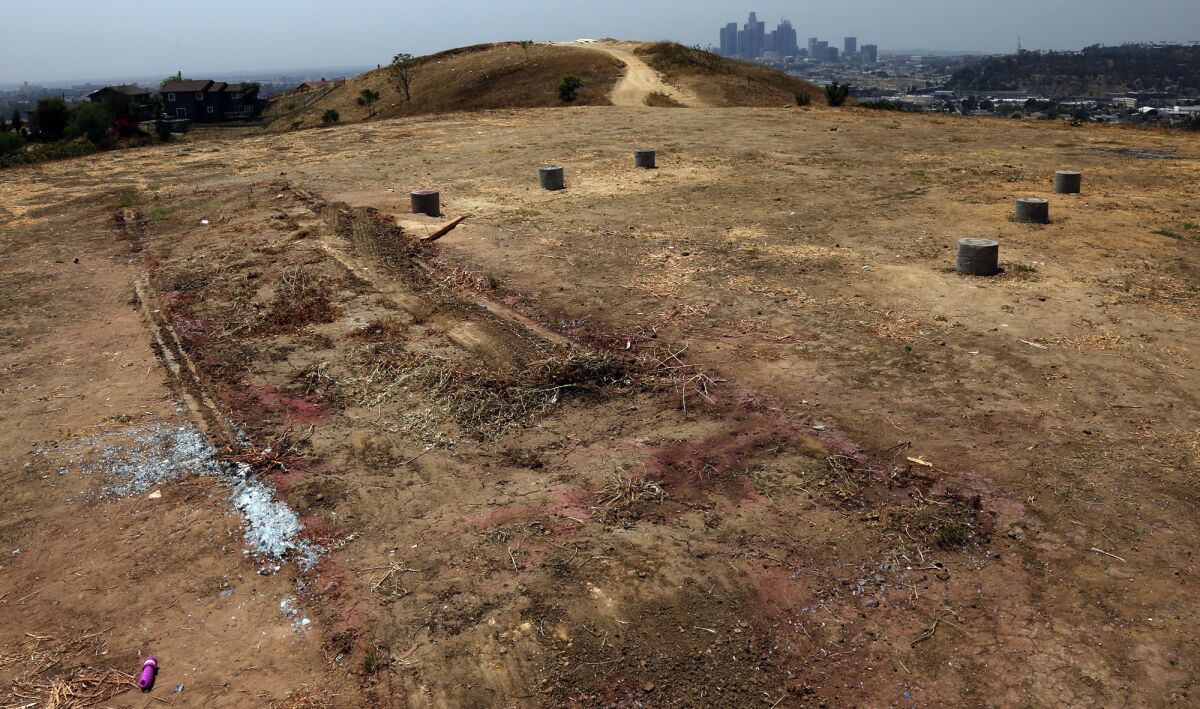 Neighbors say it could have been a smart urban project: a shipping container converted into an "experimental living facility." But all that's left now are empty beer bottles, graffiti-stained dirt and a bunch of lingering bad feelings.
Meant to be a home for one of Los Angeles' new start-up stars, the large, metal box got hauled away on a flatbed truck Thursday afternoon, just hours before city prosecutors charged Soylent Chief Executive Rob Rhinehart with unpermitted construction and other violations.
The charges are the culmination of a months-long dispute between Montecito Heights — an evolving hilltop community with gorgeous views of the downtown Los Angeles skyline — and container owner Rhinehart.
Several neighbors, most who sought anonymity for fear of retribution from Rhinehart and fellow residents, said they didn't mind the bright red container when they first saw it dragged up into the artsy community where nouveau riche meets Latino immigrants. One woman even thought it was a temporary art installation.
"Tech and Silicon Valley attract strange thinkers, people who think outside the box, and you get people seeking alternative lifestyles," said one man living on the hillside.
But over time, it became a vandalized graffiti eyesore and a magnet for unwelcome visitors who for years have flocked to the hill looking for a place to drink, make out or watch Dodger Stadium fireworks.
Neighbors fumed that Rhinehart skipped a permitting processes that they have been forced to endure as one-story homes rise into more elegant, three-story edifices. Further, Rhinehart plopped down the container with no fence on a vacant lot of 8,422 square feet, which property records show he bought in January for $21,300. And he was almost never there.
Rhinehart didn't respond to requests for comment on the charges against him, and he's declined to elaborate about the inspiration for his container. But he's made a business out of championing a fresh way of life.
Soylent, an all-in-one thick drink meant to be a quicker alternative to food, is adored by many techies in Silicon Valley, where innovation and envelope-pushing are often embraced. Some neighbors said that renegade philosophy may be one explanation for Rhinehart's alleged defiance of city orders in January and April to remove the container. After all, the name of the start-up borrows from the dystopian 1974 film "Soylent Green."
------------
FOR THE RECORD
This article states the film "Soylent Green" debuted in 1974. The film came out in 1973.
------------
Flat Top, as locals refer to the hill, encompasses mostly private land at the end of steep streets on the border of Montecito Heights and Lincoln Heights. Longtime residents say they'd find deer, goats and even wild grapes there.
"I'm not objecting to development up there," said Eva Fierro, an area resident since 1960, while standing at her front gate. "But why can't we have open land and respect it?"
Parties and church gatherings are common on Flat Top too. But people in the area said Rhinehart took it too far with a Fourth of July party that ended with bottles of Soylent, ashes from a barbecue and other trash left about. Ashes remained Friday along with empty Smirnoff and Corona bottles and medicinal marijuana carriers that are found across the entire hilltop.
The container "might have been a great idea, but it was stupid in its implementation," said one man who regularly walks up the hill and picks up trash. Because visitors "don't have great appreciation for private property," the container was simply in a bad location.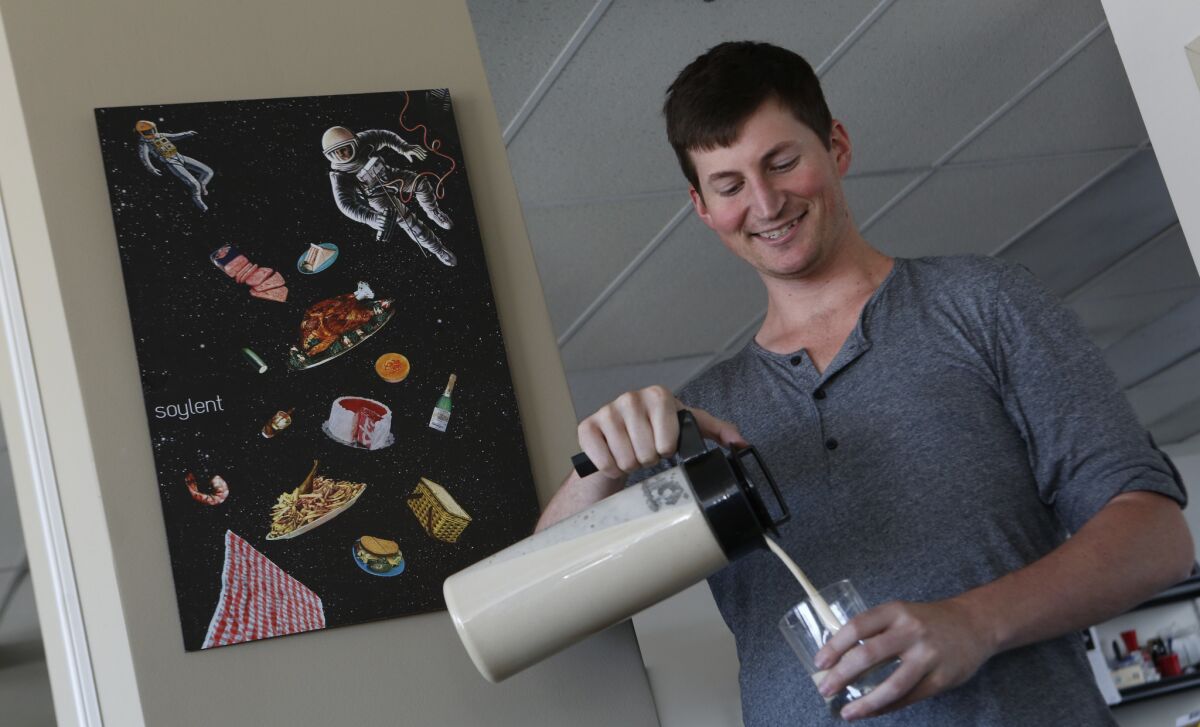 As neighbors complained on the neighborhood discussion app Nextdoor and at dinner parties in recent weeks, Rhinehart vowed to move the structure to a new location. But city inspectors were already working with the city attorney's office to bring charges.
He is scheduled to be arraigned Sept. 7 and faces up to two years in jail and $4,000 in fines, prosecutors said Friday.
"Unpermitted structures pose a safety risk," City Atty. Mike Feuer said in a statement. "They also can be unsightly and erode the quality of life in a neighborhood."

Rhinehart met with the city attorney's office last month, but he allegedly refused to remove the container and agree to a timeline for complying, the office says.
READ: Criminal complaint against Rob Rhinehart »
In media interviews, Rhinehart has complained of a rough neighborhood and the lack of police support to protect the thousands of dollars in improvements he said he made to the area. He maintains another home elsewhere.
Rhinehart is hardly the first tech entrepreneur to get in trouble with the neighbors.
In 2013, Napster co-founder Sean Parker paid $2.5 million to settle Coastal Act violations related to his lavish wedding in Big Sur, which involved construction of a stone bridge, faux cottage and pond, stone archway, rock walls, stairways and a dance floor.
Mark Zuckerberg drew the ire of his neighbors in Kauai this summer when a rock wall was constructed on his property, blocking sea views and ocean breezes long enjoyed by residents, according to the Garden Island newspaper.
These actions are more common of high-ranking leaders, said Bernice Ledbetter, a faculty member in organizational theory and management at Pepperdine University.
"One of the dangers of leadership, when you get to a very high position and you're successful, you can begin to see yourself as not having to play by the rules that 'normal people' have to play by," she said.
But Charles O'Reilly, a professor of management at the Stanford Graduate School of Business, pegged the issue even more squarely as a Silicon Valley entrepreneurial trait.
"Silicon Valley, in my experience, has a disproportionate number of narcissists that are leaders," O'Reilly said.
The entrepreneurs believe they can change the world -- and effuse self-confidence, he said.
Rhinehart's vision for his property in Montecito Heights remains somewhat of a mystery, but he's remained confident in Soylent as a world-changer and venture capitalists have bet more than $20 million on the company.
In a blog post last summer, he wrote, "For its nutrition, Soylent 2.0 is perhaps the most ecologically efficient food ever created. You may think me smug but I and many other people have poured their lives into creating something amazing and we have every right to be proud of it."
Twitter: @peard33
ALSO
Review: Tesla's Autopilot makes for a smooth highway cruise
Phone companies could stop robocalls. They're just not doing it
'Pokemon Go' creators working to let real-world locations opt out as Pokestops
---
UPDATES:
4:35 p.m.: This article has been updated with additional details.
This article was originally published at 9:10 a.m.