Tinder co-founders and execs file $2-billion lawsuit saying the dating app's owners cheated them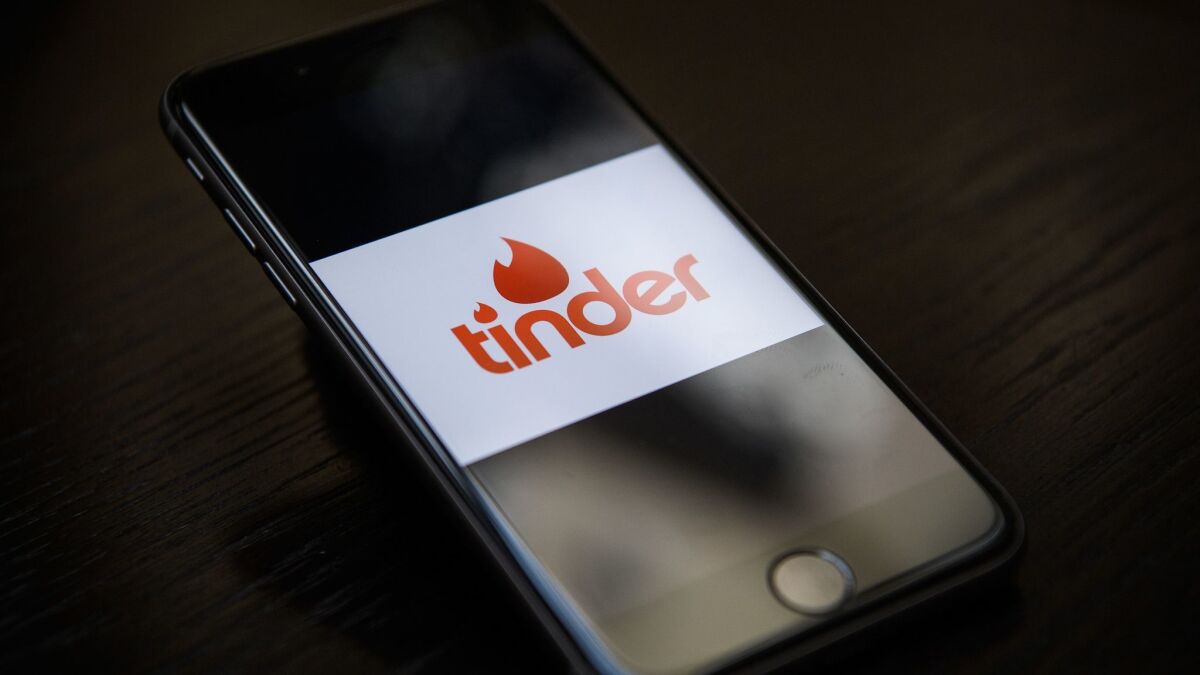 The co-founders of Tinder and seven current and former executives have filed a lawsuit against the dating app's parent companies alleging that the firms undermined the app's valuation to deny them billions of dollars' worth of stock options.
The lawsuit, filed Tuesday in New York state court, seeks a minimum of $2 billion in damages from IAC/InterActiveCorp and its subsidiary Match Group Inc.

For the record:
9:35 a.m. Aug. 14, 2018An earlier version of this post said there were eight current and former Tinder executives among the plaintiffs. There are seven.
The plaintiffs, who include Tinder co-founders Sean Rad, Justin Mateen and Jonathan Badeen, allege that IAC and Match repeatedly falsified financial information to lowball the app's valuation. That prevented bigger payouts to the co-founders and executives, the suit says.
"Under the contracts between IAC/Match and the employees, the more valuable Tinder becomes, the more IAC/Match is required to pay," the plaintiffs said in a statement.
IAC and Match said the lawsuit had no merit, stating that they have paid Tinder's founders and employees billions of dollars in equity compensation and that the valuation process was conducted properly with independent oversight from two investment banks.
"Mr. Rad (who was dismissed from the Company a year ago) and Mr. Mateen (who has not been with the Company in years) may not like the fact that Tinder has experienced enormous success following their respective departures, but sour grapes alone do not a lawsuit make," IAC and Match said in an emailed statement.
West Hollywood-based Tinder was founded in 2012 out of Hatch Labs, an incubator jointly owned by IAC and Xtreme Labs. The app is largely credited with introducing a sea change in the way mostly young adults connect to date and hook up.
The lawsuit alleges that IAC agreed to set valuations of Tinder four separate times: in 2017, 2018, 2020 and 2021. Based on those valuations, the plaintiffs would be able to exercise their stock options and sell the shares to IAC — and since the plaintiffs owned more than 20% of Tinder, buying the shares would be a considerable cost for IAC, the suit says.
IAC and Match undermined the agreement by spreading "false, misleading and incomplete financial information and projections" about Tinder and securing a lowball $3-billion valuation for Tinder in 2017 based on those bogus numbers, the lawsuit alleges. Then, it contends, the companies converted the plaintiffs' undervalued Tinder stock options into an unfairly small amount of Match stock options.
To carry out the scheme, the plaintiffs say, Rad was removed as Tinder's chief executive and replaced with Match Chairman and CEO Greg Blatt. The suit describes Blatt as a "lackey" for Barry Diller, IAC's chairman.
Blatt remained interim CEO of Tinder through the 2017 valuation process and a subsequent merging of Tinder with Match — a merger the plaintiffs said had no justification other than to keep them from reaping "the future upside of Tinder."
Based on the $3-billion valuation, IAC and Match converted all the plaintiffs' Tinder stock options into Match stock options and terminated the valuations set for 2018, 2020 and 2021, the lawsuit says.
The lawsuit also alleges that Blatt groped and sexually harassed Rosette Pambakian — Tinder's vice president of marketing and communications, who is a plaintiff in the suit — at a 2016 holiday party in Los Angeles.
Pambakian is one of four plaintiffs who still works at the company. The others are Badeen, who is Tinder's chief strategy officer; James Kim, vice president of finance; and Joshua Metz, director of marketing.
The former executives involved in the suit are Paul Cafardo, who was director of engineering; Gareth Johnson, former lead designer; Alexa Mateen, who had been head of U.S. expansion; and Ryan Ogle, the app's former chief technology officer.
Tinder has been marred by controversy over the years. Rad and Justin Mateen were sued in 2014 by a former female executive alleging sexual harassment and discrimination. The suit was resolved two months later without admission of wrongdoing, and Justin Mateen left the company. The plaintiff, Whitney Wolfe, went on to launch Bumble, a rival dating app.
david.pierson@latimes.com | Follow me @dhpierson
---
UPDATES:
2:55 p.m.: This article was updated with additional information from the lawsuit and background information.
11 a.m.: This article was updated with a statement from IAC and Match.
This article was originally published at 9:20 a.m.
---