Marissa Mayer says Yahoo has transformed into mobile-first company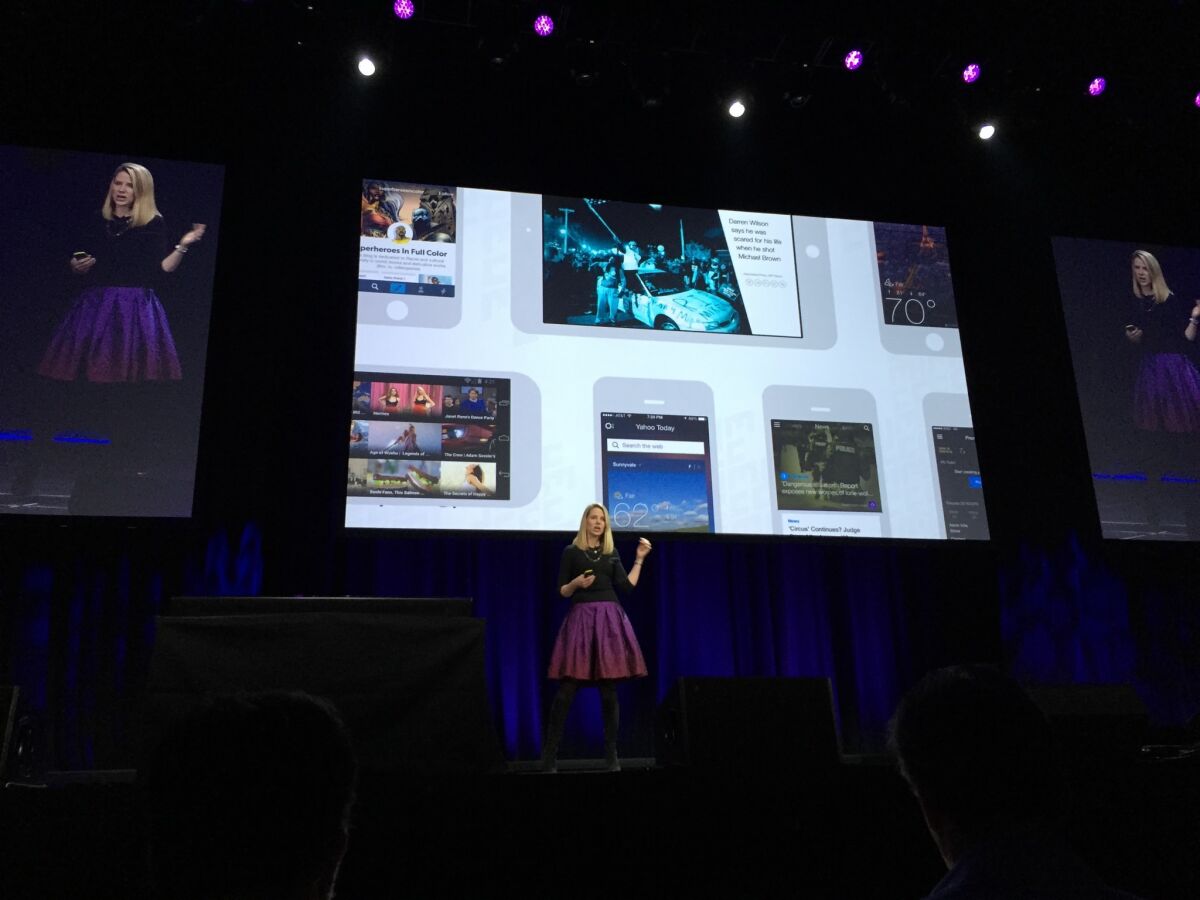 For Yahoo these days, it's all about mobile.
At its first-ever mobile developers conference Thursday, the Sunnyvale, Calif., tech company shared some impressive stats about the growth of its app business. In the last two years, Yahoo has increased its internal mobile apps team to 500 people from 50; last year, its mobile gross revenue reached $1.2 billion.
"Over the past few years we've really reinvented our business with a mobile focus," Chief Executive Marissa Mayer told attendees. "The opportunity here is huge."
Mayer, speaking to a crowd of more than 1,000 developers and journalists at the Masonic in San Francisco, noted that the average smartphone user in the U.S. spends 177 minutes on his or her device daily, 88% of that time on mobile apps.
"Mobile apps have won," she said. "You've made the right choice."
Now Yahoo wants to help "move mobile forward" for its users, developers and advertisers. To that end, it introduced a new mobile developer suite of services designed to help developers measure, advertise, monetize and enhance their mobile apps.
Among the new tools is mobile ad network Yahoo App Publishing. Developers can use the resource to integrate native ads from Yahoo's Gemini marketplace and video ads from its BrightRoll video ad platform subsidiary into their apps.
There's also a new offering that enables developers to integrate Yahoo Search directly into their apps, so users can search the Web within an app.
Mayer encouraged developers to take advantage of the app technologies, including its mobile management and analytics tool Flurry, which Yahoo purchased in July for more than $200 million. There are now 200,000 mobile app developers who have built 630,000 apps on the Flurry platform.
"We want to help you take your apps from being great apps into being great businesses," Mayer said.
Follow Andrea Chang on Twitter.
---