PayPal bails on Facebook-led Libra cryptocurrency dream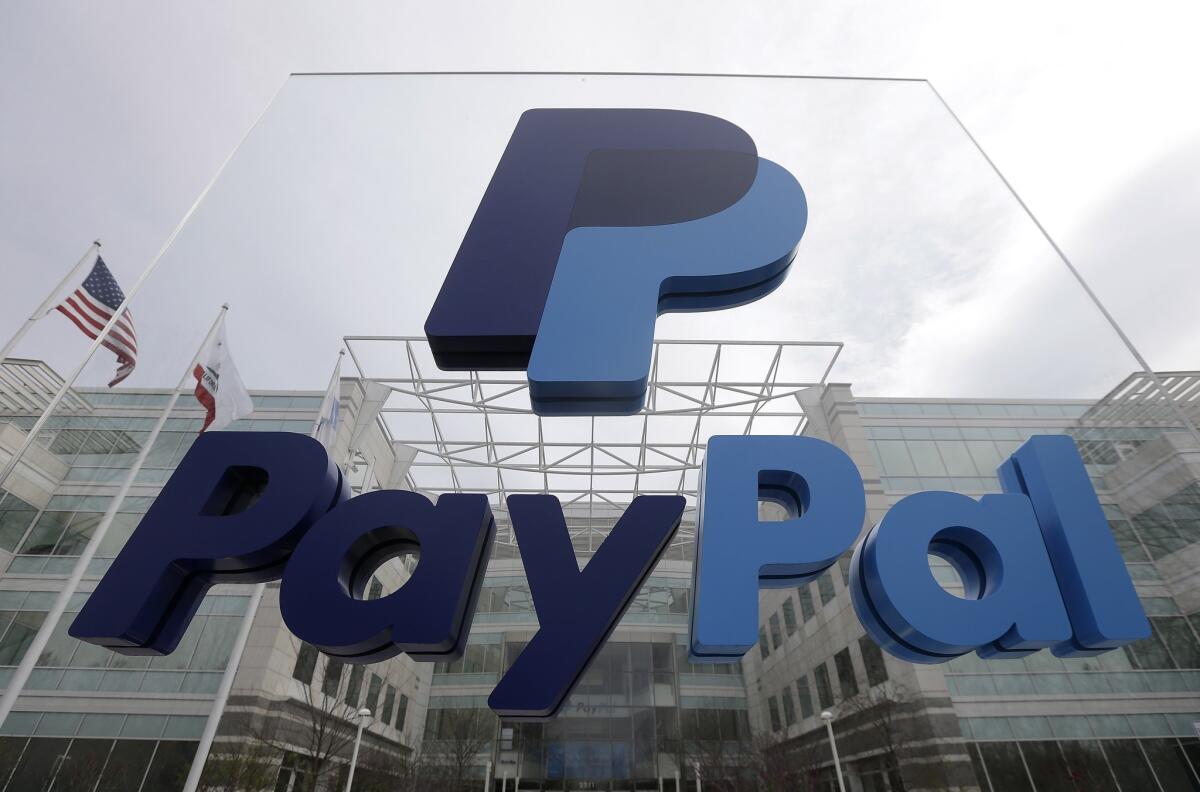 PayPal Holdings Inc. pulled out of the Libra Assn., dealing a blow to Facebook Inc.'s effort to develop a digital currency.
"PayPal has made the decision to forgo further participation in the Libra Association at this time and to continue to focus on advancing our existing mission and business priorities as we strive to democratize access to financial services for underserved populations," the San Jose payments company said Friday in an emailed statement. A Facebook spokeswoman declined to comment.
Several founding members of the Facebook-led project have been wavering over whether to fully embrace the effort because they're concerned about maintaining positive relationships with regulators who have reservations about the initiative, people familiar with the matter said this week.
Concerns that PayPal might back away from the project intensified Thursday when the company was mysteriously absent from a meeting of Libra Assn. members in Washington. All of the other original partners were in attendance, according to people familiar with the situation who asked not to be identified discussing a private meeting.
PayPal's decision to bail is notable because David Marcus, the Facebook executive leading the initiative, had been president of PayPal. Facebook's blockchain team also has many former PayPal employees.
The Libra Assn., a group of companies Facebook has assembled to oversee the cryptocurrency, has 28 founding members. The organization has asked these members to reaffirm their commitment to the project later this month, according to three people familiar with the matter. Before Libra was unveiled, the companies signed nonbinding letters of intent to explore joining the association.
Dante Disparte, head of policy and communications for the Libra Assn., confirmed PayPal's move and said the first Libra Council meeting will take place Oct. 14.
"This journey to build a generational payment network like the Libra project is not an easy path," he added in a statement. "We recognize that change is hard, and that each organization that started this journey will have to make its own assessment of risks and rewards of being committed to seeing through the change that Libra promises."
Disparte also said 1,500 "entities" have indicated "enthusiastic interest" in being part of the association.
PayPal departed with amicable words. "We remain supportive of Libra's aspirations and look forward to continued dialogue on ways to work together in the future," the company said Friday. "Facebook has been a longstanding and valued strategic partner to PayPal, and we will continue to partner with and support Facebook in various capacities."
Facebook has presented Libra as a currency that could be used for digital payments, particularly outside the United States. It would be backed by real currency, unlike other digital currencies such as bitcoin and ethereum.
The Libra Assn., based in Switzerland, was supposed to give the currency project a comfortable arm's length distance from Facebook, which wouldn't own Libra.
Still, financial regulators and lawmakers have questioned Facebook's motives for creating a new digital currency, particularly in light of criticisms that the company's business model is too invasive of its users' privacy.
Rep. Maxine Waters (D-Los Angeles), chairwoman of the House Financial Services Committee, has demanded Facebook Chief Executive Mark Zuckerberg testify in front of her committee before Libra is rolled out. Along with privacy concerns, Waters has cited the potential for Libra to be used in money laundering and other financial crimes.
Republicans and Democrats and even President Trump have called for, in various degrees, for Facebook to be subject to U.S. banking laws — an arduous, complicated prospect — if the social media company moves forward with the Libra project. In response, Facebook reportedly has hired several prominent Washington lobbyists.
The Associated Press was used in compiling this report.