A mountain lion is attacking dogs in Simi Valley, and residents are on edge
After two attacks on small dogs, including a terrifying close encounter with a homeowner who fought vainly to save her pet, a mountain lion wearing a wildlife tracking collar is sticking around a Simi Valley neighborhood, keeping residents on edge.
The big cat's first reported attack was Wednesday night in the 5400 block of Evening Sky Drive. Michael Cheng's family was walking their dog near their house when the mountain lion pounced on the pet and then ran away, according to the Simi Valley Police Department.
The dog survived the attack and was treated by veterinarians.
A few hours later, about 12:57 a.m. Thursday, Cheng called police to report the mountain lion had returned and was lurking outside his front porch. But the animal got away again, jumping a fence and retreating into the wilderness before authorities could respond.
Cheng took photographs of the lion that show it lying outside a sliding glass door and peering into the house — "kicking back and taking it easy," said Simi Valley police Sgt. John Adamczyk.
An hour and a half later, the lion attacked another dog on the same street. A woman let her miniature schnauzer out to relieve itself, and when it saw the mountain lion, the dog charged the big cat and they began fighting.
Police said the dog's owner jumped on the puma's back and tried to pry its mouth open to save her pet,but when the mountain lion became more aggressive she ran back into her house. The dog was killed.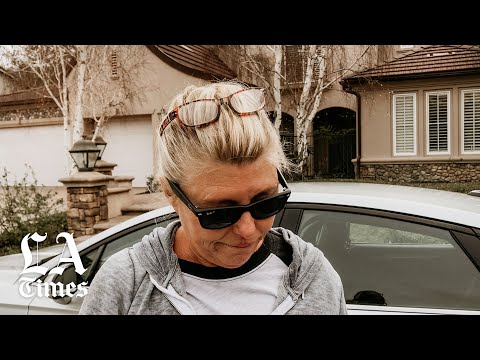 Ilene Dondlinger talks about fighting with the Simi Valley mountain Lion that killed her 10-year-old Miniature Schnauzer in her Silverthorne neighborhood in the Santa Susana Mountains of Simi Valley.
"When the officers entered the home and looked through a window facing the backyard, they observed a mountain lion lying on the grass and it appeared to be eating the dog," police said.
Police received three additional reports of puma sightings early Thursday in the northeast region of Simi Valley, and video showed the big cat had returned to the neighborhood the following night.
Social media users have commented on the animal's seemingly malnourished appearance. The mountain lion's ribs and shoulder bones protrude and the radio collar hangs loosely around its neck.
California Department of Fish and Wildlife officials say that, contrary to reports, the agency is not attempting to relocate the animal.
"Unless a lion exhibits an overt threat to a person, it's not deemed as a public safety threat," spokesman Tim Daly said.
However, Simi Valley police and Fish and Wildlife officials monitoring the area have the authority to use nonlethal weapons to tranquilize the big cat and then relocate it to a nearby habitat, he said. If the animal is tranquilized, wildlife researchers will recollar it with working equipment and release the animal back to its native habitat, said Ana Beatriz Cholo, a Park Service spokeswoman.
Residents who've had encounters with an aggressive mountain lion can apply for a depredation permit that allows officials to capture and euthanize the animal. But the woman whose dog was killed Thursday said she knows there are risks living in a mountainous area so she didn't apply for the permit, Daly said.
"I'm not saying they've moved into mountain lion territory, but you could see how this could happen. Wildlife is wild," he said.
National Park Service officials said they suspect — but cannot confirm — that the mountain lion in Simi Valley is P-35, a 9-year-old female who is one of the few lions studied in the Santa Susana Mountains. P-35 is the mother of P-44, P-48 and P-49.
Researchers lost track of P-35 about two years ago when her collar malfunctioned and they have been unable to track her whereabouts since, Cholo said.
Cheng said he's glad his dog survived its attack, but he is worried the lion will return.
"If you come at 12 a.m ... I am certain you will see this mountain lion," he said. "Humans have done nothing to deter this mountain lion. She will be back, you can count on it. She likes this neighborhood."
"We don't want to hurt a mountain lion, but Fish and Wildlife needs to relocate it."
Sign up for Essential California for news, features and recommendations from the L.A. Times and beyond in your inbox six days a week.
You may occasionally receive promotional content from the Los Angeles Times.