Rarely has there been a less likely fashion story: A motorcycle-loving emergency room nurse from Coronation, Alberta (pop. 940), creates a fashion line with the backing of a Canadian businessperson and the boost of a buzzy launch at Chateau Marmont attended by the likes of Kate Bosworth, Angela Bassett and Jaime King. The founder herself, Danita Short, calls it a "Pretty Woman story—minus the hooker part."
Bolstering Short's Hollywood reference is the fact that she met her financial backer, Laurie Venning, at a business-development conference at the Beverly Wilshire Hotel, which was famously featured in the film. Nothing else about the fashion label Land of Distraction relates to a kept woman, however. This is a tough-girl line of corduroy bellbottoms and garage jackets with a combined essence of Carhartt and the Summer of Love, with overtones of honky tonk. It's been heralded as L.A.'s newest hot label.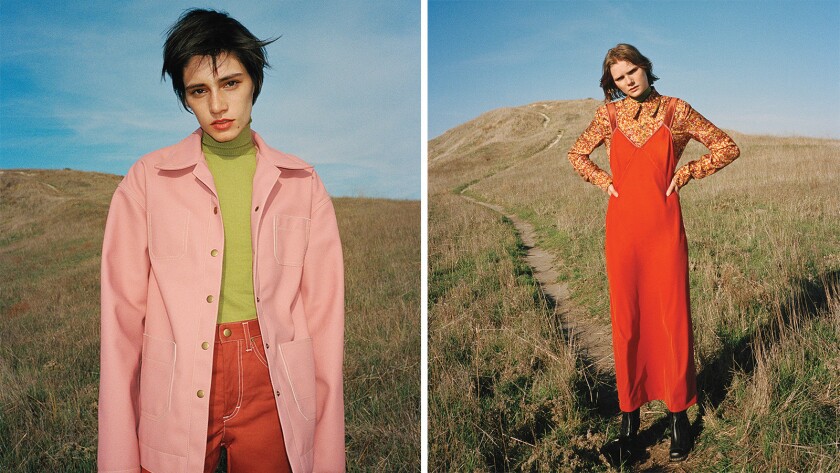 Slightly twisted color combinations—oranges, pinks and fern greens—belie the deeply luxurious nature of the fabrics, which are universally soft and a delight to feel. That may be the touch of creative director Christian Juul Nielson, whose deft hand was developed in part while working at Oscar de la Renta. Launched online in February, retailers including Barneys and Hudson Bay have asked to carry the line.
Short founded Land of Distraction while seeking an antidote to emergency-room burnout. In her pursuit of inspiration, she took off on a bike trip through Nashville, Memphis and Texas (there are pieces inspired by Graceland). Skirts, dresses and pants have big pockets because Short is far more than just a pretty woman. And now she lives in L.A. for part of the year, because, she says, "I ride motorcycles and the weather is good."
---