The escalation of the streaming wars. The devastation of the COVID-19 pandemic. The expansion of the movement to end police brutality against Black people and other forms of systemic injustice.
Had you asked us to augur the year to come at the start of the 2019-20 TV season, even those of us who follow it for a living would have been hard-pressed to come close to the truth of what's happened since. But with profound change comes possibility: This season, the medium of the moment — television — has not only the opportunity to change but the necessity — push forward, or fall away; grow, or die.
It's in that spirit that we've designed our fall TV preview, which is as much a look ahead to 2021 (and beyond) as it is to the autumn of this extraordinarily long year. And the future has a different shape depending on the lens you use to view it. Mary J. Blige — a multiplatinum artist reinventing herself as a screen star in the popular "Power" franchise — and Kingsley Ben-Adir — a classically trained Brit soon to appear as both Malcolm X and Barack Obama — are just two examples of the way Black talent is remaking the medium. With "Supermarket Sweep," ABC and Fremantle aren't just updating a beloved reality competition. They're doing so under coronavirus health and safety restrictions, in ways that may transform production forever. And TikTok, the viral social media platform singled out by President Trump, isn't just changing the way we consume current shows: It's also rewriting their past.
Perhaps most important, this moment of profound flux — in TV as in the world at large — is a moment to imagine what the art form should and could look like a year from now, or two, or 10. While we may not have all the answers, we can offer six: a heaping handful of glimpses into the near and not-so-near future of television.

TV will try to return to 'normal.' We shouldn't let it
Networked from remote locations, television during this time has had a dual quality of being both far-flung and extremely local, atomized and intimate. Whether talk show or drama or comedy — the first have been ongoing, the others more in the way of specials and experiments — they are all to some extent homemade: literally made at home, shot by the performers themselves or by family members. You don't get any more local than that. READ MORE >>>

Mary J. Blige has nothing to prove. Except to herself
"The accolades and the two Oscar nominations put me in a position of humility in this field. Now I have to work as hard as an Oscar-nominated actress. I have to be better than I was in 'Mudbound' and keep evolving and growing. I always want to make my peers proud — the Queen Latifahs, the Taraji P. Hensons, the Angela Bassetts, the Viola Davises. I want them to know I am working hard at everything, and I respect that they do so much that I'm not going to take an honor like this for granted." READ MORE >>>

TikTok users are obsessed with 'Criminal Minds.' They may change TV fandom forever
We're not just talking about casual fans here, either: Videos marked with the #criminalminds hashtag have been viewed over 1.5 billion times on TikTok, which is more than 10 times that of content posted under hashtags associated with other popular crime procedurals such as "Law & Order: SVU," "CSI" and "NCIS" ... combined. But the notion of teenagers and young adults creating and sharing digital content about a CBS crime procedural that premiered in 2005 shouldn't be written off as a humorous novelty. "Criminal Minds" TikTok videos offer a striking glimpse at television's streaming, and social, future. READ MORE >>>

Kingsley Ben-Adir is playing two American icons. Back in the U.K., 'there is no work'
"I'll just keep it mad real with you: There is no career for me in this country. There is no work. I haven't read a good script with a leading role or a decent solid role coming out of the U.K. for me in two years, and I went through my emails yesterday to make sure that that was fact. I spent my early 20s waiting to get to 30 so I could come to America and play interesting parts. They send me 'Gangs of London' here, and I'm supposed to get excited? You get a few scenes in a show on ITV and you're supposed to be grateful?" READ MORE >>>

The 'Supermarket Sweep' reboot wants to be a nostalgia trip to life before COVID-19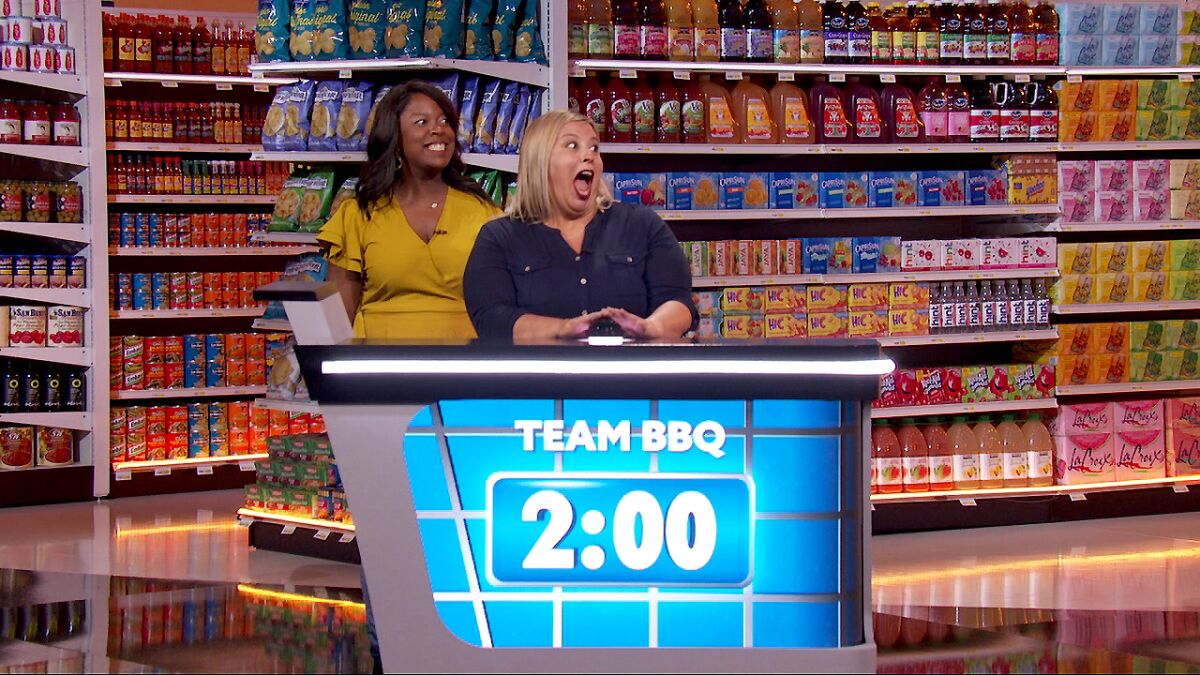 Despite being filmed during the pandemic, the tried-and-true "Supermarket Sweep" format wasn't overhauled to lean into the new normal of grocery shopping today. Early on, thought had been given to having the contestants wear masks, but producers quickly nixed that plan. And, no, viewers won't suddenly notice that vats of hand sanitizer, rafts of toilet paper and hard-to-find disinfectant wipes are big-money items in "Supermarket Sweep."
That isn't the reboot viewers need right now, producers say: "Game shows are supposed to be an escape. They're supposed to be a moment where you can just check out and live in a fantasy world and engage with the game material and scream at the contestant for not putting enough turkeys in their cart. We wanted to keep it pure and timeless just so it can be what it's supposed to be and nothing else." READ MORE >>>

The 15 TV shows you should watch this fall
In mid-May, just two months or so into the COVID-19 pandemic in the United States, we launched our summer TV preview with more than a little concern that we might, at some point in the not-too-distant future, run out of television. Now, as we turn our attention to fall — boy, time flies in a crisis — it increasingly seems as though those fears were misplaced.
Intrepid viewers all, the TV team here at The Times decided to use our fall TV preview to help you narrow things down. Here are the 15 TV shows we'll be watching this fall — and that you should be watching too. READ MORE >>>
---