Review: 'A View from the Bridge' a working-class Greek tragedy
Bill Nighy, left, and Carey Mulligan in a scene during a performance of "Skylight," which opened April 2 at the Golden Theater in New York.
(John Haynes / Philip Rinaldi Publicity)
Tracee Chimo, left, Jason Biggs, Elisabeth Moss and Bryce Pinkham during a performance of "The Heidi Chronicles," which opened March 19 at the
Music Box Theater
in New York.
(Joan Marcus / Jeffrey Richards Associates)
"Birdman" actress Emma Stone (center), took on Roundabout Theatre Company's "Cabaret." Pictured with Gayle Rankin, left, Andrea Goss, Kristin Olness, Stacey Sipowicz, Kaleigh Cronin and Jessica Pariseau.
(Joan Marcus / Roundabout Theatre)
Oscar winner Helen Mirren once again portrays Queen Elizabeth II in Peter Morgan's play "The Audience," directed by two-time Tony Award winner Stephen Daldry.
(Johan Persson / Associated Press)
Actress Carly Hughes and Sugarland singer Jennifer Nettles perform during a rehearsal for Broadway's "Chicago."
(Astrid Stawiarz / Getty Images)
Sienna Miller, center, and Alan Cumming, right, appear at the curtain call following her debut performance in Broadway's "Cabaret."
(Greg Allen / Invision / Associated Press)
"Nightcrawler" actor Jake Gyllenhaal, left, and Ruth Wilson stand onstage at the opening night curtain call of "Constellations" at the Samuel J. Friedman Theatre.
(Greg Allen / Invision / Associated Press)
Bradley Cooper, left, Alessandro Nivola and Patricia Clarkson perform in "The Elephant Man" at the Booth Theatre in New York.
(Joan Marcus / Associated Press)
"Wolverine" actor Hugh Jackman played The Man in "The River," a play by Jez Butterworth, directed by Ian Rickson, at Circle in the Square Theatre in New York.
(Richard Termine / Associated Press)
Film actors Ewan McGregor and Maggie Gyllenhaal made their Broadway debuts Oct. 30 in Tom Stoppard's "The Real Thing" in New York.
( Joan Marcus / Associated Press)
Gillian Anderson, left, famed skeptic Dana Scully of "The X-Files," plays Blanche DuBois, and Ben Foster, notably of "Six Feet Under," takes the role of Stanley Kowalski in the National Theatre production of "A Streetcar Named Desire."
(Johan Persson)
Four-time Tony Awards host Neil Patrick Harris returned to Broadway after the end of his long-running TV series "How I Met Your Mother" to play Hedwig in the first Broadway production of "Hedwig and the Angry Inch." The production opened April 22 at the Belasco Theatre.
(Joan Marcus / Boneau/Bryan-Brown)
Michelle Williams made her Broadway debut as Sally Bowles in April as part of the
revival of the revival of "Cabaret."
The production also features Alan Cumming, who was part of the 1998 revival, reprising his role as the decadent Master of Ceremonies.
(Joan Marcus / Polk & Co.)
Four-time Oscar nominee Annette Bening is no stranger to the stage having started her acting career in theater. Above, Bening performs a compilation of four Ruth Draper vignettes in "Ruth Draper's Monologues," scheduled to run through May 18 at the Geffen Playhouse.
REVIEW: Annette Bening pays fine tribute in 'Ruth Draper's Monologues'
(Allen J. Schaben / Los Angeles Times)
Zach Braff, left, with Nick Cordero, made his Broadway debut as David Shayne in the stage adaptation of Woody Allen's 1994 film "Bullets Over Broadway." Braff's breakout role was playing Dr. John Dorian in the long-running television series "Scrubs."
REVIEW: 'Bullets Over Broadway' misses the bull's-eye
(Paul Kolnik)
"CSI" alum William Petersen made his
Los Angeles stage debut
in this year's "Slowgirl" at the Geffen Playhouse.
(Katie Falkenberg / Los Angeles Times)
Scarlett Johansson made her Broadway debut in the 2010 revival of Arthur Miller's "A View From the Bridge," which also starred Liev Schreiber. Johansson won a Tony Award for her performance.
(Joan Marcus / Boneau/Bryan-Brown)
Tom Hiddleston
returned to the stage
as the title character in Shakespeare's "Coriolanus" after playing Loki in "Thor," "The Avengers" and "Thor: The Dark World." The production opened at the Donmar Warehouse in London on Dec. 17 to glowing reviews and continues through Feb. 13.
(Johan Persson / Associated Press)
Ethan Hawke took on the
title role
in the Lincoln Center Theater's production of "Macbeth" that opened on Nov. 21, 2013, and closed Jan. 12.
(T Charles Erickson / Associated Press)
Daniel Craig and Rachel Weisz's
"Betrayal"
was a
box office hit
even before it began its run on Broadway. The limited engagement opened on Oct. 27, 2013, and closed Jan. 5.
(Brigitte Lacombe )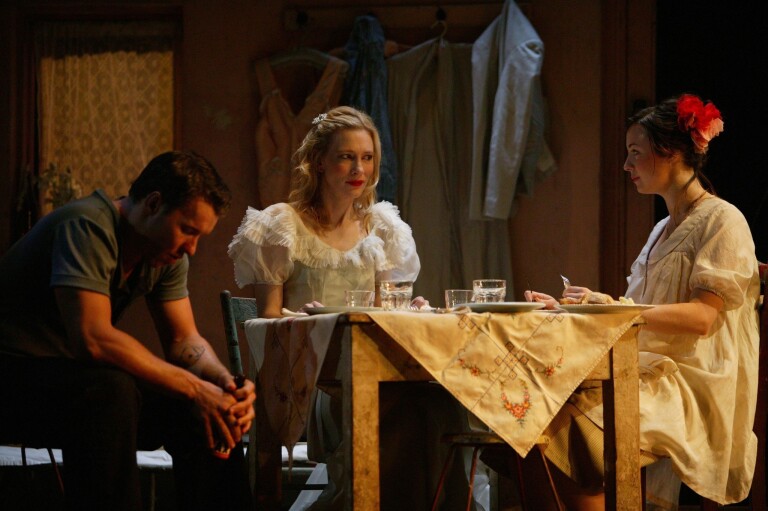 Cate Blanchett played
Blanche DuBois
in the Sydney Theater Company's 2009 production of "A Streetcar Named Desire" -- an experience that no doubt proved invaluable in creating the corresponding character in Woody Allen's "Streetcar" retelling, "Blue Jasmine."
(Lisa Tomasetti / Sydney Theatre Company)
Daniel Radcliffe went from boy wizard in "Harry Potter" to baring all in a Broadway revival of Peter Shaffer's 1973 Tony-winning play "Equus."
The casting of the "Harry Potter" frontman as the psychologically disturbed stable boy caused a stir as the then 17-year-old would appear nude in one scene.
Radcliffe
wowed critics
and earned a Drama Desk nomination for his role.
(Uli Weber / Associated Press)
The Hollywood icon made her Broadway debut in "The Little Foxes," Lillian Hellman's melodrama about a back-stabbing Southern family.
While Taylor's film career was waning, the limited run sold out the day it was announced. Taylor, then 49, earned a Tony nomination.
Taylor returned to Broadway, starring opposite Richard Burton, in "Private Lives."
The show aimed to capitalize on the public's fascination with couple's off-stage relationship (Taylor and Burton had twice divorced before starring together on stage), but it closed after 63 performances.
(Warner Home Video)
Kathleen Turner had a sizable on-screen resume before making her Broadway debut in a 1990 revival of "Cat on a Hot Tin Roof."
Turner played Maggie, a role recently reprised by Scarlett Johansson, and earned a Tony nod for her efforts.
In 2002, the actress took on the seductive role of Mrs. Robinson (pictured) in "The Graduate" opposite Jason Biggs and Alicia Silverstone.
(Ari Mintz / Newsday)
Scarlett Johansson starred as Maggie the Cat in a revival of Tennessee Williams' 1955 classic, which opened Jan. 17, 2013, at the Richard Rodgers Theatre.
(Getty Images)
Holland Taylor portrayed Ann Richards, the brassy blue governor of the red state of Texas, in a one-woman Broadway show.
"Ann," also penned by Taylor, marked the Emmy-winning actress' return to Broadway after three decades.
"I knew I had to get the persona, what made everybody so nuts for her, rather than the policy or the politics," Taylor recently
told The Times
of bringing the late politician back in the spotlight.
(The Hartman Group)
Bette Midler returned to the stage after a 33-year absence to play late Hollywood superagent Sue Mengers, who once repped Barbra Streisand, Gene Hackman and Ali MacGraw, among others.
Times theater critic
praised Midler's performance in the one-woman show,
writing that she was "galvanizing" in a role that "barely requires her to move anything but her mouth."
But when the Tony nominations came around, Midler's name was
noticeably left off the list.
(Richard Termine)
Oscar winner Tom Hanks made his Broadway debut in Nora Ephron's "Lucky Guy," her final play, about a New York tabloid journalist, at the Broadhurst Theatre on April 1.
(Joan Marcus / Boneau/Bryan-Brown)
Even as the web of "Spider-Man" stuck close to Andrew Garfield, he took time out to grab the spotlight on Broadway, playing Biff Loman in 2012's "Death of a Salesman" at the Ethel Barrymore Theatre for 16 weeks.
(Brigitte Lacombe)
Jessica Chastain's 2012 turn as heiress Catherine Sloper was lauded on Broadway, almost as much as her onscreen "Zero Dark Thirty" role. The production was live while the Oscar-nominated actress was in the midst of awards season, making for some rushed weekends.
(Associated Press)
Jude Law, who played the title role in 2009, and most of the British cast transported the Donmar Warehouse production from the Wyndham's Theatre in London to Broadway's Broadhurst Theatre after a successful run.
(Johan Persson / Associated Press)
Nicole Kidman is no stranger to sexy roles, but her 1998 turn in "The Blue Room" at Broadway's Cort Theatre may have set the bar for the Australian actress -- at least, on stage. In British reviews, she was even called "pure theatrical Viagra" as she and her co-star Ian Glen romp through what many called "a sexual daisy chain" in which an initial encounter is succeeded by nine others.
(Mark Douet)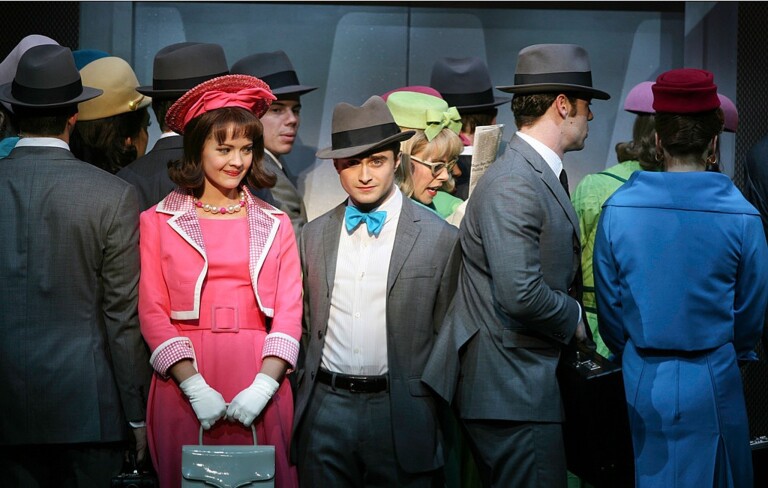 In the 50th anniversary Broadway revival, which opened on March 27, 2011, and was directed and choreographed by Rob Ashford, Daniel Radcliffe starred as J. Pierrepont Finch alongside Tony-winner John Larroquette's J. B. Biggley. The musical was housed at the Al Hirschfeld Theatre and ran for 473 performances.
(Ari Mintz)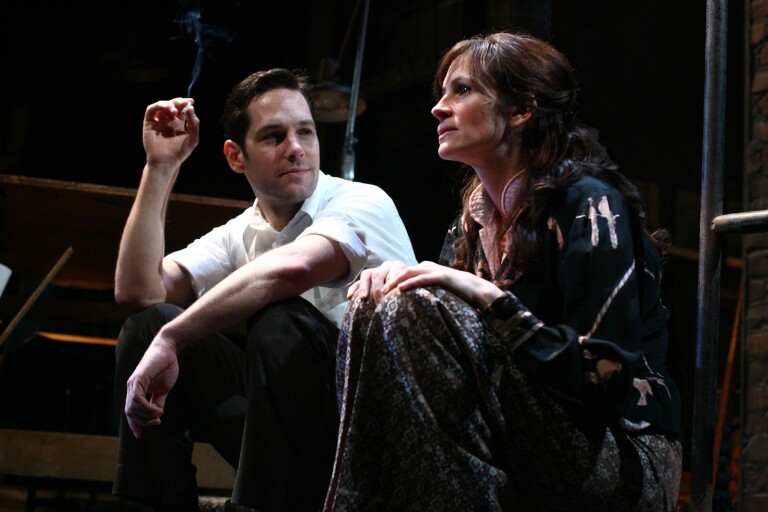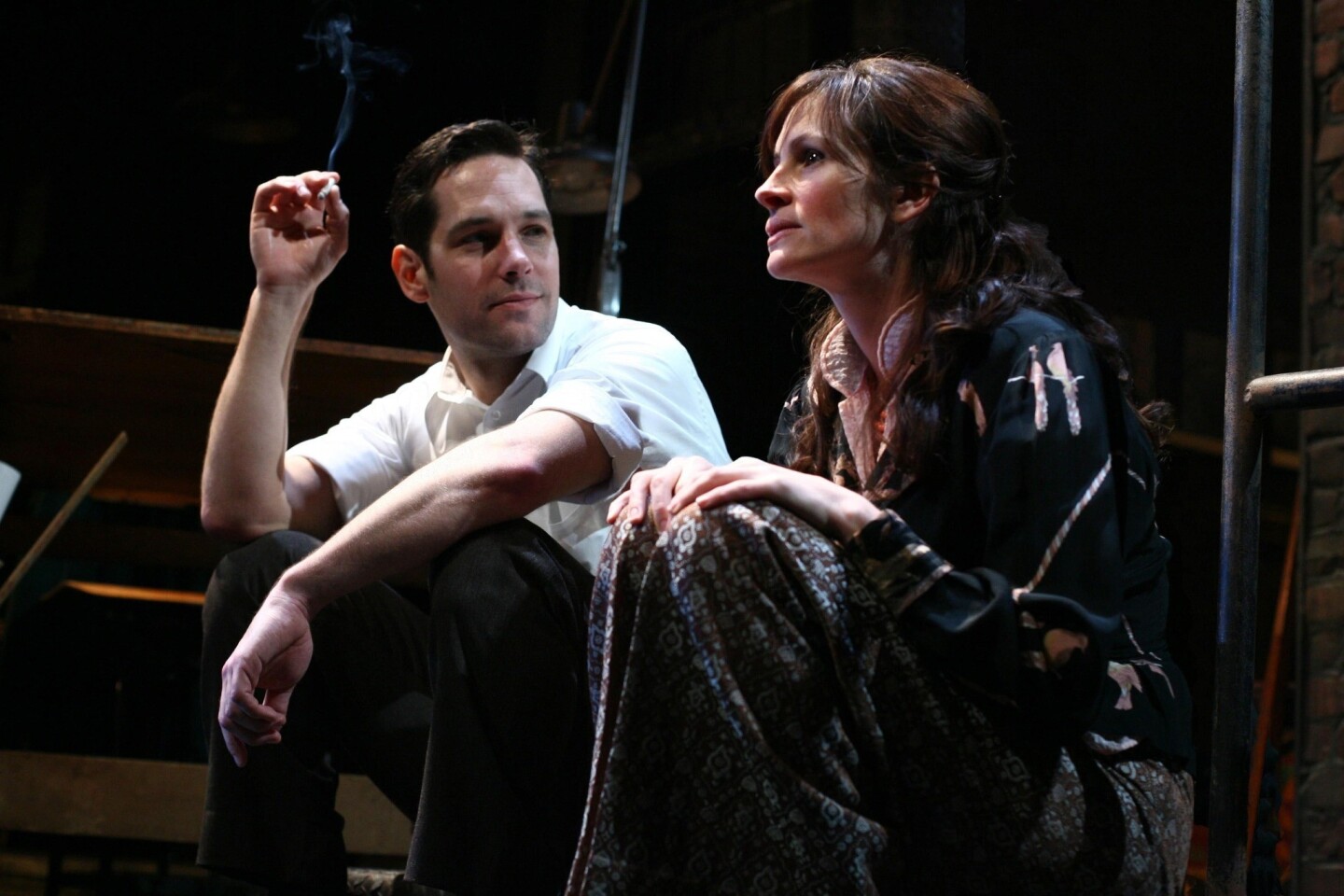 Julia Roberts made her Broadway debut in the revival of Richard Greenberg's "Three Days of Rain," which opened April 12, 2006. Paul Rudd, above, and Bradley Cooper also starred in the play that called for actors to play roles from two generations of family members.
(Joan Marcus / Associated Press)
Oscar winner Denzel Washington and Oscar-nominated actress Viola Davis portrayed Troy Maxson and Troy's wife, Rose in the 2010 version of "Fences." Their portrayals in the August Wilson play netted the pair lead actor Tony Awards.
(Joan Marcus / Associated Press)
Daniel Craig and Hugh Jackman, both with impressive stage and screen credits, starred in Keith Huff's "A Steady Rain."
The two-person play, which cast the duo as a pair of cops, opened Sept. 29, 2009.
(Joan Marcus / AP)
Oscar-winner Al Pacino got to recite the famous "Hath not a Jew eyes" speech multiple times as Shylock in both the 2004 film and the 2010 Broadway production of "The Merchant of Venice."
(Joan Marcus / Associated Press)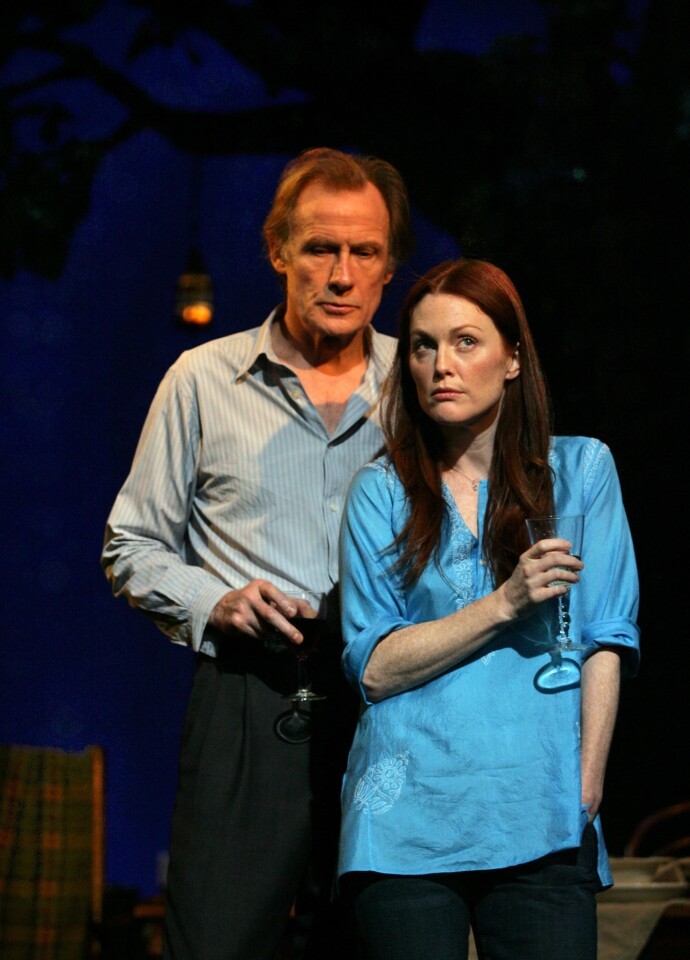 On the big screen, Julianne Moore was helping release "Children of Men" in 2006. But on stage at the Music Box Theater, Moore had her Broadway debut as Nadia Blye in a play that, on the surface, deals with tension caused by the 2003 invasion of Iraq. Bill Nighy co-starred with Moore in a production directed by Sam Mendes that ran until March 2007 after a run of 23 previews and 117 performances.
(Ari Mintz / Newsday)
In some ways, Arthur Miller's "A View from the Bridge" is more conventional than other Miller works.
"Death of a Salesman" and "All My Sons" dealt with the tragic underbelly of the American dream. "The Crucible" used the setting of the Salem Witch Trials to decry the McCarthy hearings.
Those plays ground obvious axes to a razor's edge. First produced in the mid-1950s, "Bridge" is not as thematically obvious. However, in its current production at Pacific Resident Theatre, Miller's durable drama retains the power to devastate.
PHOTOS: Arts and culture by The Times
The play's protagonist, Eddie Carbone (Vince Melocchi), is an Italian American longshoreman who lives in a clean but shabby Brooklyn apartment, well-realized in Staci Walters and Jeffery P. Eisenmann's set design, with his wife, Beatrice (Melissa Weber Bales) and their orphaned niece, Catherine (Lisa Cirincione).
Eddie's avuncular interest in Catherine has gradually grown into incestuous obsession, an unwholesome interest he refuses to acknowledge, even to himself. When the Carbones take in Beatrice's immigrant cousins, Marco (Satiar Pourvasei) and Rodolpho (Jeff Lorch), Rodolpho and Catherine fall in love -- a development that the increasingly possessive Eddie cannot tolerate.
Meanwhile the narrator of the piece, local attorney Alfieri (Robert Lesser), sadly recounts the disaster he was helpless to prevent.
PHOTOS: Hollywood stars on stage
It's no wonder that the play has been adapted into opera form at least twice. Although modest in circumstance, its characters have epic emotions that are operatic in scale, while Eddie's complicity in his own demise has all the elements of Greek tragedy.
The miracle of Miller is that his characters are so eloquently inarticulate. Co-directors Marilyn Fox and Dana Jackson get the blend of working class and Italian dialects just right -- the first but necessary step in their wrenchingly truthful staging that, while larger-than-life, never lapses into overstatement.
As for the actors, from Melocchi's towering Eddie right down to the non-speaking bystanders, you simply won't see any better.
"A View from the Bridge," Pacific Resident Theatre, 703 Venice Blvd., Venice. 8 p.m. Thursdays-Saturdays, 3 p.m. Sundays. $20-$28. (310) 822-8392. www.pacificresidenttheatre.com. Running time: 2 hours, 20 minutes.
---
Inside the business of entertainment
The Wide Shot brings you news, analysis and insights on everything from streaming wars to production — and what it all means for the future.
You may occasionally receive promotional content from the Los Angeles Times.