A ukulele primer: Eddie Vedder, Tiny Tim, Roy Smeck and more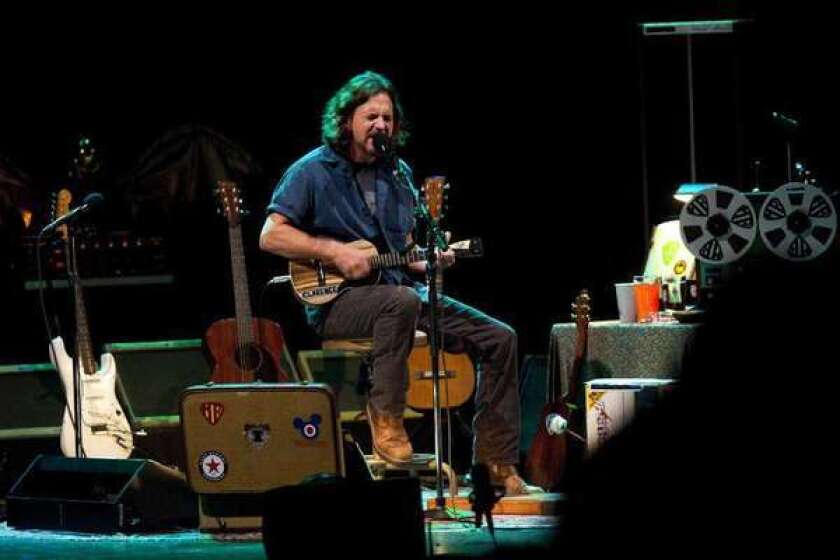 You say: Yoo-ka-LAYL-ee. I say: oo-koo-LAY-lay. Potato, potahto. However you choose to pronounce it, there's no denying the ukulele is enjoying a moment. In honor of the Ukulele Orchestra of Great Britain's April tour of California, we've put together this little primer to help you get to get to grips with the main players and styles in the ukulele scene.
George Formby (1904-1961). More famous for playing the banjo/uke hybrid - the banjolele - George Formby was one of the highest paid film stars of the 1930s. Formby was paid more than $4-million a year by U.K. film studios, but his Lancashire accent, nasal voice and the silly sauciness of double-entendre humor meant he was never a hit in the U.S. "When I'm Cleaning Windows" is from the 1936 film "Keep Your Seats Please."
Bill Tapia (1908-2011). Ukulele jazzer and educator gets his Patsy Cline on in Japan. Age 102. Because why not? Tapia started his career at age 8 entertaining troops stationed in Hawaii in World War I (yes, you read that right) and continued on in vaudeville and later collaborated with Louis Armstrong, Bing Crosby and Elvis.
Roy Smeck (1900-1994). The Wizard of the Strings was shredding ukuleles long before Van Halen & Co. were even twinkles in their fathers' eyes. Tapping, hammer-ons, pull-offs; you name it, Smeck could do it. Massively popular, he toured the world and played at Roosevelt's inauguration in 1933. Here he is showing off his mad uke skillz. Someone get that man a Marshall stack.
Tiny Tim (1932-1996). It's 1968 and "Hey Jude" and "Mrs. Robinson" are topping the charts. Obviously, it's the perfect time for a tall, thin man with a tiny instrument to tiptoe through the tulips on national television. His career faltered after the novelty of his act wore off. A comeback mounted in the early 1990s was cut short in 1996 when he died from a heart attack that struck while on stage in Minneapolis.
Israel Kamakawiwo'ole (1959-1997). The ukulele made a comeback in the 1950s and 1960s as part of the craze for Hawaiian music. There wasn't much about it that was authentically Hawaiian though. In the 1980s Israel Kamakawiwo'ole came on the scene with Hawaiian-language songs. He was a star in Hawaii but didn't become popular on the mainland until his cover of "Somewhere Over the Rainbow" started showing up in television commercials and films.
Eddie Vedder (1964- ). In this century, the ukulele signifies two things. The first is: I Am Being Intimate Emotionally Right Now; and the second, I'm a Hipster Pixie. In this video, we're leaning toward the former, although some heavy-framed eyeglasses wouldn't be a terrible accessory either. Get out your hanky and watch this delicate flower sing "Sleeping by Myself" from his 2011 album, "Ukulele Songs."
Jake Shimabukaro (1976- ). Shimabukaro plays his uke as if it were a classical guitar that was accidentally put in the dryer. The virtuosity and complex fingerwork of his cover of George Harrison's "My Guitar Gently Weeps" are more than just novelty. Later versions borrow have more of a metal flavor, but they're just as crazy.
Ukulele Orchestra of Great Britain (1985- ). Started as a joke, the Ukulele Orchestra of Great Britain is now the the dad of the social ukulele scene. When it started, even the term ukulele orchestra wasn't a thing. Now everyone from schoolchildren to seniors is doing it. Have a listen to one of its most popular covers, Kate Bush's "Wuthering Heights" and then read here all about its tour of California.
Warren Buffet (1930- ). Because the ukulele is for everyone. And mega-investor Warren Buffet beaming himself onto Chinese television from his attic, complete with train set, is now officially the maximum setting for adorable on the Internet. Kittens of the world: You have work to do.
---
Inside the business of entertainment
The Wide Shot brings you news, analysis and insights on everything from streaming wars to production — and what it all means for the future.
You may occasionally receive promotional content from the Los Angeles Times.