Here comes 'Condozilla': Housing protest posters from around the globe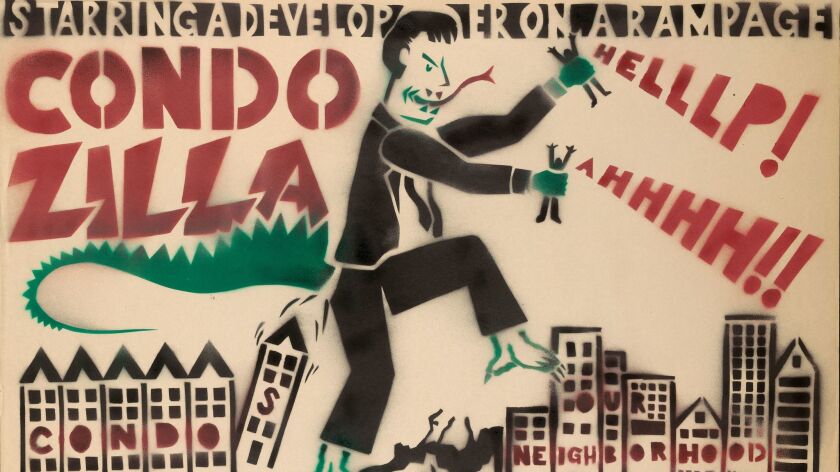 Posters have long been a way to awaken the sleeping masses about society's ills. But the exhibition "Reclaim! Remain! Rebuild! Posters on Affordable Housing, Gentrification & Resistance" comes at an especially relevant time, given recent reports on homelessness in Los Angeles and beyond.
Laminated digital reproductions of 76 designs spanning 100 years — including some from abroad — are on display through July 16 in the food court of Mercado La Paloma, a community center (and former sweatshop) on Grand Avenue near USC.
"We put the images where people don't expect to see them, and where they can catch the eye," said Carol A. Wells, founder and executive director of the Culver City-based Center for the Study of Political Graphics, an archive of 90,000 social-movement posters that includes originals of the designs on view.
Humor can help loosen knotty messages, as in a 2000 stencil for the faux movie "Condozilla" showing a snake-tongued monster clutching evicted tenants, and the titles "Starring a developer on a rampage" and "Playing now all over Chicago."
Ernesto Vazquez addresses gentrification with his 2015 silk screen of a pointing Monopoly-styled hand with the words "Hipsters Go Home." The hand is a dig on hipsters' love of all things vintage. "It's a hand we're familiar with, a hand that says, 'Hey, get out of here,'" said Vazquez, 36, who lives in L.A.'s El Sereno neighborhood.
SIGN UP for the free Essential Arts & Culture newsletter »
Early 1980s stencils spray-painted on New York City sidewalks are simple graphic blasts sans text: a small child backed into a corner with hands covering her eyes and an enormous looming rat; a stylish woman in fashionable boots stepping into a boutique before a sleeping homeless man.
Some 1968 Parisian silk-screen images are drawn in a "quick, dirty and powerful" manner using mainly red and white or black and white, Wells said — a mood match to the city's civil unrest in May 1968. And a 2004 Australian stencil depicts a man begging for money with a sign that seems to say it all: "Keep your coins, I want change."
Support coverage of the arts. Share this article.
calendar@latimes.com
ALSO
An art group's mini-golf links take on L.A. zoning and Trump's golf course
Talking with Tony winner Ben Platt's teachers from his L.A. high school days
Frank Lloyd Wright at 150: Why his Los Angeles houses deserve a closer look
---
Inside the business of entertainment
The Wide Shot brings you news, analysis and insights on everything from streaming wars to production — and what it all means for the future.
You may occasionally receive promotional content from the Los Angeles Times.