The week ahead in SoCal classical music, July 22-29: Max Richter's 'Sleep' in Grand Park and more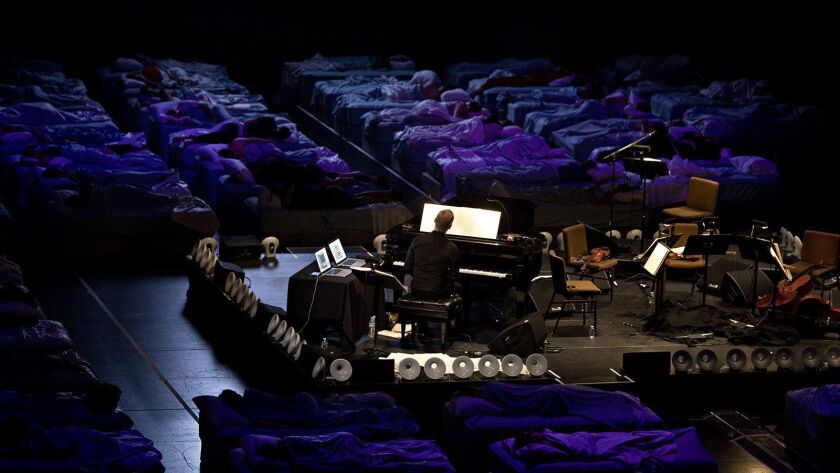 SummerFest 18 Piano Trio Celeste is joined by violist Karen Dreyfus for a program of works by Beethoven, Piazzolla and Schumann in this Music Guild presentation. University Synagogue, 11960 Sunset Blvd., Brentwood. Sun., 3 p.m. $46-$56; discounts available. (310) 558-3500.
Sundays Live The Kupiński Guitar Duo performs guitar arrangements of works by Rossini, Chopin, Rachmaninoff and Gershwin. LACMA, Bing Theater, 5905 Wilshire Blvd., L.A. Sun., 6 p.m. Free. (323) 857-6234.
Sibelius & Ravel Guest conductor Stéphane Denève leads the LA Phil in Ravel's "La valse," "Valses nobles et sentimentales" and "Bolero," plus Sibelius' "Valse Triste" and Violin Concerto featuring violinist Augustin Hadelich. Hollywood Bowl, 2301 N. Highland Ave., Hollywood. Tue., 8 p.m. $1-$158. (323) 850-2000.
Masterworks by Grieg Guest conductor Gustavo Gimeno leads the LA Phil in selections from Grieg's "Peer Gynt" and Piano Concerto featuring pianist George Li. Hollywood Bowl, 2301 N. Highland Ave., Hollywood. Thu., 8 p.m. $1-$158. (323) 850-2000.
Sleep The Music Center presents the L.A. premiere and first-ever outdoor overnight presentation of British composer Max Richter's immersive eight-hour work. Grand Park, 200 N. Grand Ave., downtown L.A. Fri.-Sat., 10:30 p.m. to 6:30 a.m. $60, $80 (cot included); listening area, free with $6 handling fee (no cot included); comfortable clothing recommended. (213) 972-0711.
Movement/Aloud Muse/Ique Orchestra is joined by Ballet Hispánico, violinist Alyssa Park, pianist HyeJin Kim, et al., for a program that includes works by George Gershwin, Irving Berlin, John Williams, Gloria Estefan and Lin-Manuel Miranda. The Huntington, Brown Garden Lawn, 1151 Oxford Rd., San Marino. Sat., 8 p.m. $30-$130. (626) 539-7085.
Symphony in the Cities Pacific Symphony performs works by Bernstein, Gershwin, Mozart, Sousa, et al. Oso Viejo Community Park on the Village Green, 24932 Veterans Way, Mission Viejo. Sat., 7 p.m. And, Mike Ward Community Park Woodbridge, 20 Lake Road, Irvine. Next Sun., 7 p.m. Free. (714) 755-5799.
Sundays Live Pianist Daniel Wnukowski plays pieces by Chopin, Szymanowski, Stojowski, Fitelberg, Tansman and Rathaus. LACMA, Bing Theater, 5905 Wilshire Blvd., L.A. Next Sun., 6 p.m. Free. (323) 857-6234.
Symphonic Dances California Philharmonic performs Ravel's "Daphnis et Chloe" Suite No. 2; de Falla's "Three Corner Hats" Suite No. 2; Stravinsky's "The Firebird" Suite and "The Rite of Spring" featuring hip-hop dancer Alyson Stoner; and John Williams' "Escapades" from "Catch Me If You Can" featuring saxophonist Harvey Pittel. Walt Disney Concert Hall, 111 S. Grand Ave., L.A. Next Sun., 2 p.m. $33-$123. (323) 850-2000.
---
Your essential guide to the arts in L.A.
Get Carolina A. Miranda's weekly newsletter for what's happening, plus openings, critics' picks and more.
You may occasionally receive promotional content from the Los Angeles Times.