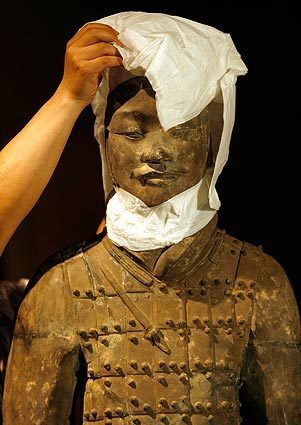 4 Images
Terra Cotta Warriors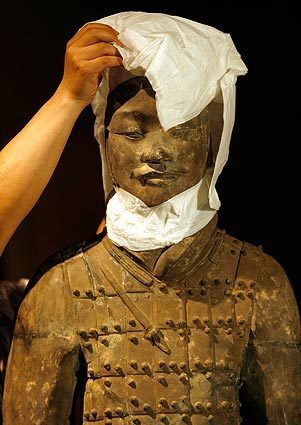 Workers unveil one of the ancient statues that arrived May 4 in the U.S. for the "Terra Cotta Warriors: Guardians of China's First Emperor" exibition at the Bowers Museum in Santa Ana. The objects, buried for 2,000 years, had been commissioned for the tomb of Emperor Qin Shi Huang.
(Rick Loomis / Los Angeles Times)
In Shanghai, the crated warriors were loaded onto a Boeing 747 400F cargo jet, which made a stop in Anchorage, then continued to Ontario International Airport, left. It's estimated that more than 100 people were involved in the transport, handled by UPS.
(Bob Riha Jr. / Getty Images)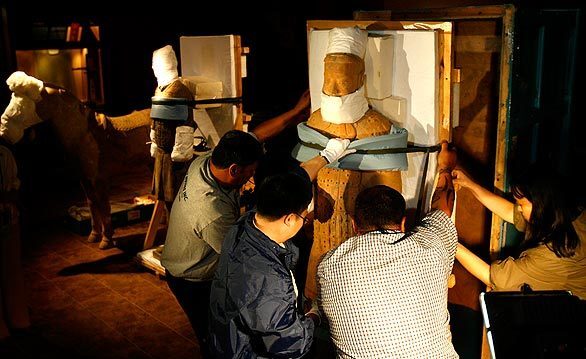 Workers at the Bowers Museum carefully uncrate the warriors, the first of which were discovered by Chinese farmers in a field near Xian in 1974.
(Rick Loomis / Los Angeles Times)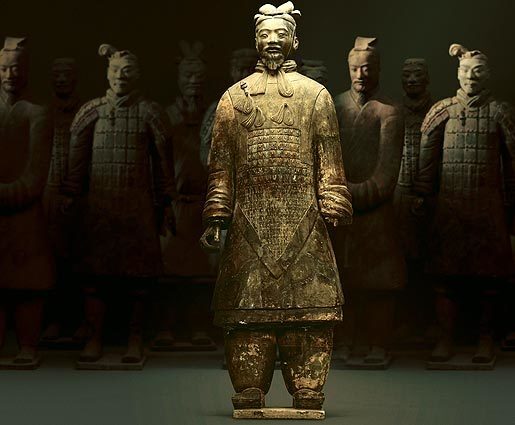 This is a an armored general from the Qin Dynasty (221-206 BC). The clay statue, excavated in 1976, is over 6 feet tall.
(Wang Da-Gang)