The 99-Seat Beat: Ibsen's 'Enemy of the People' from a Chicana point of view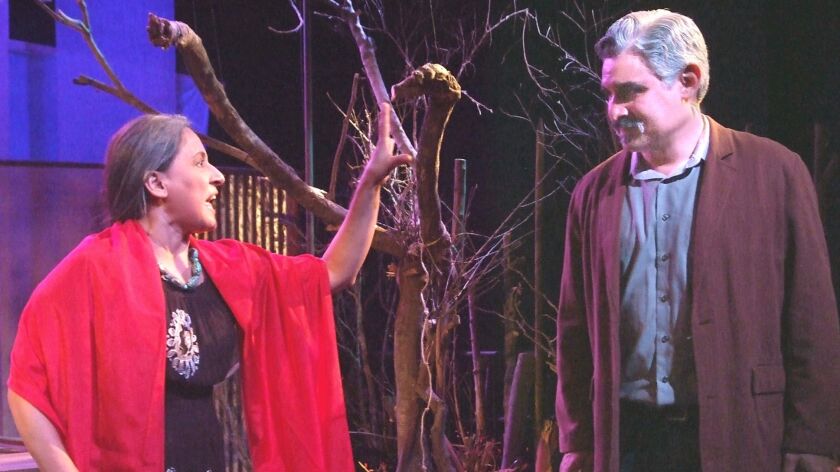 Up this week in our weekly look at the small-theater scene: "An Enemy of the Pueblo" at Casa 0101 Theater in Boyle Heights, "Home" at International City Theatre in Long Beach, the Playwrights' Arena production of "Little Women" at Chromolume Theater in L.A. and "Tolstoy in Suffolk" at Studio C.
---
1. "An Enemy of the Pueblo" at Casa 0101
The essentials: In her modern "eco-feminist" adaptation of "An Enemy of the People," Ibsen's classic about the governmental corruption that has resulted in a community's contaminated drinking water, Josefina López has recast Ibsen's heroic male protagonist with a shamanistic Chicana who struggles to expose the truth behind her Mexican border town's slow poisoning. Obie winner Zilah Mendoza stars.
Why this? López, the playwright behind "Real Women Have Curves" and the founding artistic director of Casa 0101, uses her world-premiere play to address the plight of immigrants, the threats posed to the environment and the insidious influence of the Mexican drug cartels. The production runs in conjunction with the opening of the new Boyle Heights Museum in the theater's lobby and the 15th anniversary screening of the film adaptation of "Curves."
Details: Casa 0101, 2102 E. 1st St., Boyle Heights. 8 p.m. Fridays-Saturdays, 5 p.m. Sundays; ends Nov. 12. $20. (323) 263-7684, www.casa0101.org
---
2. "Home" at International City Theatre
The essentials: Before he became a prolific television producer, Samm-Art Williams was perhaps best known for this sweeping work about an orphaned young African American man's journey from his North Carolina farm to the big city and back again. Imprisoned for refusing to serve in Vietnam, the protagonist encounters endemic racism head on, lapsing into joblessness and alcoholism before returning to his redemptive rural roots.
Why this? Tony-nominated for best play in 1981, "Home" seems as topically fresh today, as Ken Burns' series sparks renewed interest in Vietnam and race-centered demonstrations make front-page news. Williams' period piece, which spans the civil rights and Vietnam eras, shows the human cost of war and racial hatred.
Details: International City Theatre, Long Beach Performing Arts Center, 330 E. Seaside Way, Long Beach. 8 p.m. Thursdays-Saturdays, 2 p.m. Sundays; ends Nov. 5. $47-$49. (562) 436-4610, www.InternationalCityTheatre.org
---
3. Playwrights' Arena's 'Little Women' at Chromolume
The essentials: In her multicultural adaptation of Louisa May Alcott's classic, Velina Hasu Houston takes the four March girls coming of age during the Civil War and presents them as the Mayeda sisters, finding refuge in Los Angeles' African American communities after their incarceration in World War II internment camps for people of Japanese descent.
Why this? Houston, author of the frequently produced "Tea," and director Jon Lawrence Rivera have collaborated on a variety of worthy premieres. Houston intends this new play to "pay homage to immigrant histories in the U.S. and particularly here in Los Angeles." Houston is a writer of great sensitivity and nuance, and her revisionist transposition promises emotional heft.
Details: Chromolume Theatre, 5429 Washington Blvd., Los Angeles. Opens Oct. 27, ends Nov. 20. 8 p.m. Saturdays, 4 p.m. Sundays, 8 p.m. Mondays. $25-$30. (213) 925-7631, little-women.brownpapertickets.com
SIGN UP for the free Essential Arts & Culture newsletter »
---
4. 'Tolstoy in Suffolk' at Studio C
The essentials: Set in Suffolk, England, on a stormy Guy Fawkes Night, Robert Allan Ackerman's suspenseful two-hander echoes "Sleuth" and "Deathtrap." A stage and film director travels to a deserted farmhouse to secure the rights to a classic mystery novel, only to find himself in a battle of wills with a volatile writer prone to violent outbursts.
Why this? This is the second play written by Ackerman, best known as an award-winning stage, television and film director. This thriller, which Ackerman also directs, stars stage veterans Stephen Caffrey and JD Cullum. Seasoned pros and creepy subject matter augur well for seasonal thrills and chills.
Details: Studio C, 6448 Santa Monica Blvd., Los Angeles. 8 p.m. Fridays-Saturdays, 5 p.m. Sundays; ends Nov. 19. $30. (323) 988-1175 tolstoyinsuffolk.eventbrite.com
---
The 99-Seat Beat appears every Friday. Our team of reviewers — with more than 50 years of combined experience tracking local theater — shortlist current offerings at 99-seat houses and other smaller venues. Some (but not all) recommendations are shows we've seen; others have caught our attention because of the track record of the company, playwright, director or cast. You can find more comprehensive theater listings posted every Sunday at latimes.com/arts.
See all of our latest arts news and reviews at latimes.com/arts.
MORE THEATER:
Review: Immersive ghost stories in 'Kaidan Project
Review: 'Resolving Hedda' at the Victory in Burbank
---
The complete guide to home viewing
Get Screen Gab for weekly recommendations, analysis, interviews and irreverent discussion of the TV and streaming movies everyone's talking about.
You may occasionally receive promotional content from the Los Angeles Times.