The 99-Seat Beat: Holiday theater to get you in the spirit, from Jane Austen to Chico's Angels
Thanksgiving is over, already! Toss out those turkey bones and swap those decorative pumpkins for mistletoe. Holiday shows usually pre-empt L.A.'s regular theater schedule in December, but for those who can't wait, here are four that open even sooner.
Two look promising for family outings: "A Christmas Carol" at Glendale Centre Theatre and the Jane Austen reboot "Miss Bennet: Christmas at Pemberley" in Santa Barbara. The others — "Feliz NaviDivas" by the cult drag troupe Chico's Angels in Silver Lake, and a return of the long-running L.A. favorite "Bob's Holiday Office Party" in Atwater Village — are campier, targeted to grown-up audiences who might need to get their seasonal spirits flickering again.
---
1. Glendale Centre's 'Christmas Carol'
The essentials: It just wouldn't be Christmas without "A Christmas Carol," Charles Dickens' harrowing and heartwarming story of holiday redemption. Many local theater companies offer their versions, each with a devoted following (see Costa Mesa's South Coast Repertory and Pasadena's A Noise Within, for two). But the longest-running tradition in the area can be found at Glendale Centre Theatre, which is preparing to launch its 52nd annual show.
Why this? More than 50 years — that's a long time in Los Angeles, where, as Delia Ephron once joked, "by the time you're 35, you're older than most of the buildings." After so many years, the company's directors — related to the original founders — have a pretty solid understanding of what works best on its elegant, intimate, in-the-round stage. Lively performances and vivid special effects ensure that veterans and first-timers alike will enjoy this hoary but never gratuitous lesson in the value of generosity.
Details: Glendale Centre Theatre, 324 N. Orange St. 8 p.m. Fridays, 3 and 8 p.m. Saturdays; ends Dec. 24. $22-$32. (818) 244-8481 or www.glendalecentretheatre.com
---
2. 'Miss Bennet' in Santa Barbara
The essentials: Say you're really, really tired of "A Christmas Carol" but are still in the market for a family show. As reported last month in the New Yorker, playwrights Lauren Gunderson and Margot Melcon came up with their Jane Austen reboot — a sequel to "Pride and Prejudice" — in response to the question "What does American theater need?" A new holiday play, they decided: something "clever, heartwarming, and family-friendly." Their story "Miss Bennet: Christmas at Pemberley," rehabilitates Mary, the nerdiest, least marriageable Bennet sister, as a romantic heroine in her own right.
Why this? Gunderson may not yet be a household name, but according to the New Yorker, she's the most produced playwright in America right now. "Miss Bennet" was a success in its rolling world premier in 2016, praised by the Washington Post as "a gift for Jane Austen fans" and by the Chicago Tribune as "droll and quite delicious." This production, by Santa Barbara's Ensemble Theatre Company, is directed by Andrew Barnicle (former artistic director of Laguna Playhouse) and stars the talented, prolific Paige Lindsey White as everybody's favorite Bennet sister, Lizzie.
Details: The New Vic, 33 W. Victoria St., Santa Barbara. Opens Nov. 30. 8 p.m. Thursdays-Saturdays, 2 and 7 p.m. Sundays; ends Dec. 17. $20-$25. (805) 980-7529 or www.etcsb.org.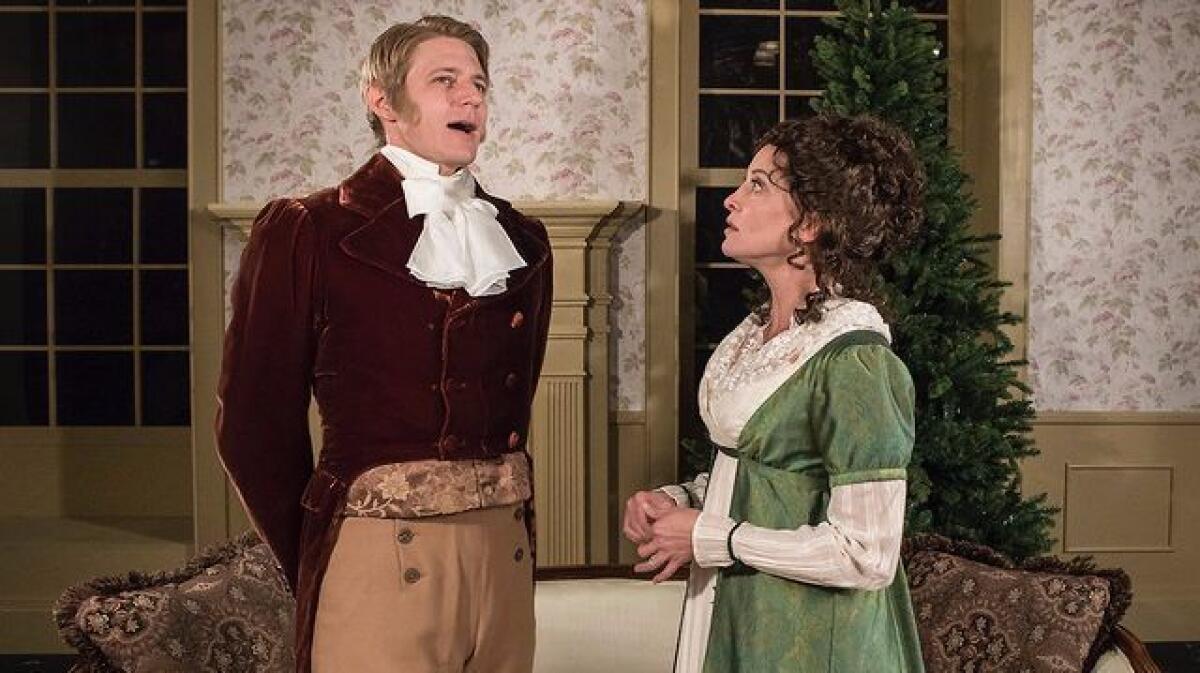 ---
3. Chico's Angels in 'Feliz NaviDivas' at Cavern Club
The essentials: Chico's Angels are Latina drag queens — Kay Sedia, Frieda Laye and Chita Parol (the alter egos of Oscar Quintero, Danny Casillas and Ray Garcia), who parody the 1970s TV series "Charlie's Angels" in their variety act at a Silver Lake restaurant (as well as in their webisodes). The live series has had five installments, each a full-length musical by co-creators Sedia/Quintero and Kurt Koehler in which an unseen boss dispatches the three sassy, fabulous models/undercover detectives to solve another mystery.
Why this? The Angels combine 1970s nostalgia, over-the-top outfits, playful ribaldry and Three Stooges-style pratfalls with tight, if absurd, plotting. Of their previous show "Love Boat Chicas," the L.A. Weekly wrote, "It's like an Agatha Christie novel, only with drag queens." Margaritas are encouraged.
Details: Cavern Club Celebrity Theater in Casita del Campo Restaurant, 1920 Hyperion Ave., L.A. Limited engagement: 2, 8 and 10 p.m. Saturday; 3, 6 and 7:30 p.m. Sunday; 7:30 p.m. Monday and Tuesday. $25-$35. www.chicosangels.com
SIGN UP for the free Essential Arts & Culture newsletter »
---
4. 'Bob's Holiday Office Party' at Atwater Village Theatre
The essentials: It started as a one-night-only improv piece in 1995, a kitschy send-up of a disastrous holiday party in a small-town Iowa insurance office — and it never really went away. For 22 years, "Bob's Holiday Office Party" has returned to L.A. as faithfully as Santa Claus himself, delighting fans 16 and up with what L.A. Times reviewer Philip Brandes described in 2000 as its "shameless lowbrow antics." The show may have moved venues, but co-creators Rob Elk and Joe Keyes are still starring in it, alongside a full cast of returning party guests.
Why this? A holiday office party can be the stuff of nightmares —if it's your office. It's much more cathartic, and less career-damaging, to watch fictional characters drink too much, make terrible choices and achieve dubious epiphanies under the mistletoe. Bob faces the same schlocky decor and odious townspeople year after year, but the fast-paced, ad-libbed lines are a little different each time. There are some Christmas traditions that don't get sung about in the carols. Don't those deserve to be celebrated too?
Details: Atwater Village Theatre, 3269 Casitas Ave., L.A. Opens Nov. 30. 8 p.m. Thursdays-Saturdays, 7 p.m. Sundays; ends Dec. 18. $25-$35 (800) 838-3006 or www.bobsofficeparty.com
---
The 99-Seat Beat appears every Friday. Our team of reviewers — people with more than 75 years of combined experience tracking local theater — shortlist current offerings at 99-seat theaters and other smaller venues. Some (but not all) recommendations are shows we've seen; others have caught our attention because of the track record of the company, playwright, director or cast. You can find more comprehensive theater listings posted every Sunday at latimes.com/arts.
See all of our latest arts news and reviews at latimes.com/arts.
MORE THEATER:
'Summer': Heaven knows Donna deserved better than this
Tyne Daly swims in a very sentimental 'Chasing Mem'ries'
Get our L.A. Goes Out newsletter, with the week's best events, to help you explore and experience our city.
You may occasionally receive promotional content from the Los Angeles Times.