Essential Arts & Culture: Discuss what is 'Appropriate' and honk if you love this opera
I'm Kelly Scott, arts and culture editor of the L.A. Times. The team here has experienced some powerful work recently -- plays, concerts and exhibitions that probe deep questions about race, age, family, feminism and the strength of the human spirit. Here's just a sampling of our coverage. You can find more daily at latimes.com/culturemonster.
So 'Appropriate' for our times
The dysfunctional family comedy crashes into a national tragedy in "Appropriate," the Branden Jacobs-Jenkins drama about warring siblings who gather to sell their late father's Arkansas house only to discover photos and postcards of lynchings in what appears to be Dad's album. Although the animosity between characters might feel relentless at times, theater critic Charles McNulty praises the compelling way family members are forced to confront the horrors of the past.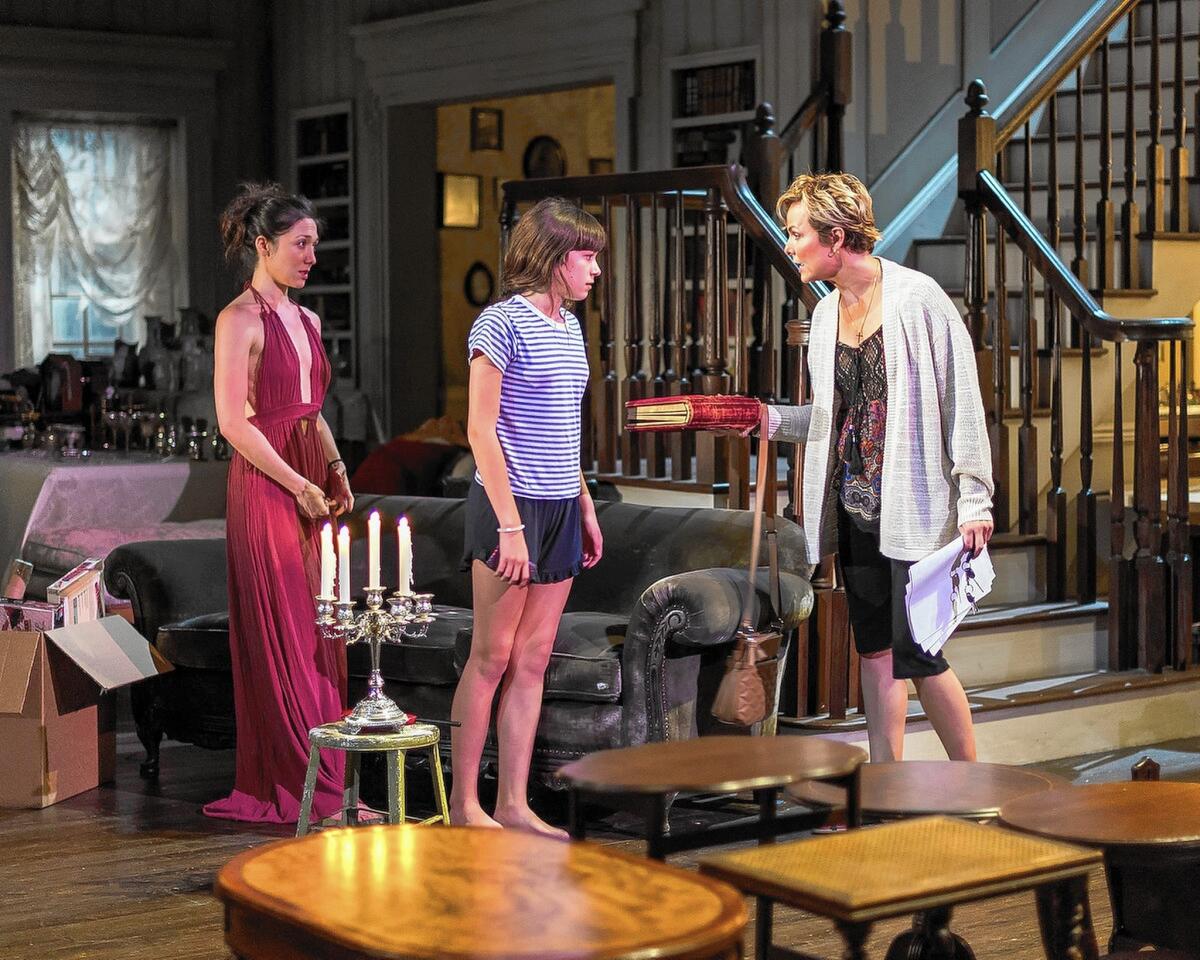 The Broadway report: Pinter and Shepard, Owen and Rockwell
Before returning to L.A. to review "Appropriate," McNulty was in New York noting how Hollywood stars Clive Owen and Sam Rockwell were faring on Broadway. Owen in Harold Pinter's "Old Times" and Rockwell in Sam Shepard's "Fool for Love" are both strong, but more interesting, McNulty notes, is how two avant-garde playwrights' work has been packaged for a mainstream audience — with varied results.
'Carmen' with a Cape Town twist
It says something about the power of an opera when you can't understand the lyrics, the production lacks projected titles and yet the result is still "extraordinarily thrilling." Such was the bottom line for music critic Mark Swed in reviewing "uCarmen," the Cape Town-based Isango Ensemble's interpretation of the Bizet opera playing at the Broad Stage in Santa Monica. Tweaked to address sexism in South Africa, "uCarmen" has its awkward moments, but they cannot suppress the company's musical vibrancy and theatricality, Swed says.
Your don't-miss of the week: German art at LACMA
"After you see it, you may need a stiff drink and a soft chair," writes art critic Christopher Knight about the Los Angeles County Museum of Art's chillingly effective new show, "New Objectivity: Modern German Art in the Weimar Republic, 1919-1933." Paintings and works on paper reflect the alienation and social destabilization of a culture in the years leading to Adolf Hitler's appointment as chancellor. Knight calls it one of the most powerful shows of the year.
At Chicago Architecture Biennial, Gen X marks the spot
Times critic Christopher Hawthorne reports from Chicago's inaugural architecture biennial, where the spotlight is decidedly shining away from the likes of Zaha Hadid, Rem Koolhaas, Frank Gehry or Renzo Piano. Rather, in a noticeable generational shift, the talents given pride of place were born in the 1970s.
Turn left at the soprano, please
How, exactly, can you perform opera in cars crisscrossing the streets of L.A.? Even after interviewing the Industry for our fall arts preview last month, the experimental opera company's "Hopscotch" was still shrouded in mystery. When the first preview finally rolled around last weekend, Times staff writer Jessica Gelt took her seat with notepad in hand. The show doesn't officially open until Oct. 31, but buckle up. You can join Gelt for the ride now.
Adventurous opera, Part II
Missy Mazzoli's "Song From the Uproar" is centered on Isabelle Eberhardt, and if the name doesn't ring a bell, Swed summarizes her life in one sentence: "At 21, she went to Algeria, where she dressed as a man, became a Sufi, fell in love with an Algerian soldier, survived both an attempted assassination and failed suicide pact but drowned in a flash flood at 27." As Eberhardt, Abigail Fischer proves worthy of the buzz hailing her as a rising star.
More from our team:
Times staff writer Deborah Vankin plays fly on the wall at the Magic Castle launch party for a new $2,500-a-year art club, then comes back down to the real world to preview the Art Center College of Design's new street art exhibition in Pasadena. She has a Q&A with organizer Ann Field.
Staff writer Mike Boehm takes a look at the Broad museum's recently announced slate of event programming, which includes performance by Karen Finley and cinema curated by Ava Duvernay and made by women and people of color.
Across town at the forthcoming Academy Museum comes word that opening day has been pushed back to 2018 and fundraising goals have been raised nearly 30%. On the brighter side: A big gift from the late Shirley Temple Black.
Jeffrey Deitch lovers and haters alike tuned into news this week that the former Museum of Contemporary Art director is organizing an exhibition on the Angulo brothers. They are "The Wolfpack" siblings who were rarely allowed to leave their New York apartment and who experienced the outside world mainly through movies. Times staff writer David Ng has details on Deitch's plans.
Ng also has news that Deaf West's "Spring Awakening," the musical revival that blends spoken and signed dialogue, is struggling on Broadway. After launching from the Wallis Annenberg Center of the Arts in Beverly Hills with radiant reviews and audience enthusiasm, the production landed in New York at a Brooks Atkinson Theatre that was one-third empty, even after a rave from the New York Times. Why might the show be challenged in finding its audience?
Coming up:
Look later this week for our interview with James Earl Jones, 84, and Cicely Tyson, 90, reunited for the first time in 50 years in "The Gin Game." Also on the way: coverage of Bill T. Jones/Arnie Zane Dance Company in Long Beach, and a report on the state of black and Latino arts groups.
Follow me on Twitter at @kscottLATarts.
Get our L.A. Goes Out newsletter, with the week's best events, to help you explore and experience our city.
You may occasionally receive promotional content from the Los Angeles Times.