From the Archives: Noted Conductor Alfred Wallenstein Dies in N.Y. at 84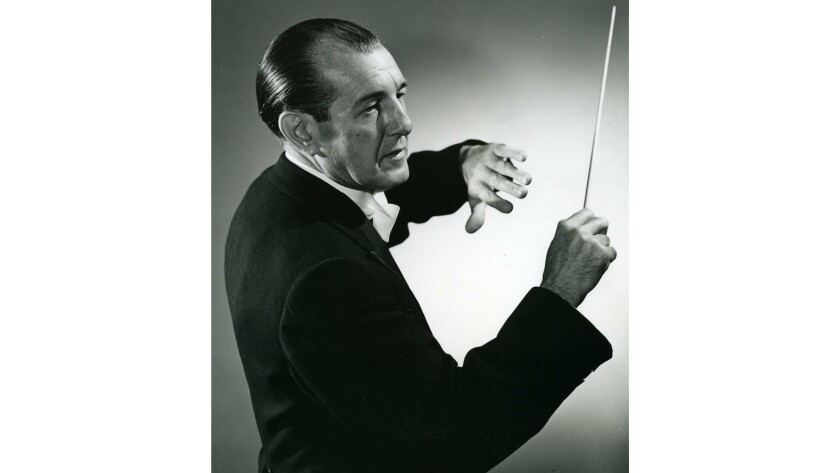 Times Staff Writer
Alfred Wallenstein, the restrained, traditional and tasteful conductor credited with building the Los Angeles Philharmonic into a force of major musical proportion, has died in New York City, it was learned Wednesday.
He was 84 and died Tuesday in his Manhattan apartment of unannounced causes. As recently as 1976 he still was conducting, leading the Juilliard Symphony Orchestra.
Considered by musicologists as a "vertical" conductor who offered dispassionate rather than impassioned interpretation, he literally was a hometown boy who began, studied and grew to prominence in Los Angeles, where he conducted the Philharmonic from 1943 to 1956.
FULL COVERAGE: Inside the L.A. Philharmonic
His years here were both stormy and productive, for his tongue was as sharp as his musical ear and he quarreled openly and often with his critics.
A son of Austrian-immigrant parents who were amateur musicians, he began piano lessons as a boy in his Chicago birthplace but soon switched to cello at his father's insistence.
The family moved to Los Angeles, and by age 11 he was earning $5 a week plus dinner (not to exceed 35 cents, he once recalled for an interviewer), playing at the old B&M Cafeteria.
Clune's Theater was next door on Broadway and it not only offered an additional $10 a week but brought his playing to the attention of L. E. Behymyer, considered Los Angeles' first impresario. Behymyer, Wallenstein said years later, threw several club dates his way.
Became Pickford Favorite
He also began to play in the pit band for the old silent movie houses here and became a personal favorite of Mary Pickford and her husband, Douglas Fairbanks Sr.
Their attention and influence helped lead to a two-year vaudeville tour, where he was billed as "The Boy Wonder Cellist," and by 1915, at age 17, he had joined the San Francisco Symphony. Later he would become solo cellist for Anna Pavlova, considered the prima ballerina of this century, who sent for him after he had accompanied her performance as "The Swan" during a Los Angeles performance.
He also had appeared as a soloist with the Los Angeles Symphony, forerunner of the orchestra he was one day to lead.
In 1920 he moved to Europe for additional study, returning in two years to become principal cellist with the Chicago Symphony, whose conductor, Frederick Stock, wrote a cello concerto dedicated to him.
As the 1920s closed, "Wally," as he was then being called, came to the attention of Arturo Toscanini, who hired him as principal cellist with the New York Philharmonic in 1929. When Toscanini left that orchestra in 1936 to begin a long association with NBC, Wallenstein departed, too, to become musical director of radio station WOR in New York City.
He remembered those years with amused tolerance.
" 'Whatever you do don't play Bach, Beethoven or Debussy' on the air, they told me," he remembered two decades later. "So I conducted Bach, Beethoven and Debussy for my first concert. I thought I might as well condition them to it right off."
The "conditioning" produced a national reputation (in 1942 he earned a Peabody Award for "pioneering in good music") and he branched out into guest conducting—encouraged by his former mentor, Toscanini.
Succeeded Klemperer
His growing exposure led in the early 1940s to an audition in the town where he was raised, and in 1943 he began his 13-year association with the Los Angeles Philharmonic where Otto Klemperer had been forced to resign because of physical disabilities.
At the time he was believed to be the only native American ever hired to conduct a major symphony orchestra.
When Wallenstein arrived he found an orchestra depleted of talent by both the war and the higher salaries offered by motion picture studio executives, who were then riding the commercial crest of the film musical.
He talked some musicians into returning and hired others, promising an increased season and expanded repertoire.
He kept both promises, raising musicians' salaries but also developing a reputation as a taskmaster.
One of his players, who begged anonymity for obvious reason, once told The Times: "He has a pitch pipe for a Eustachian tube and a metronome for a heart."
But he also earned their admiration.
Some of them had been singled out—because of their film connections—as "communist sympathizers" by Sen. Joseph McCarthy's investigating committee. Despite the pressure, Wallenstein refused to fire them.
He hired one of the first—if not the first—black musicians ever to play in an influential orchestra: bassist Henry Lewis, who went on to his own distinguished conducting career.
In 1956, near the end of his tenure in Los Angeles, he made the Philharmonic an international resource, taking it on a 10-week State Department tour of Asia.
He moved to La Jolla and from there traveled the country as guest conductor for the New York Philharmonic, Philadelphia Orchestra and Orchestra of the Air.
He taught—at the Peabody Institute in Baltimore and Juilliard School of Music in New York, where he moved permanently in 1973 after the death of his wife, Virginia.
His tenure in Los Angeles may not have been marked by the universal acclaim that resounded for one of his successors, Zubin Mehta, whose jet-set flamboyance contrasted starkly with Wallenstein's economy and restraint at the podium.
But he was remembered Wednesday by Albert Goldberg, The Times veteran and now-retired music critic, as a "strict drillmaster who established a degree of discipline and whose regime set a pattern for growth and expansion (which) established the orchestra as one of our foremost civic institutions."
---
Inside the business of entertainment
The Wide Shot brings you news, analysis and insights on everything from streaming wars to production — and what it all means for the future.
You may occasionally receive promotional content from the Los Angeles Times.