Review: With MLK-themed dance, Lula Washington delivers leaps that are well-timed in so many ways
On the same day the president of the United States allegedly spat out profanity against African and other countries, Lula Washington Dance Theatre began a three-night run here that celebrates in dance and music African peoples and their American descendants. What timing!
Lula Washington founded her multiethnic company in urban Los Angeles, but the troupe's first concert almost 40 years ago was at Beverly Hills High School, so call the Wallis Annenberg Performing Arts Center shows running through Saturday a homecoming.
A different program for each of the three shows is a luxury for this company — for any group, in fact. That allowed Washington to delve into her extensive repertory devoted to African American culture and history.
The opening program brought us works by four African American male choreographers of differing style and vision, plus an excerpt from Washington's "The Movement."
SIGN UP for the free Essential Arts & Culture newsletter »
The premiere of Anthony Burrell's "Temporary Spaces" kicked off the night at breakneck speed. Burrell has made a name for himself choreographing for pop stars such as Beyoncé. In "Temporary Spaces," he establishes two couples, one dressed in white, the other in black (Burrell and Evan Wilson designed the costumes), and it initially appeared that he would delve into contrasts and comparisons.
But soon the four dancers were in unison, with almost note-for-note pacing to Philip Glass' "Primacy of Numbers." (The evening's music was recorded.) Burrell had given his cast 10 minutes of swirling, spinning, bravura steps, executed at such a rapid pace that the dancers, though outstanding, eventually were toiling to maintain the full-tilt rhythm. But there was no denying the excitement or the urgency here — quick directional shifts and movement that cascaded inexorably, like a chain of explosions.
Christopher Huggins' "Love Is …" brought an atmospheric shift. Huggins exchanged the ellipse in the title for a differing descriptor in each section of this 2010 piece to music by the Icelandic rock band Sigur Rós. The emotions and situations ranged from exultant to torturous, exploring the extreme swings of feelings love elicits.
For "At First Sight," performers Christopher Frazier and Tehran Dixon gave us amour of delirious joy and innocence, capped by Dixon's flying jump to an arabesque while standing on Frazier's upper thigh.
In "Fleeting," Krystal Hicks was hilarious as a woman who can't decide between two doting fellows — Joshua Alexander and Michael Tomlin III — while Saidiya Imari was harrowing as a figure drowning in loss.
The grounds shifted again for Donald Byrd's "Communion," made in 1994 to honor the special mentoring and mother-like relationship Washington has with her students. Byrd's portraits, though, are stiff and military-like, as four students take directions from a maternal figure, portrayed Thursday by Queala Clancy. With loud "Hah!" exclamations and arm-waving exhortations, Clancy dispensed steps/knowledge, which the others repeated briskly, emotionlessly. For all its good intentions, "Communion" proceeded monotonously toward its conclusion.
Though brief, Washington's "The Movement" was harrowing. This 2004 depiction of the civil rights movement and Martin Luther King Jr. inspired sadness and fear. We see a white man throwing objects at a group of walking protesters, and we watch an emotional solo for Tomlin, portraying King as photographs of lynchings and other horrors unreel on the backdrop.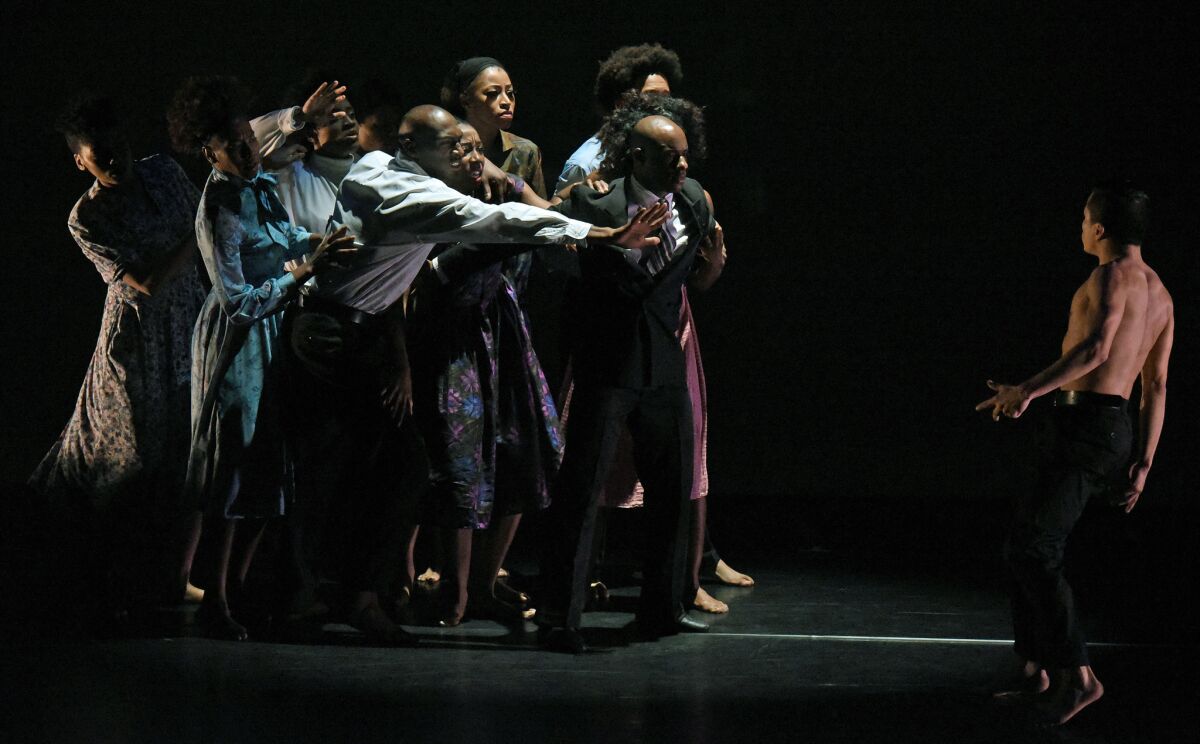 Washington chose to send us home with "Reign," which is best described as a praise dance from Philadelphia's great Rennie Harris with a mixed music score from James "JT" Wilconson. This group work of hip-hop genius, made to mark the 30th anniversary of Washington's troupe, brings the apprentices and some student dancers onstage with the core company. This bounding crowd, everyone moving with oversized abandon, can't help but lift spirits. Kudos to Hicks for her quality leadership and heaven-ward jumping.
And thanks, too, to Washington, for staying the course and reminding us of the joys and responsibilities we all have to make a better world. An important message to keep in mind on this MLK holiday weekend.
See all of our latest arts news and reviews at latimes.com/arts.
Get our L.A. Goes Out newsletter, with the week's best events, to help you explore and experience our city.
You may occasionally receive promotional content from the Los Angeles Times.