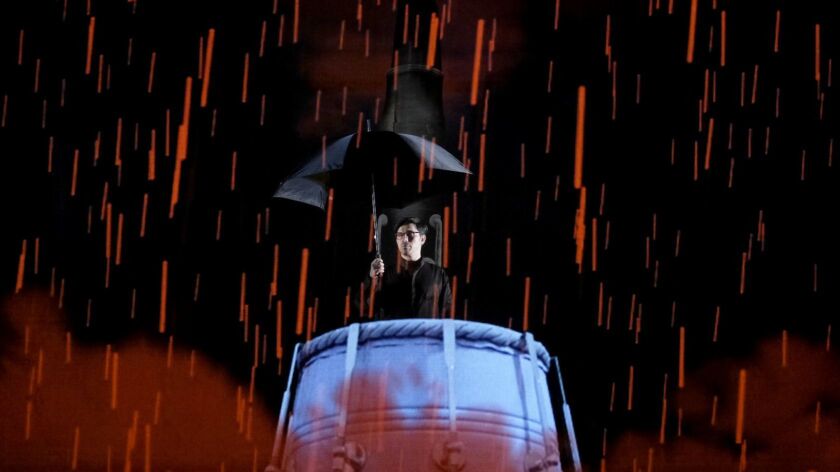 When the Los Angeles Philharmonic strikes up Mahler's "Das Lied von der Erde" (Song of the Earth) on Thursday in Walt Disney Concert Hall, expect all eyes to shift from the orchestra onstage to a darkened platform above.
That's where tenor Russell Thomas, mezzo-soprano Tamara Mumford and their cast mates will be drenched by a giant glass of wine, showered in electric-red rain or placed at the helm of a massive ship — all part of the elaborate visual illusions created by the Chilean troupe Teatrocinema.
"The music wakes up the imagination," Juan Carlos Zagal, the group's director, said backstage at Disney Hall while rehearsals were underway this week.
The L.A. Phil has been experimenting more with the use of video imagery and projection technology to bring new perspectives to old music, including Venezuelan director Alberto Arvelo's filmed accompaniment to Haydn's "The Creation" about a year ago.
Zagal, who co-founded his company in the 1980s, is used to composing simple music to accompany the group's dreamlike, political, cinematic theater. But Yuval Sharon, the L.A. Phil's artist collaborator, invited Zagal to flip that template, fleshing out existing music with new Teatrocinema imagery.
The two men are co-directing the resulting production, which will premiere Thursday night and repeat on Friday and Saturday. (A Sunday matinee will be music only, no projections.)
For the visual performances, the singers will stand between two screens, illuminated by lights on both sides, and will interact with images projected from the front as well as the back. Combined with physical props, the projections will create a three-dimensional world, like a movie come to life.
The effect can be thrilling, much like Los Angeles audiences experienced when Teatrocinema performed its noir thriller "Historia de Amor" at REDCAT in 2016. A Times reviewer called it "jaw-dropping" in an article that carried the headline "If Alfred Hitchcock Turned a Graphic Novel Into Live Theater."
"The illusions that they created were so convincing and so powerful," Sharon said, recalling the REDCAT show. "But I was also so moved and touched by the musicality of their performance."
Sharon assumed his appointment with the L.A. Phil that year, and since then he has won praise for the reworking of the Lou Harrison opera "Young Caesar" and for directing Annie Gosfield's opera "War of the Worlds." He sparked to the idea of fusing L.A. Phil Music Director Gustavo Dudamel's love of Mahler with his passion for cultural exchange with Latin American artists.
Mahler composed "Das Lied" in 1908 after a series of personal tragedies, including the death of his daughter. The text — preoccupied with life, death and the liminal space in between — came from Chinese poems translated into German.
"The master question we would keep returning to is: How is a South American company going to encounter a piece that is from another century, that has all these layers of its own encounter with other cultures?" said Sofia Zagal, an actor in the company and the director's daughter.
The elder Zagal realized that one of Mahler's themes was perfect for Teatrocinema's specialty, shifting perspectives.
"The music itself is very charged with a freedom for ideas," he said through a translator. "The idea of the micro and the macro, and how you can zoom in on something and then zoom out and have a completely different experience in relationship to it. The lyrics are there as a map, so we followed that map, and then we completely left, so that we could discover our own experience with this piece."
Singers normally would just stand or sit while performing "Das Lied," but Juan Carlos Zagal wanted to throw them into action, inhabiting and expressing the music in a much more dynamic way. Surrounded by three Teatrocinema actors — appearing here as "ninjas" in all black, invisibly helping to create the illusions — Thomas and Mumford had to learn a new type of performance.
"What we ask the singer to do is to actually see the camera, invisibly — where it would be if it was being filmed," Juan Carlos Zagal said. "If the camera moves, they have to move. Anybody can do it, but you won't believe it until you see it."
A Teatrocinema actor will stand in for the singer during the rehearsal process, he said, so the actor can see the visual effect unfold as the audience does. "In that moment, once they see it for themselves in 3-D," he said, "they can dream it and always see it in 3-D."
'Song of the Earth'
Where: Walt Disney Concert Hall, 111 S. Grand Ave., L.A.
When: 8 p.m. Thursday-Saturday; additional performance 2 p.m. Sunday (music only, no projections)
Tickets: $65-$204 ($20-$199 for Sunday)
See all of our latest arts news and reviews at latimes.com/arts.
MORE ARTS COVERAGE:
Review: 'Shrew!' rewrites Shakespeare from a female point of view
Glenda Jackson steals the show in a thrilling 'Three Tall Women'
King Tut gets a remodel: How conservators are protecting the tomb from tourists
---