6 Images
Boyle Heights mural
Part of the $195,000 mural for the new LAPD Hollenbeck station. The tile mural, by artist Sandow Birk was meant to depict a quaint Sunday in Boyle Heights. But residents complain about the unleashed dogs, the "illegal" street vendors and about a man holding a can they guessed was beer. They also complain about what isn't shown: historical figures, children reading books and military veterans.
()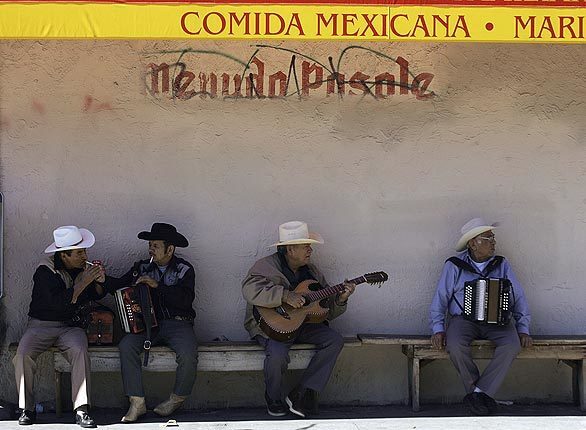 The group Los Invencibles Cadetes de Nuevo Leon relaxes on Cesar Chavez Boulevard. The Boyle Heights Neighborhood Council met recently to discuss a proposed mural that was set to go up next month at the new Hollenbeck police station in Boyle Heights. Some locals are angry over depictions in the mural.
(Gary Friedman / Los Angeles Times)
Artist Sandow Birk's 100-foot mural has touched a raw nerve under the surface of a seemingly homogenous community, widely considered L.A.'s mothership of Mexican culture.
()
A mariachi waits to be picked up for a gig on Soto Street. Boyle Heights is 90% Latino.
(Gary Friedman / Los Angeles Times)
The Los Angeles Police Department isn't thrilled with the mural either. Deep in this scene, a police officer stands behind a man next to a catering truck. The man's hands are raised above his head. "I think it really kind of paints a dark picture of Hollenbeck, and Boyle Heights in particular," said LAPD Capt. Blake Chow, commanding officer of the Hollenbeck station.
()
Street vendors sell their wares at the corner of Cesar Chavez Avenue and Soto Street in Boyle Heights.
(Gary Friedman / Los Angeles Times)