Igudesman & Joo have fun with Mozart, other classical dudes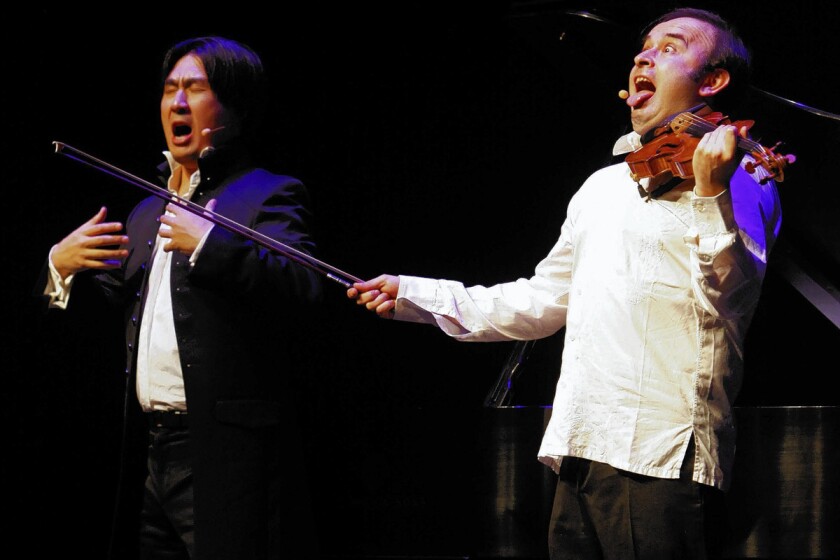 Channeling Danny Kaye, Victor Borge, P.D.Q. Bach and other musicians-cum-comics, conservatory-trained violinist Aleksey Igudesman and pianist Hyung-ki Joo like to say that they don't make fun of classical music but rather that they have fun with classical music. After entertaining packed houses around the world, the 40-year-old YouTube celebrities return to Long Beach's Carpenter Performing Arts Center on Jan. 5. But first comes a phone call from Joo at their home base of Vienna, with Igudesman reporting in from the Dominican Republic.
You sing, you dance, you sometimes play piano with wooden blocks or violin with a specially prepared milk frother. How did the musical humor of Igudesman & Joo get its start?
Joo: We've been performing together since we were 13 and in the Christmas cabaret at the Yehudi Menuhin music school in England. That was the birth of our lunacy.
PHOTOS: Arts and culture in pictures by The Times
Igudesman: We were and are very passionate musicians, and we were always surprised at how a lot of classical concerts were so dreadfully stiff in their atmosphere. Not the music — the music was exciting. But very often, when you entered a concert hall, you felt like you were entering some sort of funeral parlor. Even at that young age, we dreamt of making a concert experience where the centerpiece was still great music but people don't fall asleep and do get to experience classical music in the same way they would theater and comedy.
What have been some of your influences?
Igudesman: We read the great playwrights — George Bernard Shaw, Oscar Wilde, Anton Chekhov — and we admire very much the creators of "South Park," Trey Parker and Matt Stone.
Joo: And, of course, a lot of comedians — the whole "Saturday Night Live" gang, Second City, the Marx Brothers. Growing up in England, we were both also big Monty Python fans.
Now you seem to have quite a few fans yourselves, with some 35 million views on YouTube. How did that start?
Joo: We put two clips out on YouTube on New Year's Day 2006.
Igudesman: And then we added a few more. A career takes time to develop, and only now are we doing things like our performance at the Hollywood Bowl in 2012 or performing with the New York Philharmonic this New Year's Eve. For a long time, we were much more famous virtually than we were in real life. Very random people throughout the world would recognize us, like someone in airport security in Thailand.
CRITICS' PICKS: What to watch, where to go, what to eat
That's certainly changed. Billy Joel jumped onstage to perform with you, and you just did a special number for Joshua Bell's new holiday album, "Musical Gifts From Joshua Bell and Friends." How did you get entertainers like them and Emanuel Ax and John Malkovich to work with you?
Joo: We just lead very charmed lives. For example, we had been doing a number called "Violaerobics," sort of a hybrid of violin and aerobics, which was inspired by the guru of fitness, Richard Simmons. Then we bumped into him on a plane, told him about it, and in Trieste, he jumped onstage to perform "Violaerobics" with us. We never asked any of them. Everybody approached us.
You, Aleksey, have now directed your first movie, the mockumentary "Noseland," and the two of you have hinted at having your own TV series. What's next?
Joo: Aleksey and I have gathered together a bunch of kindred spirits who are also versatile musicians. We have a violinist who eats fire, another who is an acrobat, and a flutist who beats boxes. We hope in years to come to tour the U.S. with our "League of X-traordinary musicians."
But first comes "And Now Mozart" in Long Beach. You've combined Mozart and James Bond movie music in earlier shows, and it's rare we don't hear you do a riff on Gloria Gaynor's '70s disco hit "I Will Survive." Should we expect to hear some of that in your new show?
Joo: Mozart's name might be mentioned, and there might be a few notes that resemble something he may have done. "I Will Survive" has become very much an anthem of ours, although we do it in the original Russian version.
Igudesman: Actually, we thought it was the original version, but then we discovered the original ancient manuscript of "I Will Survive." We were so amazed to find that version that it is the very last number of our show, and it probably sounds as it did when Mozart first wrote it.
----------------------------
Igudesman & Joo: 'And Now Mozart'
Where: Carpenter Performing Arts Center, Long Beach
When: 2 p.m. Sunday
Cost: $35
Info: (562) 985-7000 or https://www.carpenterarts.org

MORE
PHOTOS: Hollywood stars on stage

CHEAT SHEET: Fall Arts Preview

PHOTOS: Arts and culture in pictures
---
Inside the business of entertainment
The Wide Shot brings you news, analysis and insights on everything from streaming wars to production — and what it all means for the future.
You may occasionally receive promotional content from the Los Angeles Times.