Photos: Gallery Report: Stitched paintings, a shattered mural, hidden heads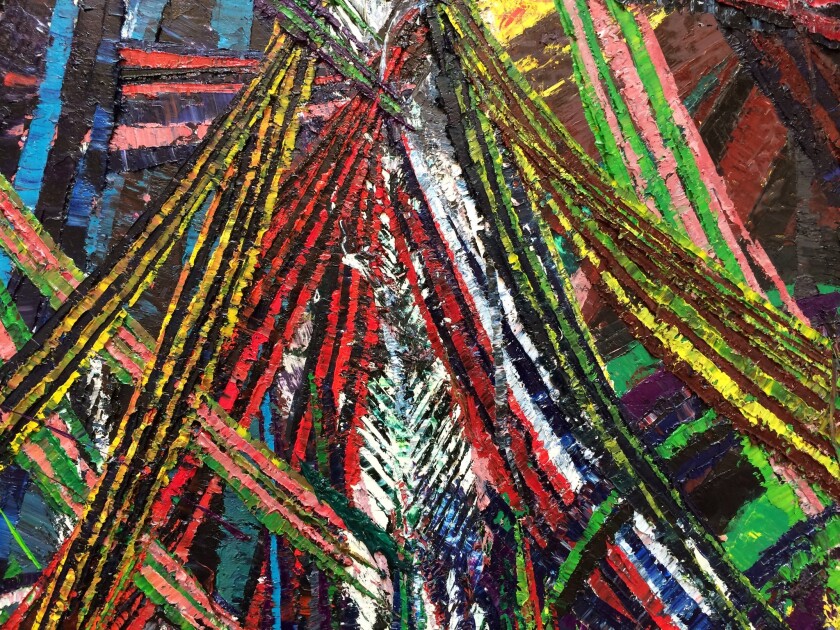 It's a good time to be trotting around Los Angeles. looking at art. A short tour Saturday through Culver City — with one stop in West Hollywood — turned up some wild abstractions, naughty stitched collages, a funny video that plays on female beauty tropes and a stirring mural shattered into 43 pieces.
Thankfully, I caught it all on Instagram. Here's my Gallery Report:
Susanne Vielmetter Los Angeles Projects
Susanne Vielmetter has a pair of abstract shows that are on view in her gallery through the weekend. Markus Bacher's abstracted landscapes, in the rear gallery, caught my eye for the ways in which the artist uses paint. It appears to be thickly laid on, but what you see above is actually a very thin layer of acrylic and oil — a detail from a work titled "o4P_bbwg_2009_2015." See the full canvas here.
In Vielmetter's front space were canvases and sculptural installations by Tam Van Tran. Seen here, "Afternoon Chigong," from 2015, looking like a sprightly apparition emerging from some post-nuclear type.
Markus Bacher, "onetwo painting," and Tam Van Tran, "Exodus," is on view at Susanne Vielmetter Los Angeles Projects through May 23. 6006 Washington Blvd., Culver City, vielmetter.com.
Bits of drawings that could be feathers but also bulbous bits of tissue torn up and reconfigured: Nancy Baker Cahill's "Decomposition No. 11" on view at Merryspace, a pop-up gallery run by curator Merry Norris. The show also includes the woven sculpture of Tanya Aguiñiga. Los Angeles Magazine has a Q&A with the artists, who are hosting an artists' talk this Saturday at 1 p.m.
Nancy Baker Cahill and Tanya Aguiñiga, "Shevening," is on view through Monday at Merryspace. 2754 S. La Cienega Blvd., Culver City, nancybakercahill.com and tanyaaguiniga.com.
L.A. painter Mark Grotjahn has 15 new paintings on view at Blum & Poe. These are somewhat more expressive riffs on his abstractions of the past. But there's some hidden figuration, too: Look closely enough and you might see faces buried in all his stylized foliage.
Tucked away in Blum & Poe's upstairs gallery is a sculpture from Grotjahn's "Circus" series. The piece (a detail of which can be seen above) is made from cardboard and metal. I dig the high/low combination of materials. In fact, I would have loved to have seen a few more of his sculptural works in the show. I feel like I'd like to see more Grotjahn sculpture in general. It has an intentional crudeness that really appeals...
Mark Grotjahn, "Fifteen Paintings," is on view through June 20 at Blum & Poe. 2727 S. La Cienega Blvd., Culver City, blumandpoe.com.
Sonce Alexander has a show of works by Andrea Marie Breiling that gathers a series of the artist's wall-hung collage-paintings. These consist of all manner of detritus stretched and pulled on wooden frames then doused in swaths of paint. The smaller pieces are the most interesting, and the ones in which the artist seems to have the best command of her materials, such as the one above, which has the tension of a rubber band that's been stretched to its limit.
Andrea Marie Breiling, "Stretchin' It Out," is on view through May 30 at Sonce Alexander. 2634 S. La Cienega Blvd., Culver City, soncealexandergallery.com.
Walter Maciel has a couple of shows, one of which features the stitched pieces of Maria E. Piñeres. She creates portraits, but also wild collages out of porn and imagery from pinball games. Seen here: a detail from "Ex Malo Bonum (Good Out of Evil)."
Also on view at Maciel is a group show, "Suggestive Role Play," which features a number of works by women artists dealing with questions of gender and identity. Among them, the biting, two-minute video by Jenifer Yeuroukis, seen in the snapshot above. "Trip tych Tart" shows the artist trying to conform to various beauty standards: playing with high heels, adopting the poses of famous sculpture, and in general showing the ridiculous expectations placed on women when it comes to the form of their bodies.
While you're there, don't miss Carolyn Castaño's acerbically witty 2012 video "El Reporte Femenil," a work that has always attracted me for the amazing things it does with language.
María E. Piñeres, "Sittings," and "Suggestive Role Play," are on view through Saturday at Walter Maciel Gallery. 2642 S. La Cienega Blvd., Culver City, waltermacielgallery.com.
Max Maslansky just wrapped up a show of paintings at Honor Fraser, which I managed to catch on the last day. I'm glad I did: Maslansky knows his way around a bed sheet — using these as wildly patterned canvases for his unusual renderings of pornography. In all the odd poses and weird gesticulations, the artist finds humor and weirdness, all made stranger by his downright hallucinatory color palette.
At Luis de Jesus, Tijuana artist Hugo Crosthwaite delivers a terrific gathering of works that straddle the divide between painting and sculpture and the real and the unreal. Crosthwaite skillfully skips around from realistic to cartoonish drawing styles and from contemporary reality to history to fiction — to the point where it can be difficult to tell which is which. These are pieces worth savoring, since the joy is in discovering the many hidden details.
The piece de resistance at Luis de Jesus is Crosthwaite's "Shattered Mural," which takes the idea of the conventional mural and atomizes it into several dozen pieces on the gallery floor that the viewers can walk through and around. A beautiful installation. This is a show not to miss.
Hugo Crosthwaite, "Tijuana Radiant Shine" and "Shattered Mural," are on view through June 20 at Luis de Jesus Los Angeles, 2685 S. La Cienega Blvd., Culver City, luisdejesus.com.
And the last stop of the day: Diana Al-Hadid's beautiful decay at Ohwow Gallery in West Hollywood, which I also caught on the last day. The show contained sculpture, as well as a series of wall-hung works that blended sculpture and painting: works that appeared to be reduced to nothing more than their drips — all while revealing ghosts of the paintings they might have been.
Art makes me hungry and I ended up at the Ralphs on La Brea in search of victuals. What I found: the work of art known as the cheddar cheese ball. It's hard to think of the last time I saw anything this sinister.
Find me on Twitter @cmonstah.
---
From the Oscars to the Emmys.
Get the Envelope newsletter for exclusive awards season coverage, behind-the-scenes stories from the Envelope podcast and columnist Glenn Whipp's must-read analysis.
You may occasionally receive promotional content from the Los Angeles Times.