Greg Escalante, noted gallerist, Lowbrow champion and a founder of Juxtapoz magazine, dies at 62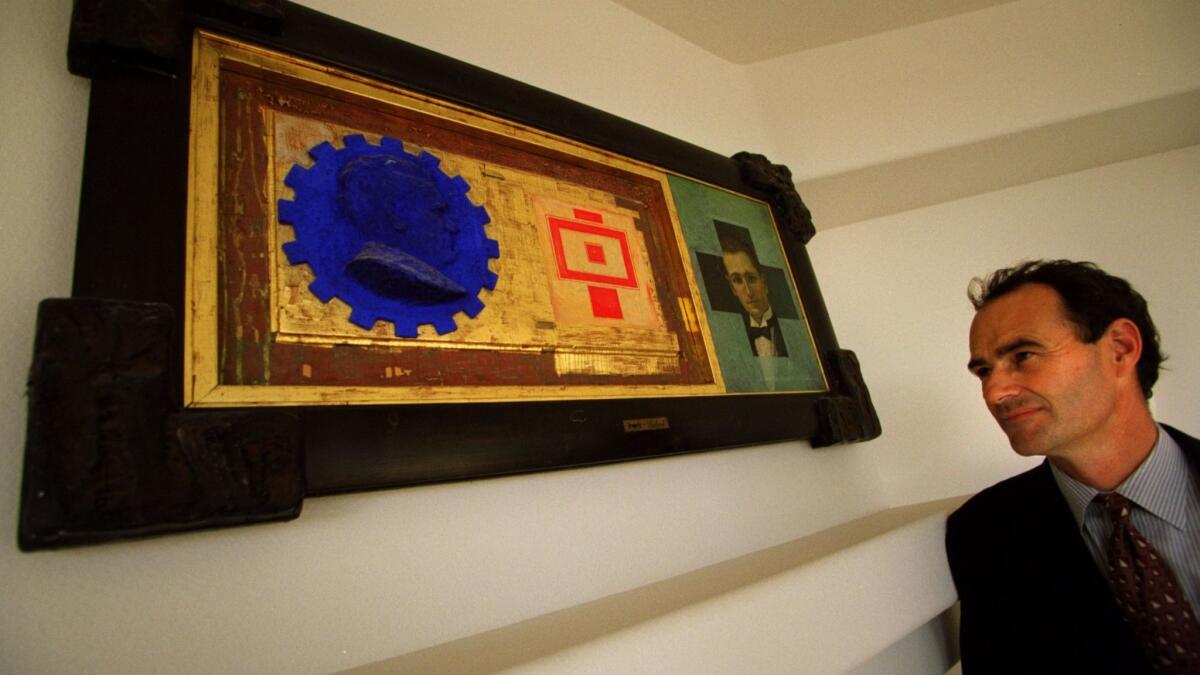 Greg Escalante, a bond trader who went on to become a key patron of the Lowbrow art movement as a collector, gallerist and co-founder of the magazine Juxtapoz, died Thursday evening of undisclosed causes at his home in Huntington Beach. He was 62.
His death was confirmed by Wendy Sherman, manager of his Chinatown namesake art space, Gregorio Escalante Gallery.
"We're still dealing with the news," Sherman said Friday afternoon. "He was a huge champion of artists, especially Lowbrow artists. He supported a lot of artists."
An image posted to the gallery's Instagram feed Friday featured a photo of Escalante clad in a blue suit. A written tribute, echoing the words of Walt Whitman, reads: " 'O Captain! My Captain!' We are devastated today by the loss of our Captain Escalante. He was the visionary with the kindest soul."
Escalante is one of the key figures associated with Lowbrow, a pop-inflected school of art that emerged in 1970s California, and which drew inspiration from underground comics, punk music, tattooing, the custom car scene, and surf and skate culture — the exact opposite of what the minimalist-minded mainstream art world was into during that era.
"He championed Lowbrow art when it was a very nascent movement," said Mat Gleason, owner of the Chinatown art space Coagula Curatorial, and a longtime friend of Escalante's. "He became a real patron of the field."
"If Lowbrow had a Mt. Rushmore, he'd have to be on it."
For much of his professional career, Escalante worked in bond trading at a firm in Orange County.
He first established a name for himself in the art world as a patron — over the years serving on boards for the Laguna Art Museum, the Grand Central Art Center in Santa Ana and the Huntington Beach Art Center.
He also emerged as an important collector of Lowbrow work, art that generally thumbed its nose at the abstract-minded academic world — or, for that matter, any sort of pretension.
One of Escalante's early acquisitions was a work by Los Angeles painter Robert Williams (now regarded as an elder statesman of the movement) that had been featured on the cover of the skate magazine Thrasher. The image showed a sweet-looking boy and girl — the boy holding a dead rat by the tail.
Seeing Williams' work changed his life, Escalante told The Times in 1992: "I just went, 'Wow, wow, wow. … This is exactly what somebody should be doing; this is making art exciting again.' "
Art, he said, "had gotten too intellectual."
If lowbrow had a Mt. Rushmore, he'd have to be on it.

— Mat Gleason, gallerist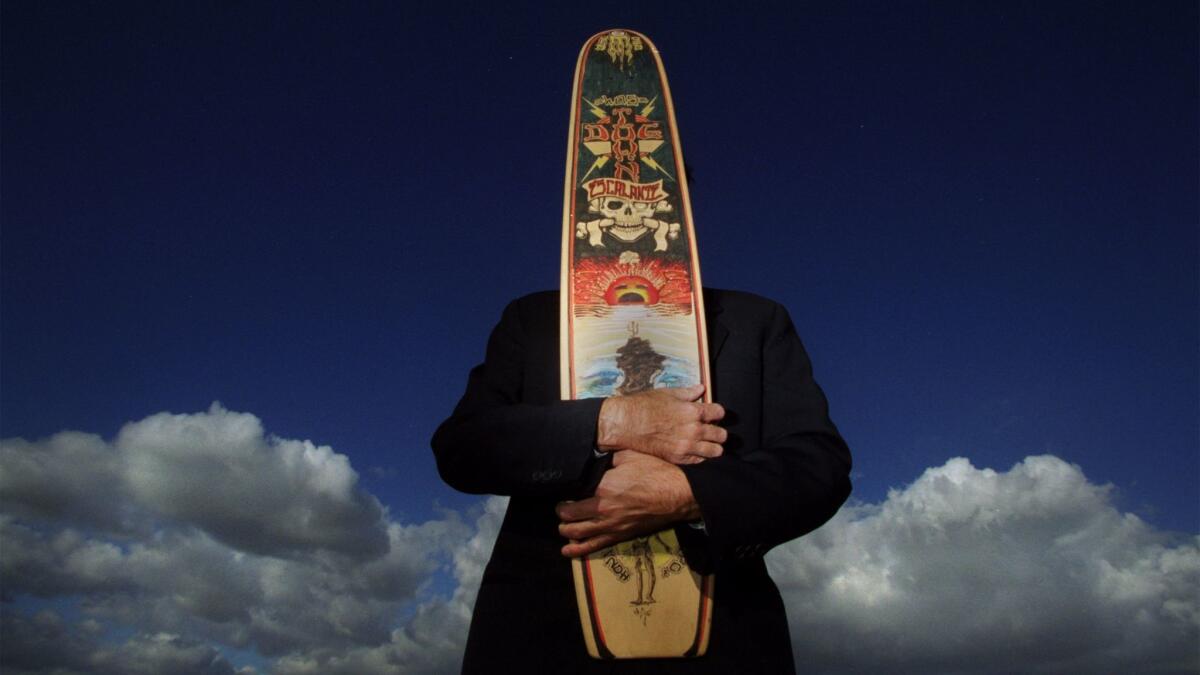 He and Williams became fast friends and associates. In 1994, the two co-founded Juxtapoz, along with numerous other figures associated with Thrasher.
The first issue debuted in the winter of that year and featured a painting by Williams of a machine-like man skinning planet Earth. The editor's letter, written by Williams, also featured a volley against the confines of high-brow taste: "Here is the first issue of Juxtapoz, the art magazine that plans to stay below everyone's dignity."
Beyond Juxtapoz, Escalante helped support important Lowbrow exhibitions, such as "Kustom Kulture" at the Laguna Art Museum in 1993, and the follow-up "Kustom Kulture II" at the Huntington Beach Art Center 20 years later.
By 2001, he had established his first gallery, Copro Nason, in Santa Monica, with fellow dealer Douglas Nason. ("Joe Copro" is a nickname Escalante often used.) The gallery now is run by Gary Pressman, and Nason no longer is involved.
In the fall of 2015, Escalante went on to establish Gregorio Escalante Gallery in Chinatown as a place to showcase artists he admired. Works have included those by Jeff Gillette, who turned the gallery into a mock landfill, paintings by animator Jorge R. Gutierrez of "Book of Life" fame, and a group show that gathered art inspired by the Black Panthers.
"Greg's favorite thing was to feature unknown artists," said Sherman, "an artist who was amazing but no one has ever heard of."
Escalante was born in 1955 in Los Angeles. His father owned a sign business, and his mother was a homemaker. He attended Los Alamitos High School. He was a devoted surfer — often on the water for hours before the start of school each day.
He had an early interest in art, receiving a bachelor's degree in art from Cal State Long Beach, where he specialized in ceramics.
Escalante began bond trading after an uninspiring job at a ceramics factory left him disillusioned, but his interest in art never waned.
"He was a fan," said Gleason, whose gallery is adjacent to Escalante's. "He was an appreciator."
The lanky gallerist, who often studded his speech with surf jargon ("totally," "gnarly"), also was known as a fan of flamboyant duds. Escalante would hit openings decked out in checked-green jackets, powder-blue suits and a shirt covered in celebrity mugshots. Sherman recalled Escalante arriving at one opening in a white suit — then having all the artists in the room sign it with markers.
"He was definitely the best-dressed art person, for sure," she said.
Friends and colleagues remember Escalante's unfailing generosity most of all.
"He was the kind of guy who, no matter who came to his gallery, he'd bring them by to see my shows," Gleason said. "It could be some celebrity.
"With gallerists, there is a collegiality, but they can be competitive. But that stuff was secondary to him. He was really about living in the moment of being around artists and celebrating them."
Escalante is survived by his daughter, Isabella Escalante.
Sign up for our weekly Essential Arts & Culture newsletter »
Get our L.A. Goes Out newsletter, with the week's best events, to help you explore and experience our city.
You may occasionally receive promotional content from the Los Angeles Times.