Datebook: A SoCal artist pair, a doc about a culture-war artist, Rivera and Picasso
A show that brings together the works of a longtime L.A. art couple. The parallels between Picasso and Rivera. And a flashback to the culture wars. Here are five exhibitions and events to check out in the coming week:
"Picasso and Rivera: Conversations Across Time," at the L.A. County Museum of Art. A new exhibition compares the artistic trajectories of two of the 20th century's most towering Modernists: Pablo Picasso and Diego Rivera. This covers the period from the 1920s to the '50s as they explored Cubism, classical forms and ancient cultures in innovative ways. The shows features 150 paintings, etchings and watercolors. Through May 7. 5905 Wilshire Blvd., Mid-Wilshire, Los Angeles, lacma.org.
A screening of "John Fleck Is Who You Want Him to Be," at American Cinematheque. This documentary by Kevin Duffy looks at the performance artist who was at the center of the culture wars of the early 1990s as one of the NEA Four, whose proposed grants were vetoed by then-NEA director John Frohnmayer because of their subject matter. The doc follows Fleck during a pair of performances, flashing back to the early days of his career. Friday at 7:30 p.m. 6712 Hollywood Blvd., Hollywood, americancinemathequecalendar.com.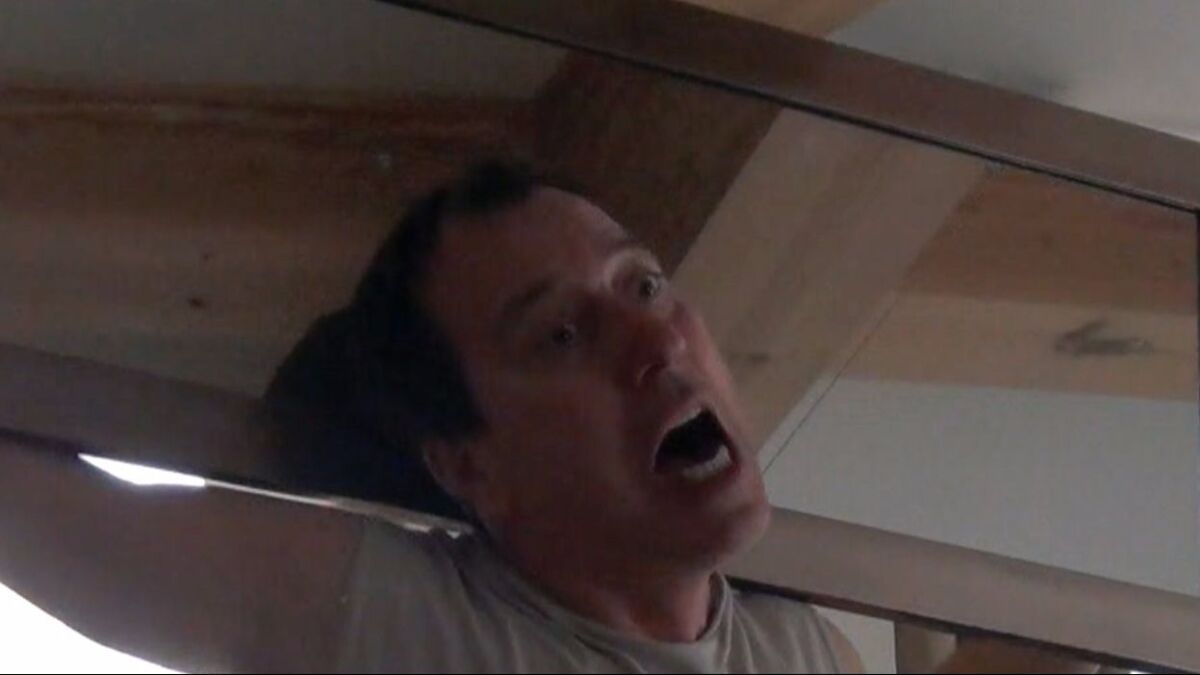 "The Human Beast: Art of Maxine Kim Stussy & Jan Stussy, at WUHO Gallery. A midcentury art couple who first met at UCLA in the late 1940s, Maxine Kim and Jan Stussy became known in Los Angeles for figurative works that revel in the animalistic. Organized by independent curator Michael Duncan, the show gathers 20 sculptures, paintings and works on paper by the artist pair. Opens Saturday at 6 p.m. and runs through Jan. 22. 6518 Hollywood Blvd., Hollywood, wuho.architecture.woodbury.edu.
"Overspilling World," a conversation and book signing with Janet Sternburg, at Hauser Wirth & Schimmel. The writer and photographer will be presenting her new monograph, "Overspilling World," which traces her work from the late 1990s to the present. Expect pictures that play with depiction and perception — employing windows and other reflective surfaces in ways that reflect and distort. Saturday at 11:30 a.m. 901 E. Third St., downtown Los Angeles, hauserwirthschimmel.com.
"The Contenders," at the Hammer Museum. The Hammer has once again teamed up with New York's Museum of Modern Art to showcase the most innovative films of the last year. Part of the series will be a screening this evening of "Lion," featuring a Q&A with director Garth Davis and actors Dev Patel and Rooney Mara. This will be followed by a screening of Barry Jenkins' "Moonlight" on Monday evening and Werner Herzog's "Into the Inferno" on Tuesday. Check the website for full listings.Through Dec. 15. 10899 Wilshire Blvd., Westwood, Los Angeles, hammer.ucla.edu.
"In Real Life: 100 Days of Film and Performance," at the Hammer Museum. This 4 1/2-month program is bringing a series of screenings, performances, film and video to the museum during a remodel. This weekend's lineup features a performance of Simon Leung's "Actions! Adjuncts!" — a piece that touches on issues of education and labor — that was originally performed at the Kitchen in New York City in 2013. Through Jan. 25. Check the schedule for events and times. 10899 Wilshire Blvd., Westwood, Los Angeles, hammer.ucla.edu.
LAST CHANCE
"China: Through the Lens of John Thomson," at CSUN Art Galleries. In the late 19th century, photographer and travel writer John Thomson traveled through China, taking plenty of pictures along the way. This exhibition showcases his eye as an astute travel photographer. Through Saturday. Cal State Northridge, 18111 Nordhoff St., Northridge, csun.edu.
Austin Lee, "Pretty Pictures," at UTA Artist Space. Lee makes drawings on a digital tablet, then translates them into oversized canvases using an airbrush fluorescent paint. The work is analog, but vibrates with the pulse of an illuminated pixel. Through Saturday. 670 S. Anderson St., Boyle Heights, facebook.com/UTAArtistSpace.
Jud Fine and Barbara McCarren, "AND/OR," at the University Art Museum. A survey exhibition includes works old and new by the L.A.-based art-making couple. This features a number of pieces related to such topics as offshore banking and the nature of currency, and a new installation, "Continental Edge Dwellers (CED)," that explores the coast — that blurry line between land and water. It's a good subject to marinate in at a time when California's coast is subject to struggles over development. Through Sunday. Cal State Long Beach, 1250 Bellflower Blvd., Long Beach, web.csulb.edu/org/uam.
Yulya Dukhovny, "Fisherman's Dream: The World in Miniature," at Grand Central Art Center. Inspired by the traditional paper theaters of 19th century Europe, the artist has created her own version of the form, but uses it to stage narratives with contemporary twists. The installation includes sets and video — as well as regular theatrical performances that feature unique musical compositions. Through Sunday. 125 N. Broadway, Santa Ana, grandcentralartcenter.com.
ONGOING EXHIBITIONS
Betye Saar, "Black White," at Roberts & Tilton. The grand dame of L.A. assemblage art (who is about to open a one-woman show at the Prada Foundation in Milan) is showing four decades' worth of sculptures and wall pieces in the gallery's project space — transformed to reflect both the colors and politics of black and white. Also on view will be the abstract paintings of Evan Nesbit. Through Dec. 17. 5801 Washington Blvd., Culver City, robertsandtilton.com.
Charles Gaines, "Numbers and Trees: Central Park Series II," at Susanne Vielmetter Los Angeles Projects. For roughly four decades, the L.A.-based conceptual artist has produced works inspired by equations and other logical systems that he displays on large grids covered in Plexiglas. In this exhibition at Vielmetter, he presents a series of monumental works inspired by the trees in Central Park — as well as eight new ink-and-paper drawings that take these concepts into a new medium. Through Dec. 17. 6006 Washington Blvd., Culver City, vielmetter.com.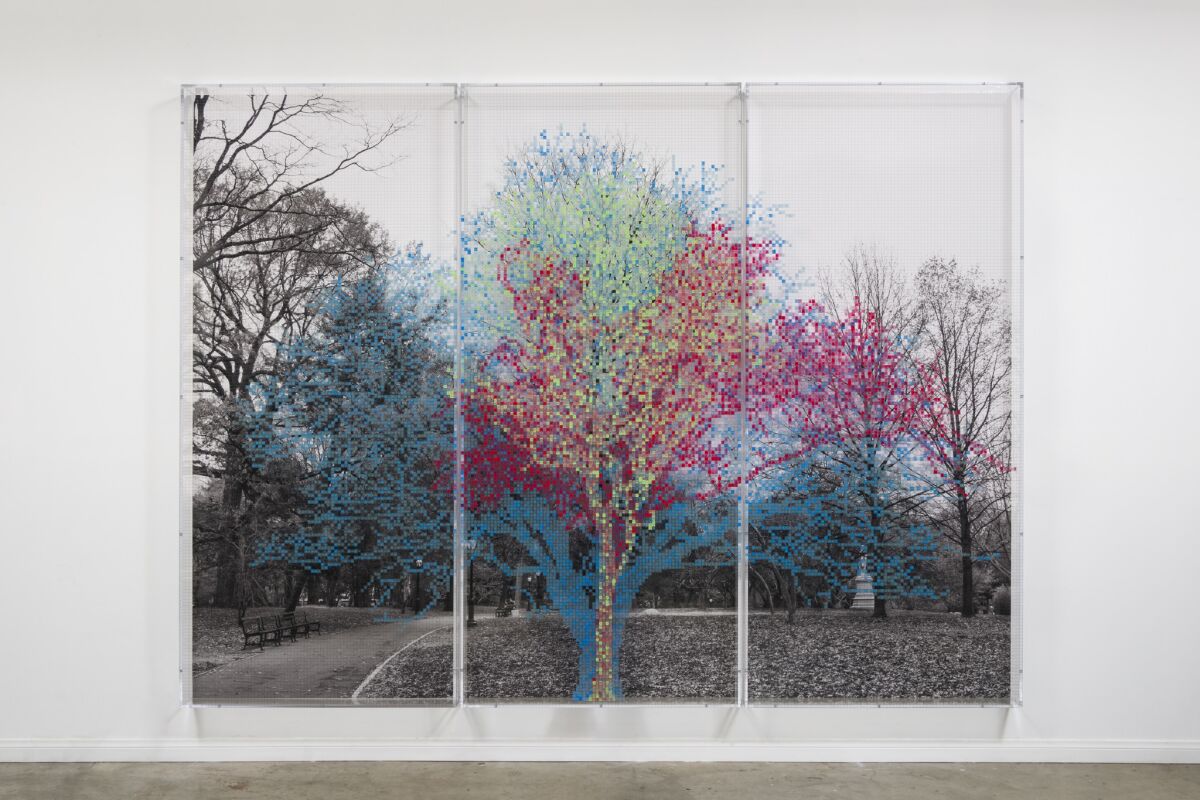 "Carlos Rolón/Dzine and Enoc Perez," at Chimento Contemporary. Rolón, better known as Dzine, and Perez have teamed up for a show that explores immigration, aspiration and identity (partly inspired by the artists' shared roots in Puerto Rico). Perez has created a series of small oil paintings that depict ideas of home; Rolón has created the frames — out of reclaimed wood and other bits of ephemera that confer notions of American-ness. Through Dec. 17. 622 S. Anderson St., Boyle Heights, Los Angeles, chimentocontemporary.net.
"Thomas Hirschhorn: Stand-alone," at the Mistake Room. In his first solo installation in L.A., the Swiss artist has transformed the gallery into a chaotic, immersive environment crafted from cardboard, old armchairs and sofas and stocked with a carefully chosen selection of books. The artist is known for re-conceiving the idea of monuments into often humbly crafted installations (think: duct tape) that require the participation of a viewer to complete. Through Dec. 17. 1811 E. 20th St., downtown Los Angeles, tmr.la.
Deborah Brown, "Careful What You Wish For," at Jason Vass. The artist's first exhibition in the U.S. since 1996 brings together photography, installation and sculpture created over the last decade — much of it riffing, in humorous, empowering ways, on female sexuality. Through Dec. 17. 1452 E. Sixth St., downtown Los Angeles, jasonvass.com.
"Sleep," "David Adamo: Untitled" and "Devin Farrand: Heft," at Ibid Gallery. The gallery debuts its new space in Boyle Heights this weekend with several new exhibitions, including a group show that riffs on the idea of sleep, as well as a pair of solos devoted to the work of sculptor David Adamo and the abstractions of Devin Farrand. Through Oct. 29. Adamo's exhibition and "Sleep" are on view through Dec. 17. 670 S. Anderson St., Boyle Heights, ibidgallery.com.
Paul Sietsema, at Matthew Marks Gallery. The artist's first solo exhibition in L.A. in more than a dozen years includes new paintings and drawings, as well as two recent films. The show is partly built around the color green, featuring one work of pure abstraction and another made with euro banknotes. The film "Abstract composition," in the meantime, animates phrases from online auction sites. Through Dec. 23. 1062 N. Orange Grove, West Hollywood, matthewmarks.com.
"25th Anniversary Show," at Kopeikin Gallery. Over the last 25 years, the Culver City gallery has staged more than 200 exhibitions of photography featuring work by masters such as Helen Levitt and Sally Mann. This exhibition gathers images by those important figures as well as many contemporary ones. Through Dec. 23. 2766 S. La Cienega Blvd., Culver City, kopeikingallery.com.
Lena Daly, "Night Bell," at Various Small Fires. It is the debut solo show for the Los Angeles artist, who makes installations that involve sculpture and video — all with the phosphorescent cast of a nightclub bathroom. Through Dec. 23. 812 N. Highland Ave., Hollywood, vsf.la.
Wolfgang Tillmans, at Regen Projects. The German photographer, renowned for a varied photography practice that spans still life, people and forces of nature, is having his seventh exhibition at Regen with a gathering of new and old works. This includes images from his "Freischwimmer/Greifbar" series, abstract pieces that are the result of light exposed onto color photographic paper. Through Dec. 23. 6750 Santa Monica Blvd., Hollywood, regenprojects.com.
Maria Lassnig, "A Painting Survey, 1950-2007," at Hauser Wirth & Schimmel. This is the first Los Angeles solo exhibition for the late Austrian artist, known for her inventively weird figurative paintings. The show traces the artist's journey over a nearly six-decade period, from her early abstractions to the mildly distorted, even cartoonish, paintings of people and settings that are more about capturing psychological states of being than rendering exact figures. Through Dec. 31. 901 E. 3rd St., downtown Los Angeles, hauserwirthschimmel.com.
Jeffrey Vallance, "Now More Than Ever," at Edward Cella Art & Architecture. An artist known for drawing from a wide array of media that brings together both painting and performance, Vallance's latest exhibition takes on the election, among other subjects, in collages that feature political placards along with the artist's expressive drawings. These are visceral assemblages that wryly comment on the nature of bureaucracy, corruption, politics and society — in ways that are way more fun than CNN. Through Dec. 31. 2754 S. La Cienega Blvd., Culver City, edwardcella.com.
Isa Genzken, "I Love Michael Asher," at Hauser Wirth & Schimmel. This is the German artist's first solo exhibition in California — featuring a new body of work (teetering assemblages crafted from bits of architectural and other detritus). It also pays tribute to an artist by whom she was moved and inspired: California-born conceptualist Michael Asher, who was known for architectural interventions that reconfigured physical and social ideas of space. The gallery also has a traveling exhibition titled "Schwitters Miró Arp," that brings together works by renowned European Dadaists Kurt Schwitters, Joan Miró and Hans Arp. Sounds pretty boss. Through Dec. 31. 901 E. Third St., downtown Los Angeles, hauserwirthschimmel.com.
"MOLAA at Twenty: 1996-2016," at the Museum of Latin American Art. The Museum of Latin American Art in Long Beach is celebrating two decades in existence with a show that draws from the museum's permanent collection of more than 1,600 objects. These include works by renowned Modernists Joaqíun Torres-García and Wifredo Lam, Argentine conceptualist Len Ferrari as well as contemporary figures such as Alexandre Arrechea and Patssi Valdez. Through Jan. 1. 628 Alamitos Ave., Long Beach, molaa.org.
"The Art of Alchemy," at the Getty Museum. An exhibition at the Getty examines the art of alchemy — an area of study described as "science tinged with spirituality and infused with a spritz of artistic spirit" — dating from its origins in Greco-Roman antiquity to the Industrial Age. Alchemy was also closely tied to the production of pigments and colored inks, serving an important role in the production of art. That's the subject of the related show: "The Alchemy of Color on Medieval Manuscripts," takes on. Through Jan. 1. Getty Center, 1200 Getty Center Drive, Brentwood, Los Angeles, getty.edu.
"Drawing: The Art of Change," at the Getty Museum. An exhibition of drawings from the Getty's permanent collection looks at the ways in which artists employ revision and change in their works. Through Jan. 1. Getty Center, 1200 Getty Center Dr., Brentwood, Los Angeles, getty.edu.
Ernesto Yerena Montejano, "Espejismo/Cicatriz," at La Plaza de Cultura y Artes. A series of intensely detailed, layered collages by the Los Angeles-based artist explore issues of identity in the Latino community. Through Jan. 1. 501 N. Main St., downtown Los Angeles, lapca.org.
"Senses of Time: Video and Film-Based Works of Africa," at the Los Angeles County Museum of Art. For one of its long-term installations, the museum has gathered works of video or film by contemporary African artists that explore the body and the looping nature of time. This includes pieces by figures such as Yinka Shonibare, Sammy Baloji, Berni Searle, Moatax Nasr and Theo Eshetu. Through Jan. 2. 5905 Wilshire Blvd., Mid-Wilshire, lacma.org.
"The Serial Impulse at Gemini G.E.L.," at LACMA. Over the course of five decades, the innovative Los Angeles print studio has produced historic limited edition works for renowned artists such as Richard Serra, Claes Oldenburg, Vija Celmins, David Hockney and Robert Rauschenberg. Now the museum, in conjunction with the National Gallery of Art, brings together some of the most exquisite examples of work produced at the famed West Hollywood shop, including Rauschenberg's 1967 print, "Booster," a 6-foot-tall print that in its day was the largest art print ever made. Do not miss Oldenburg's pieces, which ruminate on the nature of Los Angeles. Through Jan. 2. 5905 Wilshire Blvd., Mid-Wilshire, Los Angeles, lacma.org.
"Rediscovering Genius: The Works of Edward S. Curtis," at the Depart Foundation. Curator Bruce Kapson has brought together a rare selection of important, historical works by the legendary photographer, known for chronicling North American Indian cultures during the early days of the 20th century, most famously in his expansive volume, "The North American Indian." This includes original photography, as well as the artist's little-seen and never published proofs and photogravure printing plates. Through Jan. 5. 9105 Sunset Blvd., West Hollywood, departfoundation.com.
"The Rat Bastard Protective Association," at the Landing. The Rat Bastard Protective Association was a close-knit group of now well-known California artists — including Bruce Conner, Jay DeFeo, Wallace Berman and Joan Brown — that worked together in a building dubbed Painterland in San Francisco. Anastasia Aukeman, who wrote a book on the group — "Welcome to Painterland: Bruce Conner and the Rat Bastard Protective Association" — has organized an exhibition that brings the group's works together for the first time since the late 1950s. Through Jan. 7. 5118 W. Jefferson Blvd., West Adams, thelandinggallery.com.
Jay DeFeo, "Paintings on Paper, 1986-1987," at Marc Selwyn Fine Art. Over a four-decade career, the Bay Area-based artist was known for a diverse range of stark abstract works that included paintings, collages and monumental wall sculpture. This show at Selwyn gathers drawings from her "Samurai" series, paintings on heavy paper that were influenced by the artist's 1985 trip to Japan, as well as an exhibition of Japanese helmets. Through Jan. 7. 9953 S. Santa Monica Blvd., Beverly Hills, marcselwynfineart.com.
Steven Steinman, "Sparks & Showers," and Klea McKenna, "Automatic Earth," at Von Lintel Gallery. The gallery has a pair of shows: a series of unusual photographic rubbings by McKenna, who hails from the Bay Area, and the monochromatic paintings of the L.A.-based Steinman, who imbues bold monochromatic paintings with texture and undulating patterns. Through Jan. 7. 2685 S. La Cienega Blvd., Culver City, vonlintel.com.
"S/Election," at the Los Angeles Municipal Art Gallery. Because too much election is never enough, the L.A. Municipal Art Gallery has put together a broad group show that examines issues of citizenship, identity, immigration and criminal justice. The show includes work by such socially and politically minded artists such as Jennifer Moon, Charles Gaines, Olga Koumoundouros and Rubén Ortiz-Torres. Through Jan. 8. 4800 Hollywood Blvd., Hollywood, lamag.org.
Kay Sekimachi, "Simple Complexity," at the Craft & Folk Art Museum. The museum has gathered a lifetime's worth of work — from the 1960s to today — of this innovative Bay Area fiber artist. Through Jan. 8. 5814 Wilshire Blvd., Mid-Wilshire, Los Angeles, cafam.org.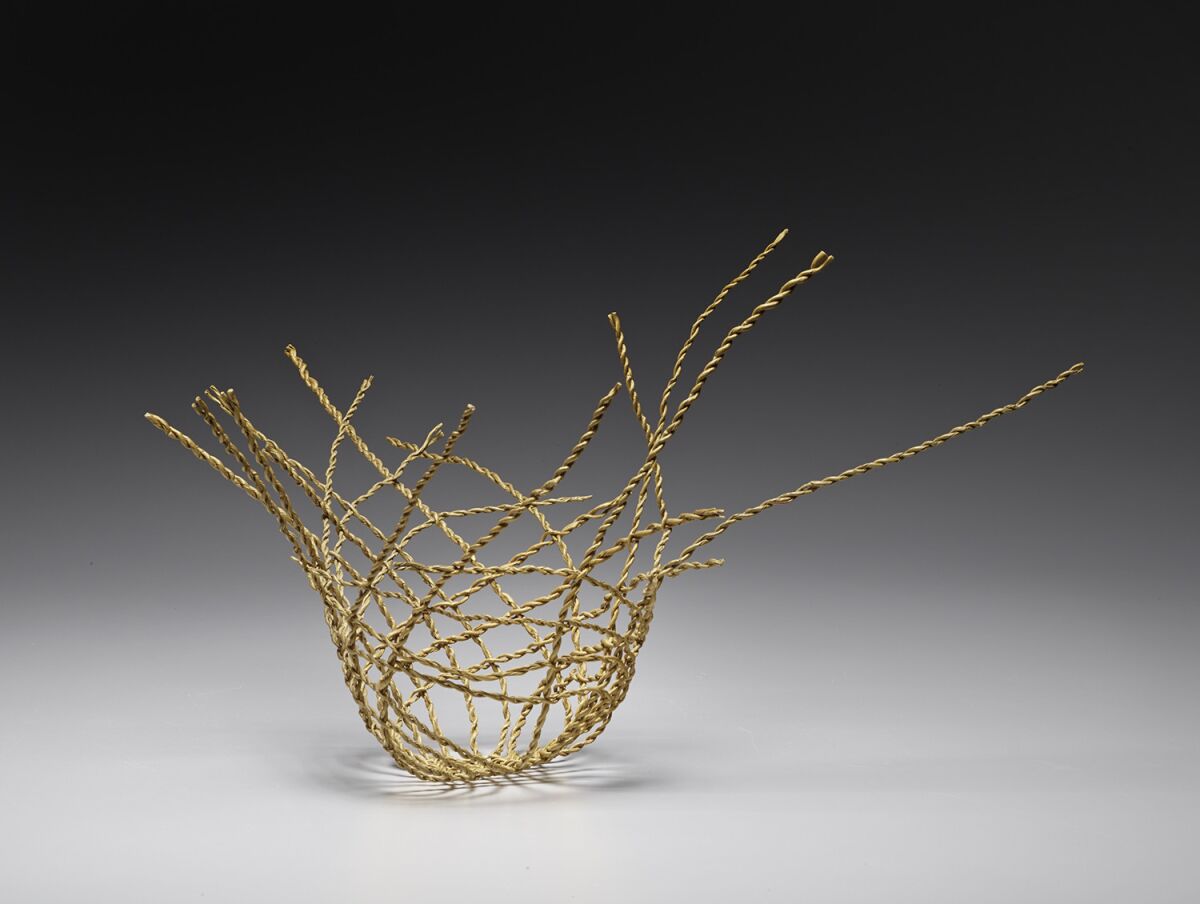 "The Drawing Show," at the A+D Architecture and Design Museum. A new exhibition gathers drawings by architects who use the medium as an exploratory tool in their design practices. This includes images that channel everything from geometric abstraction to the weirdly biomorphic. Architects featured include figures such as Pritzker Prize-winner Thom Mayne, as well as Kyle Miller, Anthony Morey and Bryan Cantley. Through Jan. 8. 900 E. Fourth St., downtown Los Angeles, aplusd.org.
"Radio Imagination: Artists in the Archive of Octavia E. Butler," at the Armory Center for the Arts. This year marks the 10th anniversary of the death of sci-fi writer Octavia Butler. As part of this exhibition, which is organized by Clockshop, seven contemporary artists have created work inspired by the items in Butler's archive, held by the Huntington Library. The new pieces include drawings, a sound installation, sculpture and even a musical work, which will premiere at the exhibition's opening. Also on view will be an exhibition of sculptures and video by Harry Dodge — making this a most excellent two-fer. Through Jan. 8. 145 N. Raymond Ave., Pasadena, armoryarts.org.
Michael Lift, "Sidereal Lift," at Craig Krull Gallery. In his latest solo exhibition, the artist explores the Southern California landscape from above — featuring a series of prints that capture L.A. in ways that are geometric and a bit magical. Also on view will be Pamela Kendall Schiffer's images of Yellowstone and Jeff Brouws' stereoscopic images of an old copper mining pit in Montana. Through Jan. 14. Bergamot Station, 2525 Michigan Ave., B-3, Santa Monica, craigkrullygallery.com.
Doug Aitken, "Electric Earth," at the Museum of Contemporary Art. The L.A. artist's first North American museum survey features an array of collage, photographic and video installation works from throughout his career — including the cinematic "Song 1," from 2012, screening on a massive circular screen, and "Electric Earth," the 1999 video installation that earned him the International Prize at the Venice Biennale. Through Jan. 15. Geffen Contemporary, 152 N. Central Ave., downtown Los Angeles, moca.org.
"Truc Anh: Vacuphilia," at Varola. The first exhibition by the Vietnamese-French artist features paintings and installations that feature bodies and body parts inhabiting an abstracted world of black and white. Through Jan. 20. Pacific Design Center, 8687 Melrose Ave., Ste. B256, West Hollywood, helenvarola.com.
"Black With a Drop of Red: Contemporary Cuban Poster Work," at the Fowler Museum. A group show brings together poster designs by 18 graphic artists who have created broadsides for everything from Cuban cultural happenings to U.S. movies — all in stark shades of white, black and red. Through Jan. 22. 308 Charles E. Young Dr. N., Westwood, Los Angeles, fowler.ucla.edu.
Beatriz Cortez, "Nomad World," at the Vincent Price Art Museum. The L.A.-based artist and cultural critic has transformed the gallery space at the museum into an arcade that picks apart global capitalism. A fortune-telling booth, a pinball machine and a jukebox have been pulled apart and put back together, in ways that grapple with issues such as migration, economics and identity. Through Jan. 28. East Los Angeles College, 1301 Cesar Chavez Ave., Monterey Park, vincentpriceartmuseum.org.
"Virgin of Guadalupe: Images in Colonial Mexico," at the Bowers Museum. This exhibition looks at the extraordinary impact of the Virgin of Guadalupe on Mexican culture, history and iconography through more than 60 artworks, including objects from the virgin's basilica in Mexico City, as well as a sacred reliquary that contains a portion of the garment worn by Juan Diego, the indigenous peasant who first saw the virgin in an apparition. Through Jan. 29. 2002 N. Main St., Santa Ana, bowers.org
"California Wood Artists," at the Maloof Foundation. A group show gathers wooden objects created by nearly 40 California wood artists, from one-of-a-kind furnishing to elaborate marquetry inspired by Google searches. Through Feb. 11. 5131 Carnelian St., Alta Loma, malooffoundation.org.
Nkame: A Retrospective of Cuban Printmaker Belkis Ayón, at the Fowler Museum. The Cuban visual artist was known for powerful pieces inspired by the visual iconography of the founding myths of Abakúa, an Afro-Cuban fraternal society. Over her short life (she died at age 32 in 1999), she produced a voluminous number of prints and collages in shades of black and white that convey scenes that are both magical and enigmatic. Through Feb. 12. UCLA, 308 Charles Young Drive North, Westwood, Los Angeles, fowler.ucla.edu.
"States of Mind: Picasso Lithographs, 1945-1960," at the Norton Simon Museum. Drawn from the museum's holdings of more than 700 Picasso prints, this exhibition gathers works made in the immediate postwar years, many of which sequentially depict the artist's process as he made changes and revisions. Moreover, many of the works are being seen for the first time in 40 years. Through Feb. 13. 411 W. Colorado Blvd., Pasadena, nortonsimon.org.
"In the Land of Sunshine: Imaging the California Coast World," at the Pasadena Museum of California Art. Covering a period that begins in the mid-19th century and spans to today, this exhibition covers beach culture up and down our state's more than 800-mile coast — from playful abstractions of the shoreline to expressive watercolors that will make you practically taste the salt air. Through Feb. 19. 490 E. Union St., Pasadena, pmcaonline.org.
"Ease of Fiction," at the California African American Museum. The museum has launched a new slate of shows. This includes "Ease of Fiction," a group exhibition that features work by four African artists exploring the fine line between the invented and the real and the debut museum exhibition of Los Angeles artist Genevieve Gagnard, whose photographs question notions of blackness and whiteness. There is also a beguiling room-sized installation by Hank Willis Thomas that recasts the symbols of the Confederate flag in the colors of black nationalism — and projects them in tune with a soundtrack of spoken-word audio. Through Feb. 19. 600 State Dr., Exposition Park, Los Angeles, caamuseum.org.
"Tastemakers and Earthshakers: Notes on Los Angeles Youth Culture, 1943-2016," at Vincent Price Art Museum. A multimedia exhibition organized by the museum's new director, Pilar Tompkins Rivas, looks at eight decades of youth culture — from the pachucos and pachucas of the '40s, to the connections between Los Angeles and British youth culture, to the emergence of social spaces geared at youth. In addition to work by more than 35 area artists, the exhibition also features documentary photography, video and other cultural ephemera. Through Feb. 25. East Los Angeles College, 1301 Cesar Chavez Ave., Monterey Park, vincentpriceartmuseum.org.
"Pop for the People: Roy Lichtenstein in Los Angeles," at the Skirball Cultural Center. A new exhibition of the pop artist looks at more than 70 works spanning four decades, many of which are connected to Los Angeles and the artist's collaboration with important print studios here — including Gemini G.E.L. and Tamarind Lithography Workshop. Through March 12. 2701 N. Sepulveda Blvd., Brentwood, Los Angeles, skirball.org.
Toba Khedoori, at the L.A. County Museum of Art. This is the first major museum survey of the L.A.-based artist, known for her painstaking draftsmanship and enigmatic drawings and paintings. Her works often feature architectural elements, landscape, smoke and flame in ways that play with negative space and toy with meaning. Through March 19. 5905 Wilshire Blvd., Mid-Wilshire, Los Angeles, lacma.org.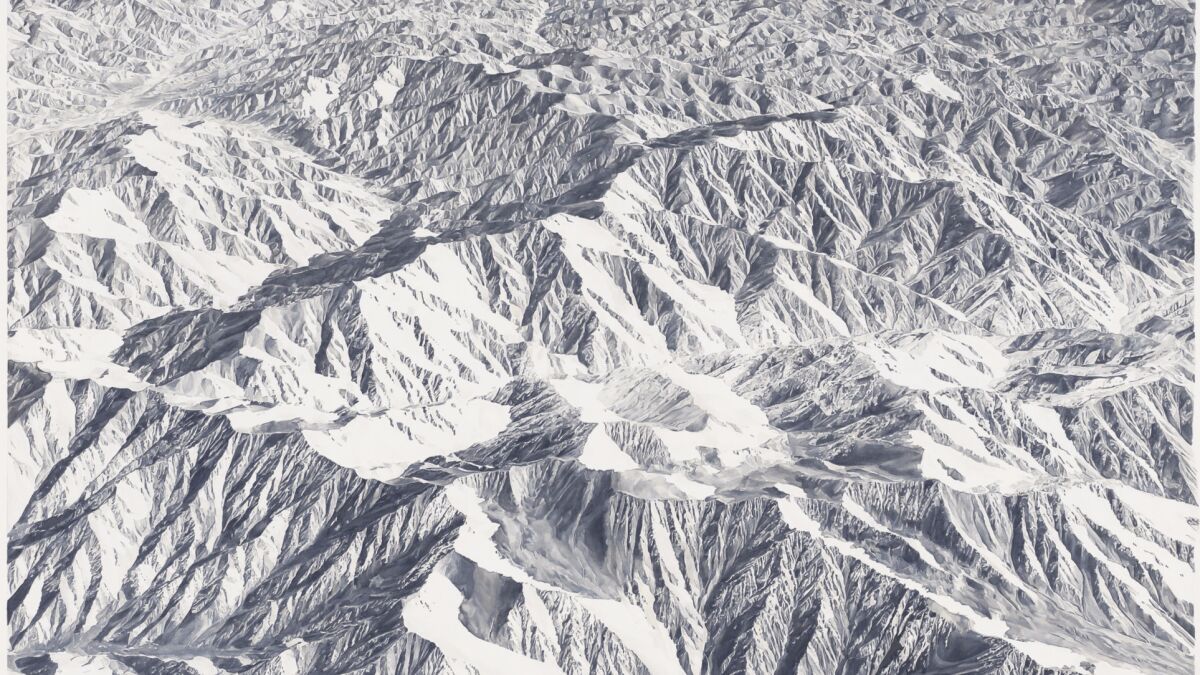 "Becoming America: Highlights from the Jonathan and Karin Fielding Collection," at the Huntington Library. The Huntington has just redone its American art galleries and now features a new expansion by architects at Frederick Fisher and Partners that adds eight rooms for display. Up first will be an exhibition devoted to the Fielding Collection, featuring more than 200 works of 18th and early 19th century American art, including paintings, furnishings and decorative art. While you're at the museum, pop in to see the show "Real American Places: Edward Weston & 'Leaves of Grass,'" which features the portfolio of photographs that Weston made to accompany Walt Whitman's seminal poem. "Becoming America" runs indefinitely; Weston runs through March 20. 1151 Oxford Rd., San Marino, huntington.org.
"Non Fiction," at the Underground Museum. An emotionally charged exhibition curated by the late Noah Davis in collaboration with the Museum of Contemporary Art in Los Angeles brings together works that explore issues of race and violence. This includes important works from MOCA's permanent collection by artists such as Robert Gober, Kara Walker, Henry Taylor and David Hammons. Through March. 3508 W. Washington Blvd., Arlington Heights, Los Angeles, theunderground-museum.org.
"L.A. Exuberance: New Gifts by Artists," at the Los Angeles County Museum of Art. This exhibition brings together more than 60 works of art donated by artists to the museum, including pieces by photographer Catherine Opie, light and space master Larry Bell, multimedia artist Analia Saban, photographer James Welling and conceptualist Mario Ybarra Jr. Through April 2. 5905 Wilshire Blvd., Mid-Wilshire, Los Angeles, lacma.org.
"John McLaughlin Paintings: Total Abstraction," at the Los Angeles County Museum of Art. One of the most important artists of SoCal's postwar period, McLaughlin is known for quiet, minimalist works that explore total abstraction: geometries and lines that explore ideas of shape and space, but not representation. This exhibition gathers 52 paintings and a selection of collages and drawings — representing the first major museum retrospective of the artist's work. Times critic Christopher Knight says this is the show he has been waiting 40 years to see. Do not miss. Through April 16. 5905 Wilshire Blvd., Mid-Wilshire, lacma.org.
"Islamic Art Now: Part 2" at the Los Angeles County Museum of Art. Contemporary works from LACMA's permanent collection by 20 artists who live in or have roots in the Middle East look at questions of society, gender and identity. Runs indefinitely. 5905 Wilshire Blvd., Mid-Wilshire, lacma.org.
Loris Gréaud, "Sculpt," at the L.A. County Museum of Art. The entire theater has been taken over by the European artist for a film that screens to only one person at a time. The nonlinear picture follows "a man about whom we know very little, who seems to be constantly developing the concept of what experiencing beauty, thought, or obsession can be," according the write-up. Times critic Christopher Knight describes it as "pretentious and uninvolving." A good hate-watch, maybe? On view through a yet to be determined date. 5905 Wilshire Blvd., Mid-Wilshire, Los Angeles, lacma.org.
Sign up for our weekly Essential Arts & Culture newsletter »
Find me on Twitter @cmonstah.
Get our L.A. Goes Out newsletter, with the week's best events, to help you explore and experience our city.
You may occasionally receive promotional content from the Los Angeles Times.