Photos:: Watts to Joshua Tree: A tour of Noah Purifoy's Outdoor Museum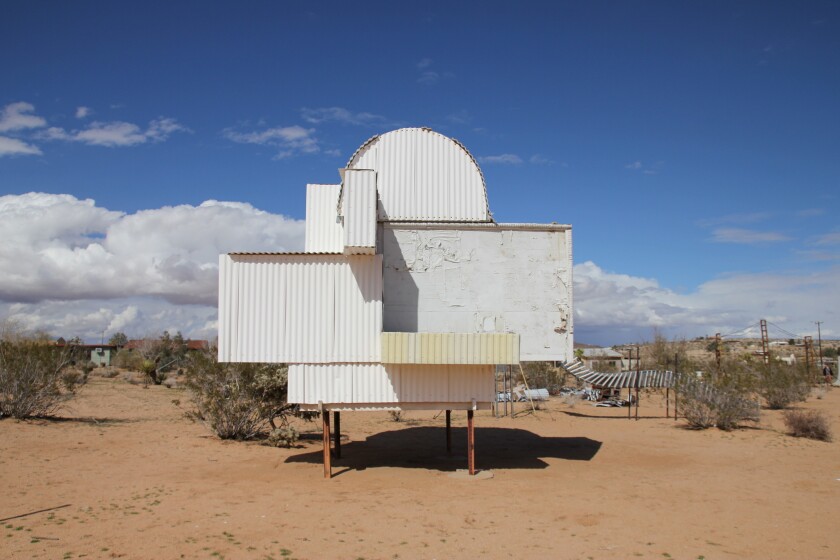 The high desert wind at the edge of Joshua Tree was fierce and frigid, but the sculptures were gritty, weird and wonderful at Noah Purifoy's Outdoor Museum — which more than made up for my frozen fingertips.
We arrived by bus Monday, a crew of art nerds brought together in advance of the June exhibition of Purifoy's work at the L.A. County Museum of Art. And it was a phantasmagorical display: entire structures built from bits of wood and metal, towers of bowling balls, a row of old Kirby vacuum cleaners and a gallows inspired by a Clint Eastwood flick, with Joshua Trees and cholla cactus marking all the in-between spaces.
Listening to Purifoy's sculptures creak in the wind made them seem practically alive.
The longtime Los Angeles artist was renowned for fabricating teetering assemblages out of piles of old chairs, banged-up mannequins and industrial and domestic remnants — from steel trays (as seen in a whimsical, roller-coaster-like piece titled "Sixty-Five Aluminum Trays") to old toilets (he had an uncanny ability to make the big white throne into a singular sculptural motif).
Purifoy was the founding director of the Watts Towers Arts Center, and his work was the foundation for the seminal 1966 exhibition "66 Signs of Neon," which gathered pieces that dealt with the Watts Rebellion of 1965. (Purifoy's work employed charred bits of debris from the riots.) That key show went on to influence a whole generation of artists working in Los Angeles: David Hammons, Senga Nengudi and John Outterbridge, among others.
But that wasn't enough. Purifoy was always pushing the boundaries of what he could do. In 1971, he created a notorious environmental art installation at Leimert Park's Brockman Gallery, which was intended to feel like a single-room apartment inhabited by a family of 11. (It was stuffed with mattresses and all kinds of other objects.)
In 1989, at the age of 72, Purifoy left Los Angeles and moved out to the desert around Joshua Tree, where he would spend the last 15 years of his life (he passed away in 2004). There he fabricated a series of over-size works that would eventually consume 10 acres of land.
Together, all of the pieces in Purifoy's Outdoor Museum feel like a village. There is a squatter's shack, a pair of small theater spaces, a gallery and even a sculptural representation of a cemetery, with trios of assemblages that give the place an eerie Golgotha vibe.
Many works fuse sculpture and architecture. A piece called "Ode to Frank Gehry" nods to the famous architect's use of humble materials (right in line with Purifoy's technique of repurposing a wondrous array of detritus). Others transform pre-existing patterns into wild geometric abstractions — such as the wall-hanging made out of old radiators.
Throughout the works are elements of the human body — a wooden hand here, a set of legs there — for effects that are both comical and grotesque. "From the Point of View of the Little People" shows a row of legs set on a wooden frame.
One of the most moving pieces is Purifoy's "White/Colored" installation of a water fountain and a toilet. A sign reading "white" hangs over the fountain; "colored" hangs over the toilet. Separate and unequal, they are nonetheless bound together by a single pipe.
If you haven't been to Purifoy's Outdoor Museum, the upcoming LACMA exhibition offers plenty of reason to do so. It is difficult to understand Purifoy's career if you haven't seen the last works he made. Click through my photo tour of the Outdoor Museum works and you'll see what I mean.
The Noah Purifoy Outdoor Museum is open during daytime hours and is located on Blair Lane in Joshua Tree, noahpurifoy.com. "Noah Purifoy: Junk Dada" opens at LACMA on June 7. 5905 Wilshire Blvd., Mid-Wilshire, Los Angeles, lacma.org.
Find me on Twitter @cmonstah.
---
The complete guide to home viewing
Get Screen Gab for weekly recommendations, analysis, interviews and irreverent discussion of the TV and streaming movies everyone's talking about.
You may occasionally receive promotional content from the Los Angeles Times.