By Kate Aurthur, Los Angeles Times Staff Writer
Speidi pundits assume the couple will soon get their own spinoff series on MTV — maybe based on planning their wedding? Said Trent Vanegas of the pop culture website Pink Is the New Blog: "They're far too smart not to have that happen."
Heidi and Spencer — who were seemingly engaged and then just as seemingly called it off, say they would never get married on "The Hills" because they wouldn't want their nuptials narrated by their bête noire, Lauren Conrad, whose voice-over opens each episode. "Obviously, we get tired of being narrated by somebody," Heidi said. While MTV wouldn't confirm anything about a show devoted to them, Spencer said: "Oh, we're definitely in talks. But 'The Hills' is a No. 1 hit show." You may ask yourself: Well, how did we get here?
Read the full story
(Gina Ferazzi / Los Angeles Times)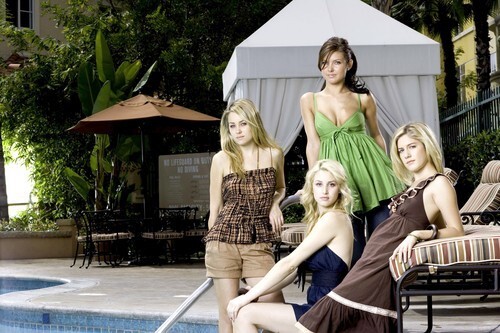 May 31, 2006: "The Hills" premieres…
... and Heidi is Lauren's roommate. "I got paid nothing for the first season," Heidi said. "Like, I would have gotten paid more working at McDonald's. They wanted to make sure I was the struggling one. I had to pay rent! Lauren didn't pay rent the first season and I had to."
(Steven Lippman / MTV)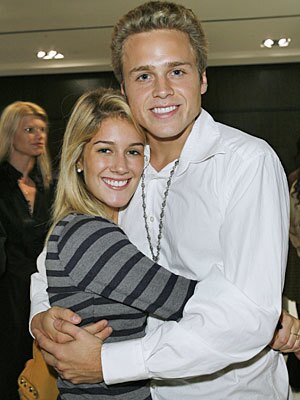 Jan. 15, 2007: Season 2 begins; Heidi has met Spencer and is dating him.
"You have to become an intricate part of the story line, and all of the story line was off of our drama," Heidi said. "For so long, I never thought he really liked me — even when we started dating. The season finale, in my head, was going to be him breaking up with me."
(WireImage)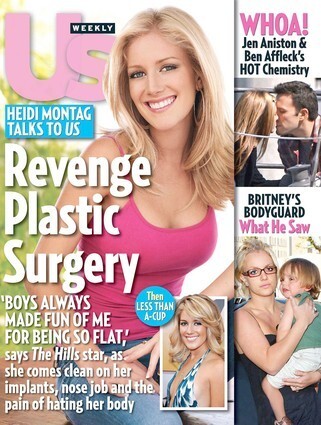 Sept. 26, 2007: Heidi graces the Us Weekly cover for the first time, next to the headline "Revenge Plastic Surgery"
"We approached them," Us Weekly's Janice Min said. "And she said yes... The interview was one of those rare incredibly candid interviews you get with someone. A celebrity of any caliber is rarely that candid. It's part of their appeal." According to Min, Heidi's second cover, "Why I Called Off My Wedding," outsold People magazine that week.
(Us Weekly)
Feb. 4, 2008: Heidi's video for "Higher" — directed by Spencer — goes viral ...
... and the
Internet
nearly explodes with nasty comments on various message boards. But no problem! Spencer: "These people care enough about our lives to put a comment on us, thank you." Heidi: "It's almost better to be hated sometimes than loved because people notice you more." TMZ's Harvey Levin: "She'll be a singer when I play for the NBA. Ain't gonna happen. But her trying to be a singer is going to get her somewhere."
(youtube.com)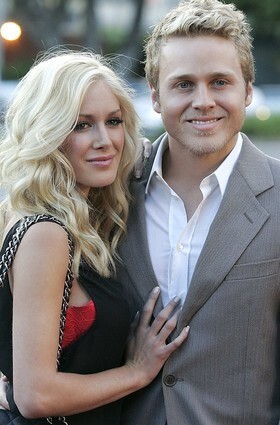 Today
"I'm definitely, I would say, on the path to Rupert Murdoch/Sumner Redstone that I want to be on," Spencer said. "My heroes are Mother Teresa and Princess Diana," Heidi said. Wait ... what kind of couple would Rupert Murdoch and Mother Teresa make? "More like Bill and Melinda Gates," Spencer said quickly.
(Dan Steinberg / Associated Press)