Liberty Media's John Malone addresses cable industry challenges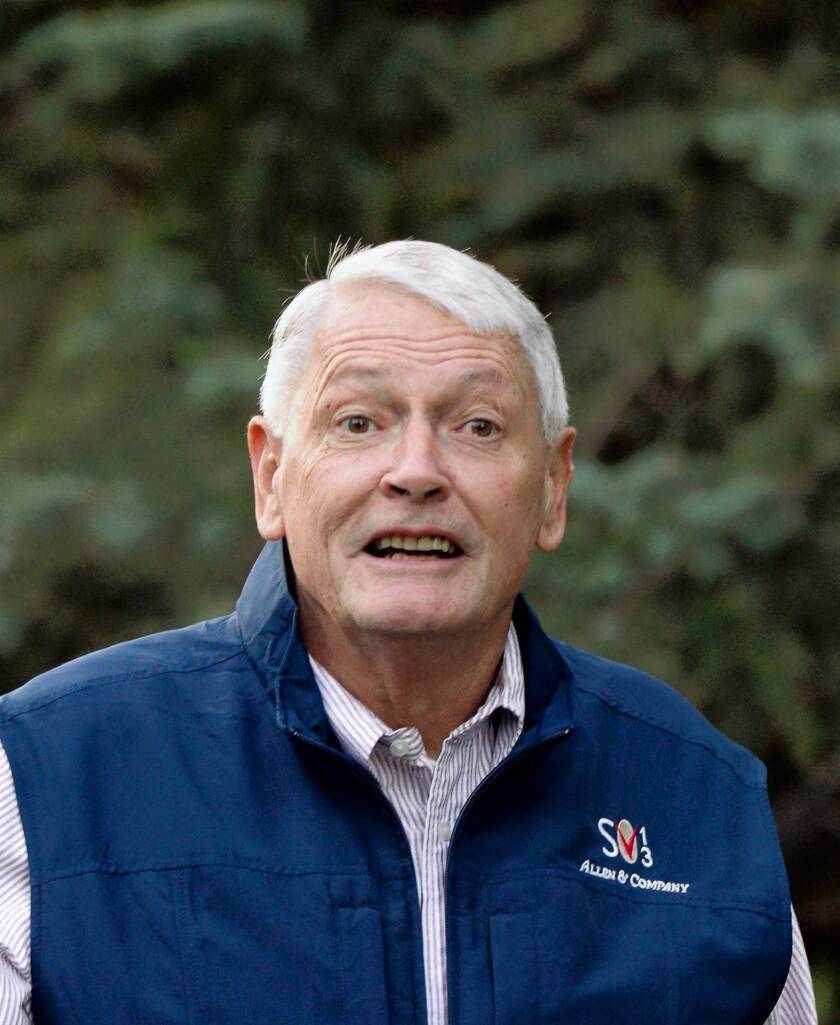 Cable's toughest cowboy is saddling up again.
This year, John Malone's Colorado company, Liberty Media Corp., acquired nearly a third of the stock in Charter Communications, the nation's fourth-largest cable company.
The move came 14 years after Malone sold Tele-Communications Inc., then the largest cable company in the nation, to focus on international investments.
Since the Charter deal, Malone — considered a key architect of the industry — has been vocal about how cable should confront what he believes are its biggest challenges: embracing technology, emphasizing the business of broadband Internet service and controlling programming costs.
PHOTOS: 2012 highest-paid media executives
"It's almost like he feels — with some justification — that the industry needs him to come riding back on a white horse to make things right again," media analyst Craig Moffett of research firm MoffettNathanson said.
Cable operators have been losing customers to satellite TV, telephone companies offering video packages and lower-cost Internet streaming services. Cable executives have also been grappling with a generational shift as younger consumers have chosen the Internet over the cable box to watch TV shows and movies.
Constant battles between programmers such as CBS Corp., Viacom Inc., Walt Disney Co., and 21st Century Fox and cable operators over fees to carry their channels have taken a toll as well. The industry increasingly resembles the current political landscape where "the moderates have been driven out of business," Malone said this month at a Liberty investor conference.
Malone has said consolidation would improve cable's chances for long-term survival, bring programming costs down and help it keep pace with digital upstarts such as Netflix Inc. and Amazon.com Inc.
ON LOCATION: Where the cameras roll
"It's all about scale and power," Susan Crawford, a communications professor at Cardozo Law School, said of Malone's agenda. "Any distributor that controls more subscribers can force volume discounts. Malone wants to make sure he and his brethren don't have to pay more for programming."
It's not just idle talk. In June, Charter made overtures to merge with Time Warner Cable, the nation's second-largest cable operator. A prospective Time Warner Cable-Charter union also would have major implications in Los Angeles by combining the county's two largest cable operators, which provide service for well over 1 million homes.
Though Time Warner Cable has shown no interest in merging, Wall Street responded with glee. Such a deal would create a new cable giant with more than 17 million subscribers, which would be second only to Comcast Corp., which boasts nearly 22 million.
At an October investment conference, Liberty Media Chief Executive Greg Maffei jokingly displayed a slide depicting Charter moving into Time Warner Cable's gleaming New York headquarters. The Rolling Stones' song, "Time Is on My Side" played in the background.
Malone, Time Warner Cable and Charter declined requests for comment for this story.
Consumer advocates fear that although consolidation may boost the profit margins of distributors, the savings won't be passed on to consumers.
PHOTOS: Hollywood Backlot moments
"I've never seen the benefits of a media merger redound to the public either through better programming or through lower prices," Gigi Sohn, president of the nonprofit media watchdog Public Knowledge, said in a recent interview.
Small and rural cable operators, who already typically pay more for programming than big distributors because they lack the clout to wrangle discounts, could also be hurt.
"When big companies become bigger, it does not benefit the smaller and medium-sized companies," said Matt Polka, president of the American Cable Assn., a lobbying group whose membership is made up of small cable operators.
Lowering content costs is a big part of Malone's agenda — but not the only thing. Always something of a futurist, the billionaire who began his career a half-century ago at Bell Telephone Labs believes that cable operators should band together to develop a Netflix-like service to hold on to their subscribers and better compete with Netflix and other emerging platforms.
Such cooperation was common two decades ago when big cable companies teamed up to help create and support fledgling ventures that are now mainstay channels, including CNN, BET and Discovery.
PHOTOS: Celebrities by The Times
"His vision starts with a return to the collaboration that made the cable industry great," Moffett said.
But first, the herd must be thinned.
"Fewer rational players generally work together better than more," he told investors.
Malone also thinks that as more consumers use broadband for their entertainment needs, providing broadband service will become an increasingly important source of revenue and eventually could exceed sales of video packages. He has advocated charging fees to companies that eat up a lot of broadband as well as establishing tiers for consumers based on their data usage each month.
A cable pioneer and now the nation's largest individual landowner, the 72-year-old Malone built Tele-Communications into the largest and most powerful cable operator in the U.S. He sold TCI to AT&T Inc. for $54 billion in 1999.
He later became the largest shareholder of satellite broadcaster DirecTV but sold much of his stake three years ago.
In addition to its 27% stake in Charter, Malone's Liberty owns the Atlanta Braves baseball team and has a controlling interest in SiriusXM satellite radio and MacNeil-Lehrer Productions, which produces the PBS NewsHour. Liberty also holds 27% of Live Nation and 17% of the nation's largest book retailer, Barnes & Noble.
Malone explained his renewed interest at last week's investor conference.
"Old cable guys never die," he said. "They just become investors and philosophers."
---
From the Emmys to the Oscars.
Get our revamped Envelope newsletter for exclusive awards season coverage, behind-the-scenes insights and columnist Glenn Whipp's commentary.
You may occasionally receive promotional content from the Los Angeles Times.