20 Images
Oscars 2012: Best & Worst
Fox News bait
"The Artist's" Missi Pyle arrived early to the Oscars, before the crush of stars, so E! gave her plenty of on-camera time to discuss her dress, which was made from eco-friendly "cruelty-free silkworms." Somewhere, Sean Hannity instantly began to salivate.
(Jay L. Clendenin / Los Angeles Times)
Nick Nolte deserves an Oscar just for surviving the red carpet
The best supporting actor nominee showed up looking like a mix of Kenny Rogers and Santa Claus. He had an awkward encounter with KABC host Louise Roe where she attempted to ask him nonsensical questions about his pet crows and a pinball machine that could predict the Oscars. Nolte seemed a bit befuddled, but did his best to answer her questions.
(Matt Sayles / Associated Press)
Strange but true red carpet tales
Despite a whirlwind year with highly acclaimed performances in "The Help" and "Tree of Life" and a heap of nominations somehow actress Jessica Chastain had managed to never meet ubiquitous red carpet presence
Ryan Seacrest
... until tonight. Seacrest instantly ingratiated himself with Chastain and her grandmother, whom he began calling "Nana." Guess who's getting a Thanksgiving invitation to the Chastains this year?
(Jason Merritt / Getty Images)
Seacrest demonstrates his red carpet skills
Judd Apatow's wife, actress Leslie Mann confided in Seacrest that her dress was so tight she wouldn't be able to go to the restroom.
(Mark Boster / Los Angeles Times)
The Dictator has his day
After days of controversy, Sacha Baron Cohen did indeed show up on the Oscars red carpet as his Dictator character. E! cut away frequently to cover Cohen's slow march from the limo past the photographers to Ryan Seacrest where he showed off an urn supposedly holding the ashes of North Korean dictator Kim Jong Il. Within moments, the ashes were all over Seacrest and Cohen was being muscled off by the Academy's CEO and COO Ric Robertson.
(Chris Pizzello / AP)
Not all pre-show bits are worthless
ABC did a nice bit with correspondent Jess Cagle, right, going behind the scenes with Tom Hanks to show the walk winners make from the stage to the press room, lined with black and white pics of past winners. With all the ways the show has been covered over the years, this is a small bit of Hollywood and Highland that hasn't been broadcast within an inch of its life.
(Janette Pellegrini / Getty Images)
Billy Crystal takes the Oscars old school
Years ago, when Billy Crystal was hosting the Oscars all the time, he would kick off the show with a short film incorporating himself in films nominated for Oscars and follow it up with a best song medley. The times may have changed, but Crystal's routine hasn't. Like clockwork, he did the montage followed by the medley. Though he did dance into controversial territory with his blackface appearance as Sammy Davis Jr.
(Robert Gauthier / Los Angeles Times)
Kodak is the new Jack Palance?
Years ago, Billy Crystal charmed Oscars audiences by turning winner Jack Palance into a running joke after the actor did push-ups on stage. This year, Crystal turned the name of the theater formerly known as the Kodak Theatre into his new running gag (with Kodak in bankruptcy, it has removed its name from the venue). At various points in the evening, he called it the Chapter 11 Theatre and the Your Name Here Theatre.
(Robyn Beck / AFP / Getty Images)
How trustworthy is Tom Hanks?
So trustworthy that the two-time Oscar winner did a bit, honoring 59-year veteran seat filler "Carl Swavo," an elderly man in a cheesy blue tux, and it actually seemed plausible. Even Hanks had to explain to the audience, "Who are we kidding? He's just a guy." Hanks, we'll believe anything you tell us.
(Kevin Winter / Getty Images)
Are they even trying with the film montages anymore?
Every year, the Oscars pay tribute to the magic of film in some way with a musical montage of memorable bits from lots of movies. Sometimes it's a tribute along a special theme -- love, horror, etc. But this year, the montage's theme seemed to be cliché, as they trotted out every obvious bit from every movie you've ever seen in a montage. Yes, they had Dustin Hoffman screaming "I'm walkin' here!" from "Midnight Cowboy," Tom Cruise/Jack Nicholson, "I want the /you can't handle" bit from "A Few Good Men" and E.T.'s tiresome glowing finger routine.
(Universal Pictures)
Octavia Spencer mixes her speeches
Historically, there are two kinds of Oscar speeches. There's the weepy, inspirational speeches and there's the laundry lists of thank yous. Best supporting actress Octavia Spencer managed to combine the two of them, streaming tears while still managing to thank a list of people (including the state of Alabama and her agents at WME). The first part of her speech will be rebroadcast for years in best-of clip montages. The second part? Probably not.
(Robert Gauthier / Los Angeles Times)
Best speech of the night?
"The Girl With the Dragon Tattoo" editors Kirk Baxter and Angus Wall picked up the Oscar for best editing and demonstrated their talent by cutting their own awards speech short when Baxter backed away from the microphone and suggested to his partner, "Let's get out of here." That's the kind of speech that wins many admirers.
(Robyn Beck / AFP / Getty Images)
Cirque du Soleil does its thing
The venue formerly known as the Kodak may have seen better days, but when it's not hosting the Oscars, it's got a Cirque du Soleil show called "Iris" there. So the bungee cords were already in place for the Canadian acrobatic group to do their tribute to the movies, which involved a lot of flying and flipping and if you've ever set foot in Las Vegas you know exactly what to expect. Still, the performance managed to impress anyway. And probably ensured a lot more ticket sales in the weeks to come.
(Kevin Winter / Getty Images)
When Christopher met Oscar
Is it possible to chew the scenery when you're not acting? Because Christopher Plummer sure did when he mounted the stage to accept the award for best supporting actor in "Beginners." At 82, Plummer is now the oldest actor to ever win an Academy Award. And as he accepted the gold man, he looked at it ravenously and purred, "You're only two years older than me, darling. Where have you been all my life?" From there he proceeded to roll through his thanks with all the gusto of a great elder actor giving the performance of his life and relishing every line.
(Al Seib / Los Angeles Times)
Dean Pelton is unstoppable
Movie fans cheered when director-screenwriter Alexander Payne, center, took the stage with his co-writers to accept the award for best adapted screenplay for "The Descendants." But TV fans went wild because one of those co-writers was Jim Rash, a.k.a. "Community's" Dean Pelton, right. While Payne did the usual thank you thing, Rash managed to get a little subversive by visually slamming presenter Angelina Jolie by aping her exaggerated sexy stance she struck just moments before. NBC, you have an Oscar-winner in your cast. You can't cancel "Community" now.
(Robyn Beck / AFP / Getty Images)
The Scorsese game continues
While presenting the Oscar for best documentary short subject, presenters Melissa McCarthy and Rose Byrne decided to continue their Scorsese drinking game bit from the Critics Choice Awards earlier this year. Midway through their presentation, people in the audience screamed out "Scorsese!" and they proceeded to swig from their hidden supply of booze. Poor Marty, not quite sure what was happening, looked truly frightened in his seat in the audience.
(Kevin Winter / Getty Images)
Esperanza Spalding remembers
Grammy winner Esperanza Spalding handled the thankless task of performing the "In Memoriam" song, a rendition of "What a Wonderful World." Do it right and most people won't notice. Mess it up and you get the blame. Luckily Spalding, with the backing of a children's choir, handled the moment with an excess of class.
(Kevin Winter / Getty Images)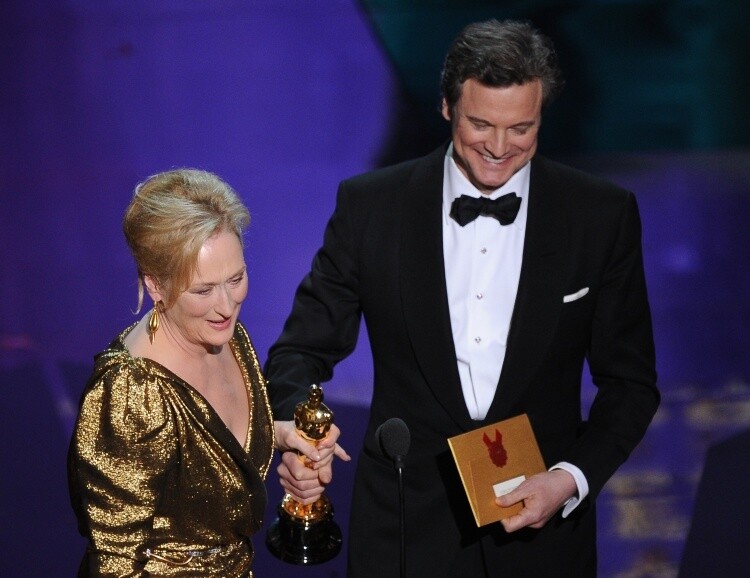 Colin Firth charms it up
The lead actor and actress categories had a unique introduction. Instead of saying a bit about the nominees to the audience, presenters
Natalie Portman
and
Colin Firth
addressed their patter directly to the nominees, one at a time. While Portman's direct addresses were harmless at best, Firth did his best to make the ladies swoon as he read their intros. Though you could have guessed
Meryl Streep
was going to win from the way Firth pepped up with her intro, referencing their "Mamma Mia!" days together.
(Robyn Beck / AFP / Getty Images)
Meryl Streep shows her stuff
Meryl Streep
showed everyone why she's been nominated 17 times and won three
Oscars
with an acceptance speech for lead actress that was both funny and heartfelt. "When they called my name, I had this feeling I could hear half of America going, 'Oh, no! Oh come on, why her? Again! ... But whatever." The movie may have received poor reviews, but this speech won't.
(Robert Gauthier / Los Angeles Times)