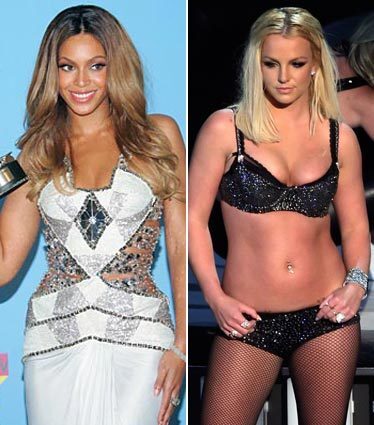 16 Images
Red Carpet Rewind: MTV's VMA hotties and notties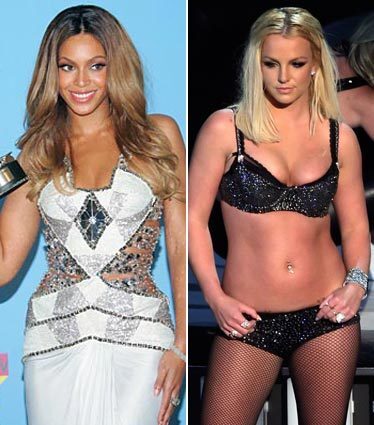 Red Carpet Rewind: MTV's VMA hotties and notties
Oh, the fashion scores and snores we've seen on the annual MTV Video Music Awards red carpet. Here's a look back at who rocked our world (Britney, Gwen Stefani, Megan Fox, Robert Pattinson) and who should keep on rolling (Britney, Paris Hilton, Katie Perry, Jessica Simpson) at previous VMAs. Maybe they'll do better -- or worse -- this year. We can hardly wait to see what Lady Gaga is gonna pull on. Or off. By Elizabeth Snead
(WireImage)
Second chances
Britney Spears made a real fashion comeback at last year's VMAs. Picking up two awards, she was looking healthy and happy in a sparkly silver beaded one-shouldered mini-dress. Welcome back, Brit!
(WireImage)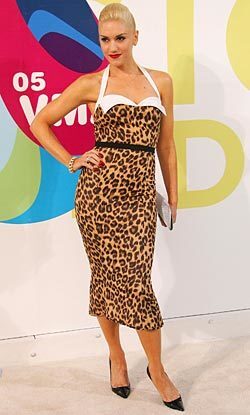 Big game
Gwen Stefani looked like a real wild cat in a mid-calf animal-print halter sundress and spike black heels at the VMAs. And this was in 2005, before the phrase 'cougar' had even been invented.
(WireImage)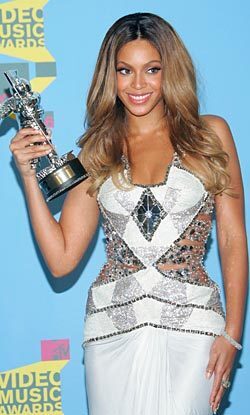 Having a ball
Beyoncé still reigns as the Queen of the Big Gown at all awards shows, including past VMAs. At the 2005 show, she accessorized her mirrored and crystallized white satin gown with a VMA. The dress looks like it was made from an old disco ball.
(WireImage)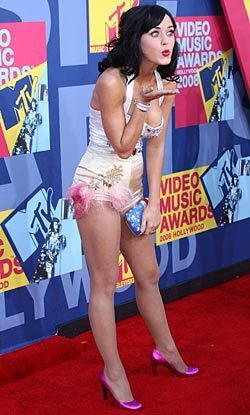 Off the deep end
Katy Perry admitted on the 2008 VMA carpet that she got her "do-it-yourself" synchronized-swimming get-up at a "costume house." We want to see it with nose plugs.
(WireImage)
Panty raid
Britney Spears picked out this bra and panties set for her disastrous comeback at the 2007 VMAs. We think this costume merited slipping on a straitjacket.
(WireImage)
Curtain call
Pink's 2008 VMA get-up: a white Mohawk and huge red-and-black striped ball gown are straight out of a Home Décor magazine. Somewhere in Beverly Hills, a mansion's billiards room is missing its drapes.
(WireImage)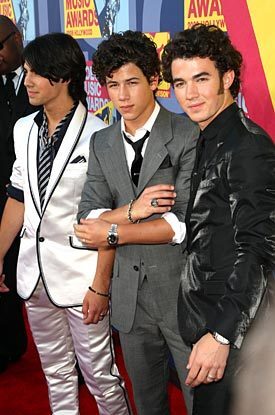 The brotherhood
The Jonas brothers got all suited up for the VMAs last year. We don't mind Nick and Kevin's gray and black ensembles. But Joe's slimy wrinkled white satin suit is too Liberace for words.
(WireImage)
In the pink
Megan Fox practically caused whiplash in the crowd when she walked onstage in a pink Herve Leger dress at the 2007 VMAs. Did this outfit play a role in launching her action movie babe career? We like to think so.
(WireImage)
Like a virgin? Not quite
Britney wore a sheer virginal white bustier and Madonna wore slinky predatory black for their legendary kiss at the 2003 VMAs. And whaddaya know, same-sex kissing is still in vogue in 2009.
(WireImage)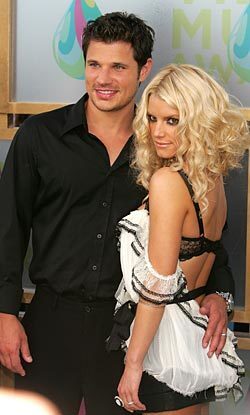 Cheap frills
Remember when Jessica Simpson and ... gosh, what was his name ... Nick Lachey pretended to be happily married? We figure she wore this saucy disheveled French maid outfit to the 2005 VMAs to keep Nick from looking at other girls. But it didn't work.
(WireImage)
Wolf Cub
Before he became a muscle-bound wolf, "Twilight" heartthrob Taylor Lautner was boyish at the 2008 VMAs in a pinstripe vest, white shirt and black slacks. Bet that vest doesn't fit this full-fledged sex symbol anymore. And hooray for that.
(WireImage)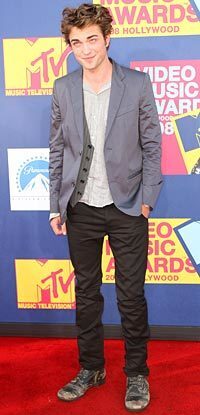 Shoe in
"Twilight's" hunky Robert Pattinson definitely didn't have a proper personal stylist for the 2008 VMAs. He probably dressed himself in this slouchy jacket, unbuttoned vest, T-shirt, skinny jeans and … hey, are those Johnny Depp's scuffed shoes?
(WireImage)
Clowning around
Britney Spears and Michael Jackson look like runaways who joined the circus at the 2002 VMAs. Brit is the bondage queen and Michael is the ringmaster. Someone please send in the clowns.
(WireImage)
Aging spots
Paris Hilton, matronly? Anything is possible at the VMAs. Her leopard print satin skin-tight dress was a tad puma-esque. But it's that stiff and teased bob that really made her look like a Beverly Hills matron on the make.
(WireImage)
On the bright side
Rihanna matched her very hot pink strapless fishtail gown to the 2007 MTV logo. Yeah, don't even try to tell us this wasn't planned.
(WireImage)