9 Images
Hollywood Headlines: a crazy week in review
Free Wesley
Wesley Snipes
has gone to prison for failure to file tax returns, but before he did, he appeared on Larry King to talk about it. The star of "Blade" was convicted of failing to file tax returns in 1999, 2000 and 2001, years when he earned $40 million. That's a huge chunk of change, to be sure, but Snipes characterizes the court order as "rather unusual and rather bizarre."
Click here to read more about the case and Wesley Snipes' counter-case.
(Filippo Monteforts / Getty Images)
Aretha Franklin's health in jeopardy
According to a Detroit television station (WJBK Fox 2), the Queen of Soul --
Aretha Franklin
her lovely self -- is suffering from
cancer
. Initially reported in the
National Enquirer
(and reportedly confirmed by WJBK), Aretha has pancreatic cancer.
Click here for more on Aretha's condition.
(Michael Loccisano / Getty Images)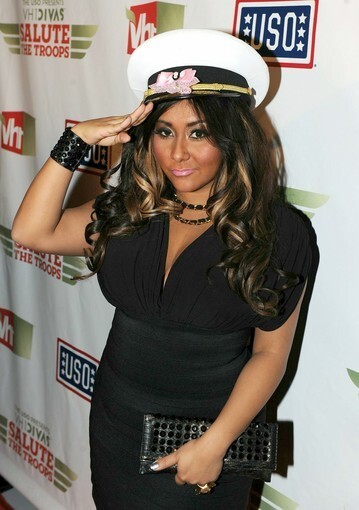 It's a Snooki NYE
Everyone's used to seeing a bright, orange ball drop in
Times Square
to ring in the New Year, but this year there'll be two of them - and one of them's called
Snooki
. The star of
MTV's
"Jersey Shore "
will be put into a bigger orange-colored ball and dropped from on high on MTV's New Year Bash. What a way to see in 2011. Click
here for more on Snooki and her big ball drop.
(Kevin Winter / IPTC)
Oprah likes men
Oprah Winfrey
is opening up her brains to Barbara Walters, sitting in the hot seat for what's already shaping up to be an epic chat. The Big O lets it all out, talking in detail about that long-speculated-upon friendship with Gayle King. "I'm not even kind of lesbian" says Oprah, putting the kibosh on any more "I love my best friend Gayle King so I must be lesbian" rumors. OK?
Click here for more on Oprah Winfrey's tell-all, and some extra dishing on Stedman.
(Matthew Mallett / Getty Images)
Christina gets hacked
Racy pictures of a scantily clad Christina Aguilera
showed up online in December, but her rep says they were stylist shots never meant to see the light of day. The rep added that the pictures were illegally obtained by a hacker who crashed into Xtina's personal stylist's account. Presumably Xtina wants that hacker Xtinct.
(Carlos Alvarez / Getty Images)
Duhamel's crackberry pwned!
Actor/current media studmuffin Josh Duhamel learned why it's best not to be a selfish jerk this week when he was kicked off a plane for being one. Specifically, he wouldn't turn off his BlackBerry when asked repeatedly by cabin and cockpit crew -- so they turned the plane around, ejected him, then continued on without him. Lesson learned? Maybe. Time will tell. For more on
Josh Duhamel's brush with the law,
click his name.
(Toby Canham / Getty Images)
Howard Stern gets serious with Sirius
Howard Stern, the king of all media who's really only available on one tiny tentacle of it (satellite radio),
re-signed his contract with Sirius XM for five years.
Sirius XM saw its shares go up by 20%, so it must be happy. Presumably, so is Howard: Even though details of his contract weren't released, one analyst estimated it to be worth $400 million over five years.
(Evan Agostini / Associated Press)
Carrey On
Jane Carrey -- daughter of funny man Jim -- is calling for a divorce from baby-daddy/husband Alex Santana, a little more than a year after tying the knot. The pair married shortly before baby Jackson's birth. Both parents are musicians; Jane, right, performs with the aptly named Jane Carrey Band and Alex is the lead singer for Blood Money. A spokesman said "the couple will remain friends as well as devoted parents to their 9-month-old son." We hope they didn't pay this spokesperson too much for such a generic message ...s eriously. For more on
Jane Carrey's story,
click her name.
(Robert Evans / IPTC)