Aww: What we learned from Prince Harry and Meghan Markle's engagement interview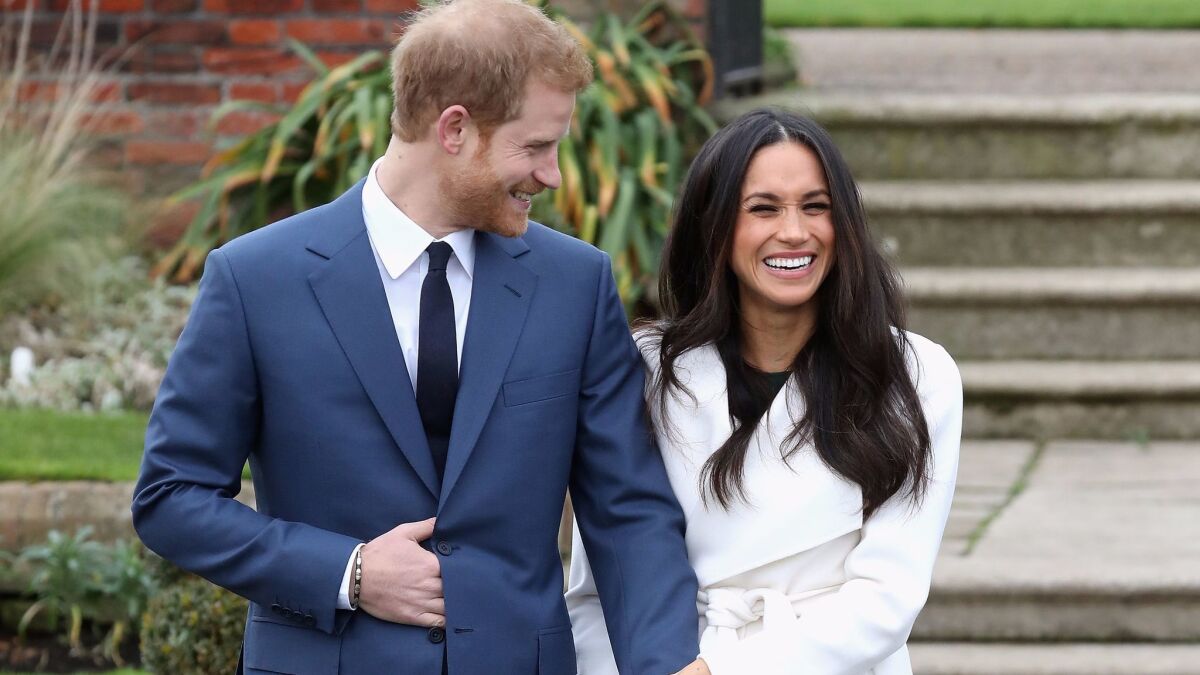 Britain's Prince Harry announced his engagement to American actress Meghan Markle on Monday, with plans to wed next spring. As is custom, the couple sat down for an interview to discuss their relationship and upcoming nuptials. The two also shared how Markle, 36, has handled transitioning into the royal spotlight.
"We're a fantastic team. We know we are," said the former army lieutenant, 33, who is currently fifth in line for the British throne.
"The fact that I fell in love with Meghan so incredibly quickly was sort of a confirmation to me that all the stars were aligned, everything was just perfect," Harry said during the engagement interview. "This beautiful woman just sort of literally tripped and fell into my life and I fell into her life."
Here are a few things we learned about the happy couple:
They look like they're super in love
"Whatever in love means," be damned, Harry and Markle practically finished each other's sentences and often reiterated the other's sentiments during the interview. The two — perhaps genuinely in love and/or expertly trained in media etiquette — also held hands during the entire sit-down, giggling and gazing at each other often.
The entertainment industry didn't prepare her for the royal family
Markle, who first appeared on the ABC soap "General Hospital" in 2002 and has been featured in several TV series and "Horrible Bosses," is best known for playing feisty paralegal Rachel Zane on USA Network's "Suits.""Even though I'd been on my show, I've never been part of tabloid culture, I'd never been in pop culture, to that degree, and lived a relatively quiet life," she said.
When Harry met Meghan
The couple was introduced through a mutual friend who set them up on a blind date in July 2016. Neither knew much about the other — he had never seen "Suits" and she had a different understanding of the royal family because she grew up in the States.
"I didn't know much about him," Markle said, "And so the only thing that I had asked her when she said she wanted to set us up was … 'Was he nice?' because if he wasn't kind, it didn't seem like it would make sense."
Everything that she learned about Prince Harry she "learned through him" as opposed to having grown up around tabloids and news stories, she added. They met for a drink, then quickly set up a second date. A few weeks later, they set off for Botswana, where they camped out in a tent together for five days.
"We were really by ourselves, which was crucial to me to make sure that we had a chance to get to know each other," Harry said.
Harry publicly confirmed their relationship with a strongly worded statement to the paparazzi in November 2016. The two made their first official appearance together in Toronto at Harry's Invictus Games in September, where they held hands in public.
They bonded over humanitarian work
In addition to acting, Markle is also a humanitarian. She has campaigned with the United Nations on causes such as gender equality and is a global ambassador for UN Women and World Vision Canada.
"Both of us have passions for wanting to make change for good," Harry said.
"It was one of the first things we connected on: the different things we wanted to do in the world and that's what got date two in the books," Markle added.
The royal family has welcomed her (and the Corgis love her)
At first, he didn't tell his family he had been seeing her. But he soon began introducing Markle to key members of the royal family, including his brother, Prince William, and sister-in-law Catherine, Duchess of Cambridge. They have been "a fantastic support," Harry said.
Markle has had a handful of teas and meetings with Harry's father, Prince Charles, and has also charmed Queen Elizabeth II and her husband, Philip, the Duke of Edinburgh. Markle said the royal family has been "so welcoming."
Meanwhile, the Queen's beloved Corgi dogs took to Markle "straight away."
"For the last 33 years, [of] being barked at, and this one walks in and absolutely nothing. Wagging tails," Harry quipped.
"They [were] just laying on my feet during tea," Markle added.
She finds the scrutiny of her heritage 'disheartening'
Markle was born in Los Angeles and lives in Toronto, where she shoots "Suits." She is the only child of Doria Ragland and Thomas Markle, who divorced when Markle was a child. Her mother is a yoga instructor of African American descent, and her father is an Emmy-winning lighting director of Dutch-Irish origin.
Markle's mixed-race heritage has already been a hot topic in the tabloids, given the monarchy's history.
"It's a shame that that is the climate in this world today," she said. "At the end of the day I'm just really proud of who I am and where I come from. [Harry and I] have never put any focus on that. We've just focused on who we are as a couple."
Markle was previously wed to film producer Trevor Engelson, though they didn't discuss that in the interview. The British monarchy has come a long way since 1936 when Harry's great grand-uncle, Edward VIII, infamously abdicated the throne when he has forced to choose between the crown and his relationship with American socialite Wallis Simpson, who had been divorced twice before.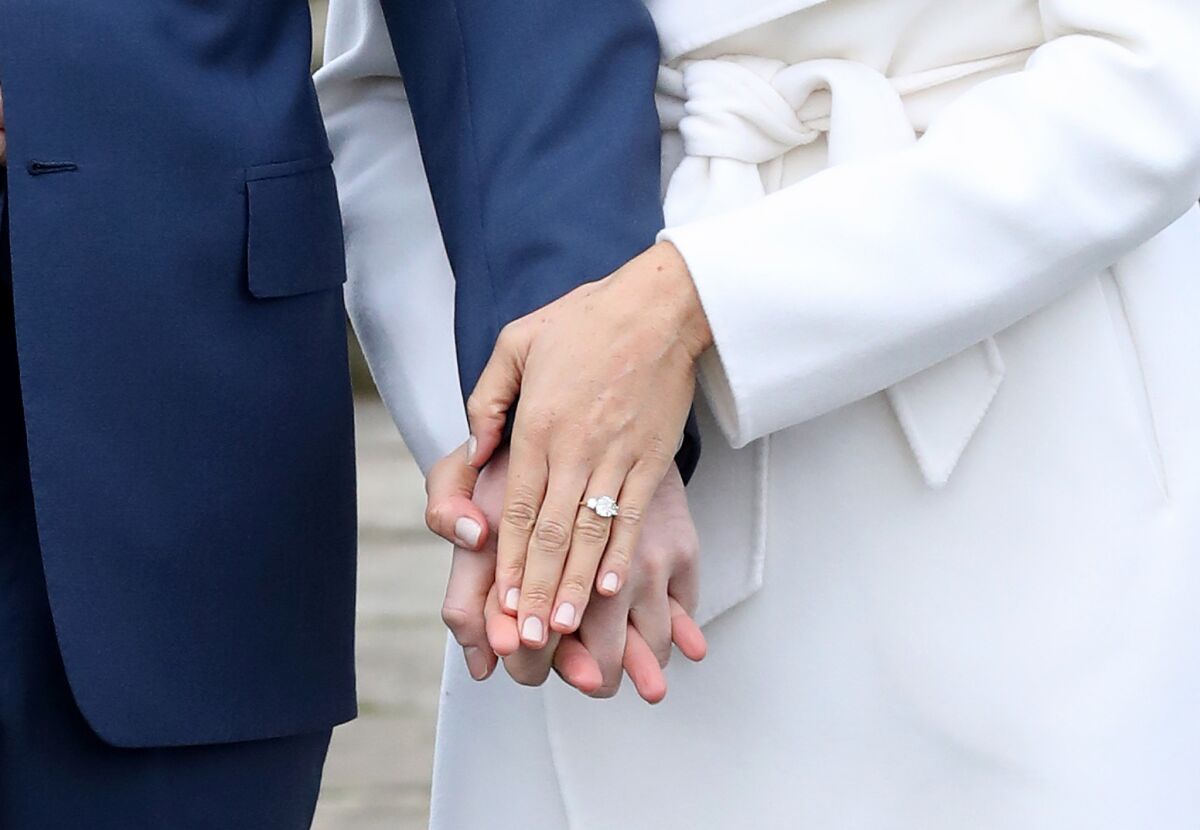 Harry popped the question at home in November
The couple described the night of the proposal as a typical, cozy night at home in their cottage at Kensington Palace. They had been roasting a chicken when Harry took her by surprise and got down on one knee.
Markle said yes instantly: "She didn't even let me finish," Harry said.
The engagement ring pays tribute to Princess Diana
Harry designed the three-stone ring with Cleave & Company Limited, his grandmother's jewelers. The larger center stone hails from Botswana and the surrounding two diamonds came from Princess Diana's collection "to make sure that she's with us on this crazy journey together."
"It's so important to me to know that she's a part of this with us," Markle said. "I'm able in some way to know a part of her through [her family and friends] and through him."
Get our L.A. Goes Out newsletter, with the week's best events, to help you explore and experience our city.
You may occasionally receive promotional content from the Los Angeles Times.