Kanye West leaves Ellen DeGeneres speechless: 'I'm sorry for the realness'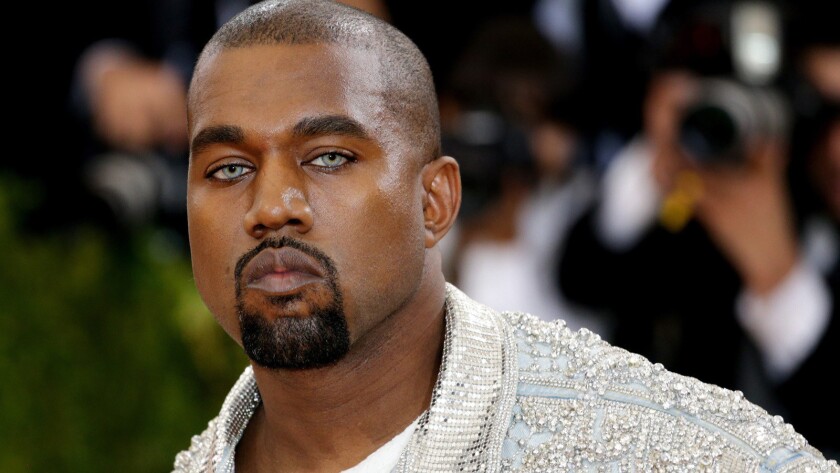 "Well, it's not daytime television anymore," Ellen DeGeneres said Thursday on her show after a rambling, nearly unbroken, nearly 6½-minute oration by her guest, Kanye West.
"We're gonna take a break," she added, looking for the right words after she'd managed to sneak in only a few dozen of them during West's lengthy monologue.
After working to pry more than a few words out of the rapper as she quizzed him about his kids and whether he regretted anything he'd ever tweeted, the host brought up his appeal to Mark Zuckerberg for $1 billion in funding, which West acknowledged might have been more successful had he approached the Facebook founder on, well, Facebook, instead of Twitter.
"Give me one example, the ideas," DeGeneres said, "because maybe someone watching will give you the money."
And Kanye was off to the races.
We're in a Renaissance period where people have multiple talents, he said, name-checking "12 Years a Slave" director Steve McQueen. He brought up his parents and their credentials, saying he was raised to make a difference. He quoted Rakim and said he was raised on Phife Dawg and hip-hop.
"Are you connecting?," the shoe designer asked after dismissing those who measure contributions to society by tracking sales and radio play. "Picasso is dead. Steve Jobs is dead. Walt Disney is dead. Name somebody living that you can name in the same breath as them.
"Don't tell me about being likeable. We've got a hundred years here. We're one race, the human race, one civilization. We're a blip in the existence of the universe, and we're constantly trying to pull each other down. Not doing things to help each other. That's my point. It's like I'm shaking talking about it. I know it's daytime TV, but I feel that I can make a difference while I'm here. I feel that I can make things better through my skill set. I'm an artist, and I feel that I can make things better through my skill set. I'm a artist. Five years old, art school. PhD, Art Institute of Chicago."
He has a condition where he sees sound, he said. "Everything that I sonically make is a painting. I see it. I see the importance — I see the importance and the value of everyone being able to experience a more beautiful life."
West dropped more names, mentioning a dinner with President Obama and Leonardo DiCaprio, the latter of whose conservation efforts were apparently taken more seriously than West's work in the world of fashion design.
"But," Mr. Kim Kardashian said, "I remember going to school, like, in fifth grade, and wanting to have a cool outfit ....
"I called the head of Payless [ShoeSource]. I'm like, 'I want to work with you. I want to take all this information that I've learned from sitting at all these fashion shows and knocking on all these doors and buying all these expensive clothes and I want to take away bullying.' "
It's like I'm shaking, talking about it. I know it's daytime TV, but I feel that I can make a difference while I'm here.

— Kanye West
At this point, someone in the control booth apparently remembered to hit the "applause" button, because the audience had basically been taking it all in silently for a while.
"There was a time Michael Jackson couldn't get his video on MTV because he was considered to be 'urban.' The Michael Jackson," West said. "So I literally have to be the Michael Jackson of apparel in order to break down the doors for everyone who will come after I'm gone, after I'm dead. After they call me Wacko Kanye. Isn't that so funny, that people point fingers at the people who have influenced us the most?"
At this point, DeGeneres was — as she had been for an eternity in talk-show time — sitting motionless except for blinking and occasionally wetting her lips as if to speak. But there had been no room to speak.
"I'm sorry, daytime television," West said to the audience. "I'm sorry for the realness."
Cue applause. Time to go to commercial.
Follow Christie D'Zurilla on Twitter @theCDZ.
ALSO:
Kanye West announces 'Saint Pablo' tour
Paul McCartney backs Kanye West's N-word use
Kanye West promises to make up chaotic, canceled surprise NYC show
---
Get our daily Entertainment newsletter
Get the day's top stories on Hollywood, film, television, music, arts, culture and more.
You may occasionally receive promotional content from the Los Angeles Times.