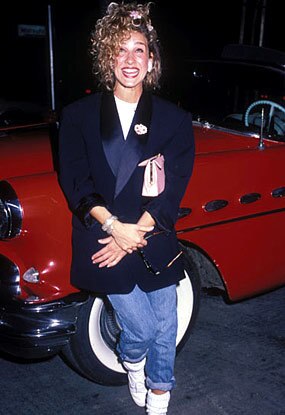 19 Images
Red carpet rewind: Stars before stylists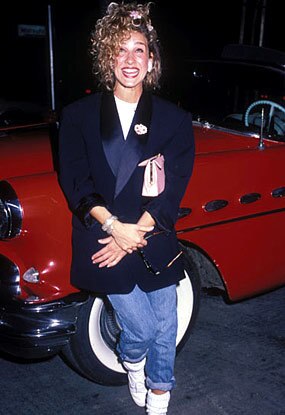 By Elizabeth Snead, Los Angeles Times Staff Writer
We're so accustomed to stars looking fabulous these days that it's hard to remember when celebs actually used to dress themselves. It wasn't so long ago that actors picked out their own duds (shudder) for big premieres and parties from their closets!
Yes, there really was a day before Armani, Chanel, Dolce & Gabbana and Lanvin routinely outfitted Hollywood's hottest actors. Back then, stars often chose and wore their own clothes, not couture and ready-to-wear borrowed from international designers.
Once upon a time, there weren't even helpful publicists and high-priced stylists like Rachel Zoe, Jessica Paster and Jen Rade to make sure established stars and/or fresh faces didn't ruin their images (or careers!) with bad personal fashion choices.
Check out these disastrous self-dressing errors committed by some of today's flawlessly fashionable faces such as Keira Knightley, Cameron Diaz, Sarah Jessica Parker, George Clooney, Demi Moore, Teri Hatcher, Halle Berry, Jessica Alba and yes, even Angelina Jolie.
(WireImage.com)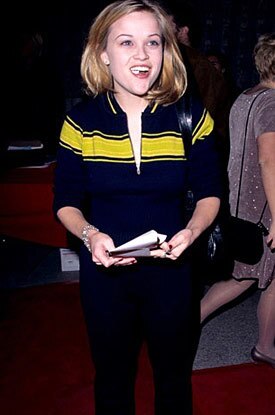 Straight from the gym
A very young Reese Witherspoon wore -- and I cannot believe I'm writing this -- a running zip jacket to the 1997 "Scream" premiere. And yes, that does appear to be a wad of chewing gum in her mouth. Girl needed a stylist and some carpet etiquette lessons, stat!.
(WireImage.com)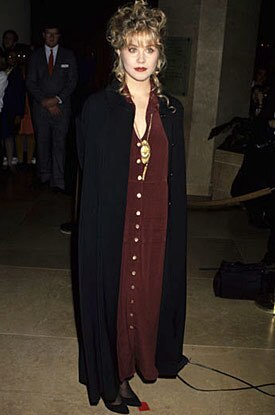 Religious order
Former "Married ... With Children" hottie Christina Applegate is still smoking today in "Samantha Who?" But at the 1992 Golden Globes, she looked more like the head priest of a strange Hollywood cult in these medieval velvet vestments. What exactly was burning in that incense holder necklace?
(WireImage.com)
Dancing with wolves
Today Eva Longoria is a designer's dream. But before "Desperate Housewives" secured her status as her as a style icon, she made some questionable fashion choices. Like wearing nothing but a smile and feather choker under a patched leather pantsuit at the 2001 "Lara Croft: Tomb Raider" premiere. Who's her fashion inspiration? Pocahontas?
(WireImage.com)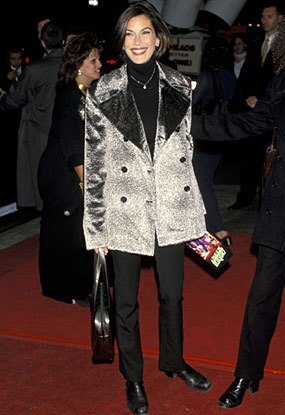 Big gulp
Teri Hatcher, now a Badgley Mischka spokesmodel, seldom makes a misstep on the red carpet. OK, except for that embarrassing 2006 sheer black Grammy gown. But where'd she find this gi-normous silver velvet boyfriend blazer in 1998? Did she borrow it from Lou (Incredible Hunk) Ferrigno? The lesson: Bigger not always better.
(WireImage.com)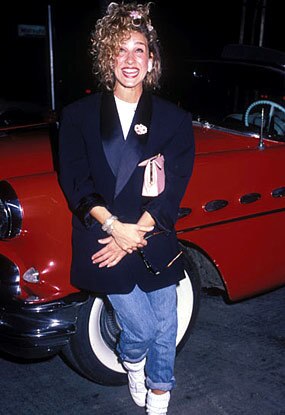 Sex and the pity
Sarah Jessica Parker's most flattering year was not 1980. Oh, the frizzy piled-high hair, pink hair bow, lapel pin and matching pink purse, scrunchy socks and sneakers, oversized blazer and rolled-up jeans. And not a Manolo in sight! Where was "Sex and the City" costume designer Patricia Field when SJP really needed her?
(WireImage.com)
Surfer dud
Long before George Clooney could afford (or let's be honest, pronounce) Giorgio Armani, he played Remar, a drug-dealing n'er-do-well surfer, in a low-budget indie titled "Red Surf." Here's what he wore to the 1990 premiere. Yes, those are his real clothes (including the baggy jeans) and yes, that is his real hair. What a difference Armani (and a decent haircut) makes.
(WireImage.com)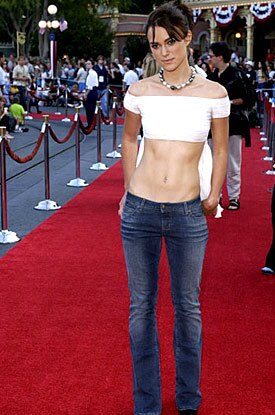 Belly flop
Hear the name "Keira Knightley" and one envisions the lithe actress in those exquisite couture gowns she now wears to premieres. But back in 2003, she was more ... low-key. Check out ponytailed Keira in a belly-baring tube top and low-rider jeans at the premiere of "Pirates of the Caribbean." Wait, jeans and a bare midriff to a premiere? Shocking! And so is the teensy bit of meat on those bones!
()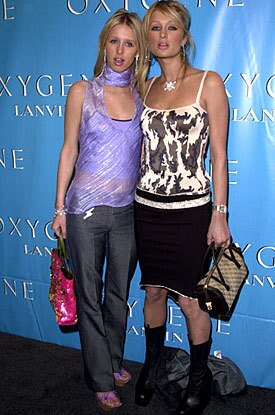 Slums of Beverly Hills
Fashion designers/party girls Paris and Nicky Hilton weren't always the red carpet trend-setters they've become today. Check out their 2001 tacky 'mall rat' gear, including Paris' astonishing "Munster" boots. Where'd they shop for this stuff, Forever 21? Clearly, there was no stylist to stop the Hilton honeys from over-accessorizing and posing as matching blow-up dolls.
(WireImage.com)
Clowning around
Before Halle Berry was transformed into a Red Carpet Queen by stylist Phillip Bloch, she made some funny fashion boo-boos. Wearing a multicolored puff sleeve polka dot clown suit to a restaurant opening in 1999, she's dressed more like Oprah Winfrey. OK, like Oprah before she got a stylist.
(WireImage.com)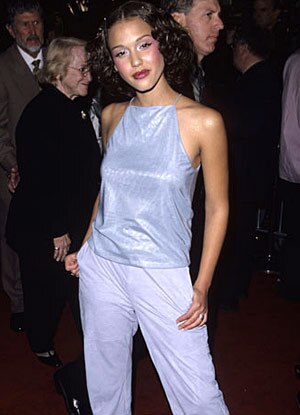 This ain't no disco!
Yikes! Jessica Alba once wore Shirley Temple ringlets? And did Jessica use a spatula to apply her own 'disco queen' makeup -- maroon lips, shiny pink blush and purple sparkle shadow -- for the 1999 "Never Been Kissed" premiere? This is more makeup than she wears now in an entire year!
(WireImage.com)
Body double
Jessica Biel definitely didn't have a stylist to help her show off her physical assets at the 1998 premiere of "Hands on a Hard Body." No, this was not one of Biel's embarrassing early films. It's an amusing doc about a contest of human endurance in Texas. Whoever stands the longest with his/her hand on a Nissan truck, drives it home. Hmm. Maybe this was the appropriate garb. But what I wanna know is, whose shirt did Jess steal? And what's he wearing?
---
For the record: A previous version of this caption said the "Hands on a Hard Body" premiere took place in 1991, it was actually 1998.
---
(WireImage.com)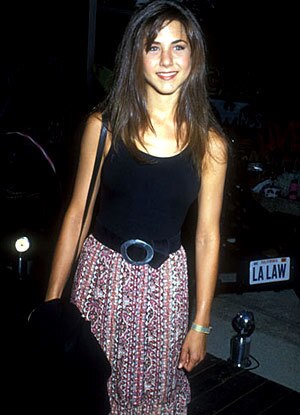 Wall flower
Before she got the famous "Friends" Rachel Green makeover, Jennifer Aniston was just another young wannabe wallflower hanging around an NBC pool party in 1990. Dressed like this -- split ends, matronly floral peasant skirt and boring black tank -- no wonder it took studio execs another four years to cast her on the hit sitcom. Two words: No stylist.
(WireImage.com)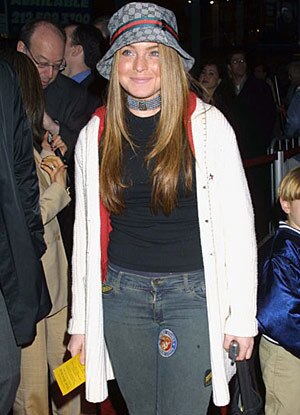 Sweet spot
Lindsay Lohan has certainly come a long way since the 2002 premiere of "The Rookie," when her idea of red carpet fashion was accessorizing a white cardigan and patched jeans with a Gucci sun hat. See, Hollywood stylists can work miracles! Still, we'd trade all her fashion sense to replace her current sneer with this still-sweet smile.
---
For the record: A previous version of this caption claimed "The Rookie" premiere took place in 1992, it was actually 2002.
---
(WireImage.com)
Refugee status
Angelina Jolie is now heralded as one of the most effortlessly elegant actresses in Hollywood, frequently favoring classic vintage designer gowns. But at the 1997 premiere of "George Wallace," Angie looked like she was already seeking asylum for her Oscar-winning "Girl, Interrupted" role. Frankly, with the shaved hair, head-bandage scarf and hospital-style gown, Angie looked like she needed adopting.
(WireImage.com)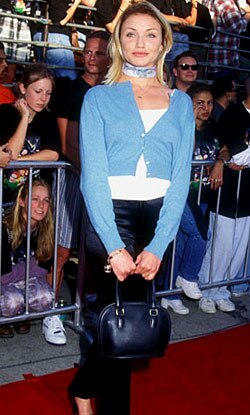 Good girl gone bad
With her baby blue cardigan, matching scarf, polite purse and slim black trousers, Cameron Diaz looked like the girl next door at the "Batman Forever" premiere in 1995. Now she's all short skirts, slit gowns, arm muscles and tousled hair, wearing John Galliano, Collette Dinnigan, Valentino, Jean-Paul Gaultier. Looks like those savvy stylists have helped her find her inner bad girl.
(WireImage.com)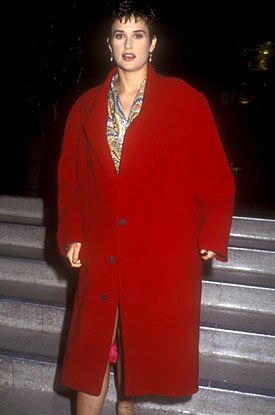 Coat check
This 1988 shot of Demi Moore -- with pixie cut, pumps, pearls, a silk scarf and a seriously unflattering red coat -- makes her look more like a politician's secretary than the hot young actress she was at the time. This photo should give her daughter Rumer serious hope. See, even your hot mom took a few decades to find her stylist, er, style!
(WireImage.com)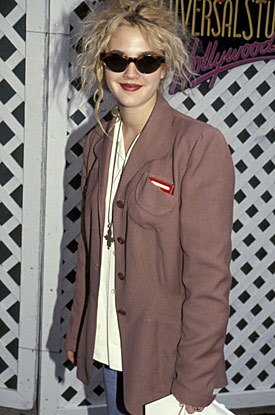 Smoke Alarms
Drew Barrymore's definitely gotten more fashion-forward in recent years. These days she models for Gucci and hawks makeup for Cover Girl. But she used to be quite the Hollywood hippie. Check out her avante garb at the Universal Studios "ET" ride back in 1991. Frizzy hair, tortoise-shell shades, vintage jacket, gothic cross pendant, faded jeans and ... Hey, is that pack of Marlboros in your pocket? Hope that accessory's been tossed!
(WireImage.com)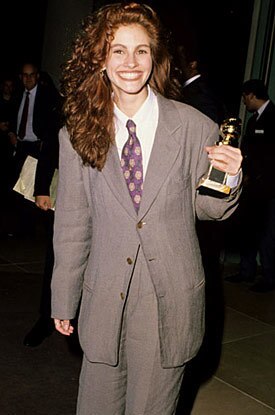 Cross-dressing
A young Julia Roberts actually picked up her first Golden Globe for "Steel Magnolias" in 1990 wearing a saggy, baggy trouser suit and huuuuge hair. By 2001 she grabbed her "Erin Brockovich" Oscar wearing a sexy vintage Valentino black velvet gown and a sleek pulled-back chignon, with the help of stylist Debbi Mason. "It's someone else's job to make sure I look the way I should," Roberts has famously said. Smart -- and pretty -- woman.
(WireImage.com)