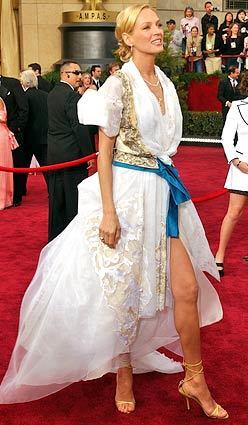 6 Images
Joan's favorite moments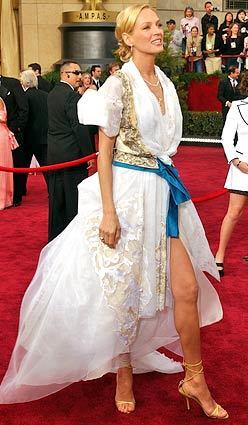 la-rivers1-htvlbdn1
"Two years ago Uma Thurman showed up in that dress that looked like a German frauline milkmaid. It was the worst dress I've ever seen. That was a major, "What-was-she-thinking?" moment. She usually looks great, that's why it stands out. She's a thousand feet tall and always carries clothes, but that time she missed by miles."
(Richard Hartog / LAT)
la-rivers2-htvlzcn1
"Diane Keaton when she came dressed in that white atrocity with the matching gloves--you would think she had eczema, and she had that hat. It was just terrifying. And then there was that time when she was dressed like Charlie Chaplin. She had a double moment of unforgettableness."
(Myung J. Chun / LAT)
la-rivers4-e8i2wygw
"I loved when Barbra Streisand and Jim Brolin were the last ones to come down the red carpet. They were courting then and they were in love. They rented a bus or trailer to bring them and they came down and they spoke to everybody and she was acting nice, very in love. Being in love makes everyone so sweet and human. That was lovely."
(Iris Schneider / LAT)
la-rivers5-iclrdikf
"Dustin Hoffman [with wife, Lisa] once said, 'Are you going to see the show?' I said I didn't have the ticket, and he physically picked me up and crashed the door with me. That was one that I loved."
(Chris Pizzello / AP)
la-rivers6-jbk65vnc
"Hall of Fame: I think it was the Oscars, when Bjork came dressed as a chicken. Bjork as a chicken stands alone. I may indeed have spoken to her; I know she was up close with the bag that was an egg. That was one one doesn't forget." [Actually, it was a swan, but a lot of people still thought the outfit was an ugly duckling.]
(Michael Caulfield / AP)
la-rivers7-fs26mcke
"One of the best moments was when the 'South Park' guys Matt Stone and Trey Parker [with composer Marc Shaiman]… minced down the carpet in drag. One was dressed like Gwyneth Paltrow and the other was like J-Lo. It is such an uptight ceremony, so uptight, and they brought humor and I thought it was wonderful. That was so much fun."
---
FOR THE RECORD:
A previous version of this caption listed Mark Isham as the man pictured alongside Matt Stone and Trey Parker. The photo is of Marc Shaiman.
---
(LAT)