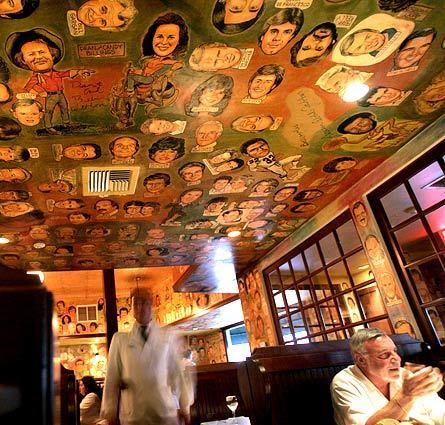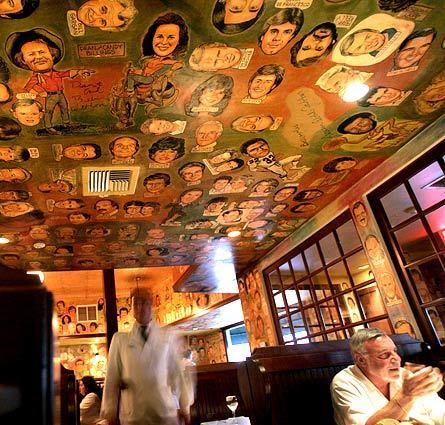 The caricature-decorated ceiling at The Palm.
(Damon Winter / LAT)
A table of L.A's elite listen attentively at the Palm Restaurant in West Hollywood to their server's suggestions while surrounded by caricatures drawn onto the walls for the past thirty years.
(Béatrice de Géa / LAT)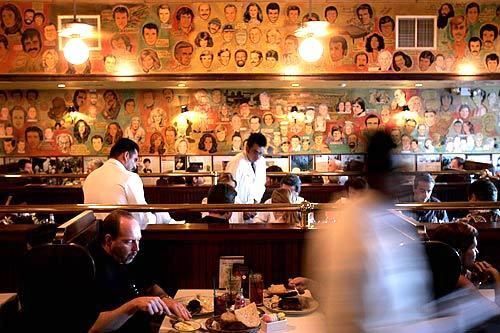 The Palm main dining room, decorated with caricatures of Hollywood stars.
(Damon Winter / LAT)
During the lunch rush at Palm Restaurant, a server ushers out plates of steaming food. Located in West Hollywood, the Palm has caricatures of celebrities and famous Angelenos.
(Béatrice de Géa / LAT)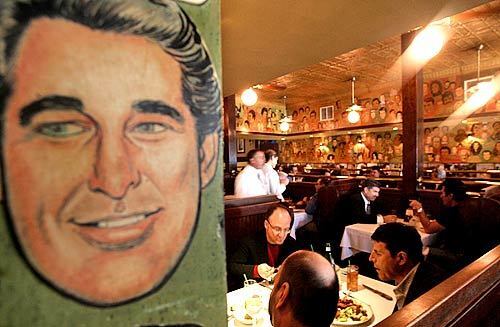 A caricature of Sandy Reisenbach, a longtime Warner Brother executive, looks out over lunch patrons of the Palm Restuarant in West Hollywood, whose walls will transported to their new, next door location in 2008.
(Béatrice de Géa / LAT)
Surrounded by the eyes of LA's elite, a server offers suggestions to a group of patrons for lunch. The staff of the Palm in West Hollywood will see the caricatured walls moved to a new location in 2008.
(Béatrice de Géa / LAT)