10 Images
Action heroines
By Robert W. Welkos, Los Angeles Times Staff Writer
They're lean, mean fighting machines with gorgeous looks, steely expressions and gams up to here. They are the kick-butt women of Hollywood, those lithe and limber actresses who have carved out a niche for themselves with their karate moves, blade fights and an ability to master weapons of any kind -- just like the video-game and comic-book heroines they often portray on the big screen.
For years, Arnold, Sly and Bruce were the names that were synonymous with action hero. Now, even with "The Exendables" released, they're more likely to be Milla, Kate and Jennifer.
To be sure, the public doesn't always like what it gets -- "Catwoman" and "Aeon Flux" bombed at the box office -- but that doesn't mean the ladies aren't trying. Little by little, in fact, they are transforming the sci-fi/action genre that once seemed like an all-male domain.
(Above: Milla Jovovich in "Resident Evil: Extinction.")
(Rolf Konow / Sony Picture Entertainment)
Action vehicles: "Resident Evil," "Resident Evil: Apocalypse," "Ultraviolet," "Resident Evil: Extinction,"
"Resident Evil: Afterlife."
She may be the international spokesmodel for L'Oreal cosmetics, but the Ukrainian-born Jovovich has simultaneously morphed into a high-octane sci-fi/action heroine. In her last film, "Resident Evil: Extinction," Jovovich reprised her role as Alice, who has been subjected to biogenic experimentation and genetically altered to have superhuman abilities. Based on a popular video game, the latest film finds Alice traveling through the Nevada desert on a tricked-out motorbike amid the ruins of Las Vegas. It's in a sand-covered Sin City that she fights off hordes of zombies and mutant creatures in an attempt to save the world from a deadly virus. The first "Resident Evil" grossed $102 million worldwide in 2002; the sequel grossed $129 million. The last in the series, "Resident Evil: Afterlife," is still in the theaters. Jovovich also starred in the futuristic action film "Ultraviolet," and in "The Fifth Element."
(Jay Maidment / Screen Gems)
Uma Thurman
Action vehicles: Kill Bill: Vol.1," "Kill Bill: Vol. 2," "My Super Ex-Girlfriend."
You would never think that the daughter of a renowned Buddhist scholar would be so good playing a vengeful bloodletter. Who better to take on the Deadly Viper Assassination Squad than Beatrix Kiddo, a.k.a. the Bride, played with full fury by Uma Thurman in a yellow tracksuit? Can this babe swing a samurai sword or what? Even the blood oozing from her mouth seems sinister and sexy. Thank you, Quentin Tarantino. Uma? Oprah? Oprah? Uma? Letterman may not know the difference, but fans of "Kill Bill" certainly do.
(Andrew Cooper / Miramax Films)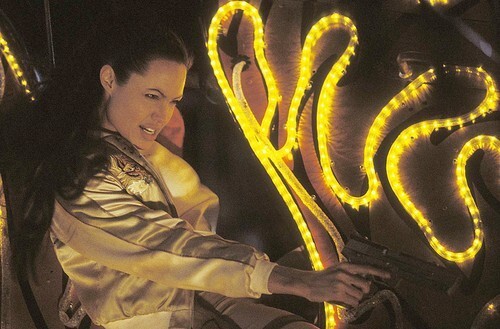 Action Vehicles: "Lara Croft: Tomb Raider," "Lara Croft Tomb Raider: The Cradle of Life," "Mr. & Mrs. Smith."
She's no longer simply Angelina Jolie. She's a tabloid creation called "Brangelina." But on screen, out of the glare of the paparazzi, Jolie has shown she has the moves, the icy glare and the sheer athleticism to rank among the best film action heroines. Those pneumatic lips don't hurt, either. But does she want to be an action heroine? It was sheer fun to watch her do battle with Brad Pitt in "Mr. & Mrs. Smith," but then she became a roving U.N. ambassador or something, and drooling infants seem regularly attached to her hip. But let's face it, no matter how big an action star she becomes, it seems certain Jolie will never lose her appeal as a serious actress.
(Alex Bailey / Paramount Pictures)
Action vehicles: "Underworld," "Van Helsing," "Underworld: Evolution."
What's a proper English Rose like Beckinsale doing playing a vampire when Shakespeare seems more fitting? In the "Underworld" franchise, Beckinsale plays Selene, a ravishing bloodsucker in tight black leather who inhabits a world where vampires and werewolves (my bad: Lycans) have been at war for centuries. And to think this British-born actress got her big break in Kenneth Branagh's film adaptation of William Shakespeare's "Much Ado About Nothing" (1993). Shakespeare must be rolling over in his tomb. We'd still root for Vampira over Selene in any vampire film, but we give Beckinsale high marks for grit and her glam-pale looks.
(Egon Endrenyi / Screen Gems)
Action vehicle: "Aeon Flux."
OK, so the film was a total flop. At least her career didn't tank along with it. But didn't Theron look fantastic in that futuristic Spandex outfit? Still, the film proved a terrible idea. Action heroine? Lithe and delicate Charlize Theron? Now she should go back to what she does best: trying to make us forget she is one of the world's most beautiful women. And if anyone tells her different, she can point to that Oscar she won for best actress in "Monster," where she drew rave reviews for playing a character that rendered the actress nearly unrecognizable.
(Digital Domain / Paramount Pictures)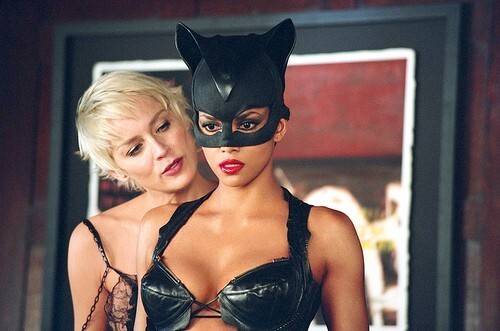 Action vehicles: "X-Men," "Die Another Day," "X2," "Catwoman," "X-Men: The Last Stand."
Berry is another Oscar-winner for best actress ("Monster's Ball"), but despite being in some high-profile action films, the jury is still out on whether she will ever attain true status as an action heroine. Yes, she played Storm, the mutant who has the ability to change the weather in the "X-Men" franchise, and yes, she held her own with Pierce Brosnan in the James Bond flick "Die Another Day," but is anyone clamoring to see Berry battling the forces of evil? It was bad enough watching her with Sharon Stone in "Catwoman."
(Doane Gregory / Warner Bros.)
Action vehicles: "X-Men," "X2," "X-Men: The Last Stand."
Once voted one of the world's 50 most beautiful women, Romijn has had to battle the age-old Hollywood discrimination against gorgeous females that holds they can only do one thing: be gorgeous. Still, stints in "Pepper Dennis" and "Ugly Betty" could reinforce the belief that she was never born to be a real kick-butt action star.
(Kerry Hayes / Twentieth Century Fox)
Action vehicles: "Daredevil," "Alias," "Elektra," "The Kingdom."
Whether playing an international spy or hired assassin schooled in ninjitsu, Garner's characters possess grace, power and skill. She has it all in spades. But Garner was unable to transfer the popularity of her "Alias" television series to the big screen in "Elektra." In her latest film, "The Kingdom," she engages in one heck of a firefight alongside Jamie Foxx against Arab terrorists, proving she hasn't lost it. Whether playing a superhuman force or merely a human one, Garner embodies what is best about female action stars: vulnerability and a sense of humor finished off with a kick to the chops.
(Zade Rosenthal / Twentieth Century Fox)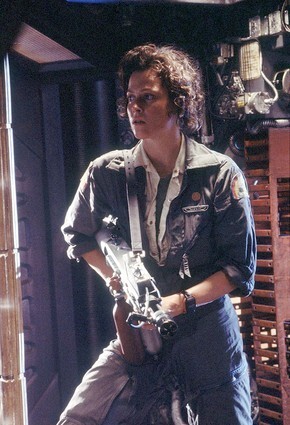 Action vehicles: "Alien," "Aliens," "Alien 3," "Alien: Resurrection."
She's the standard by which all other female action heroines are measured. As Ripley, she not only proved a worthy foe of the alien creatures, but she also showed she was capable of outwitting any man in her presence. That scene at the end of "Aliens" where she battles the "mother" creature is one of the most memorable in movie history. Ripley, we bow in your presence.
(Robert Penn / Twentieth Century Fox)