From fledgling actresses to Hollywood royalty, here's a full list of Harvey Weinstein's accusers and their allegations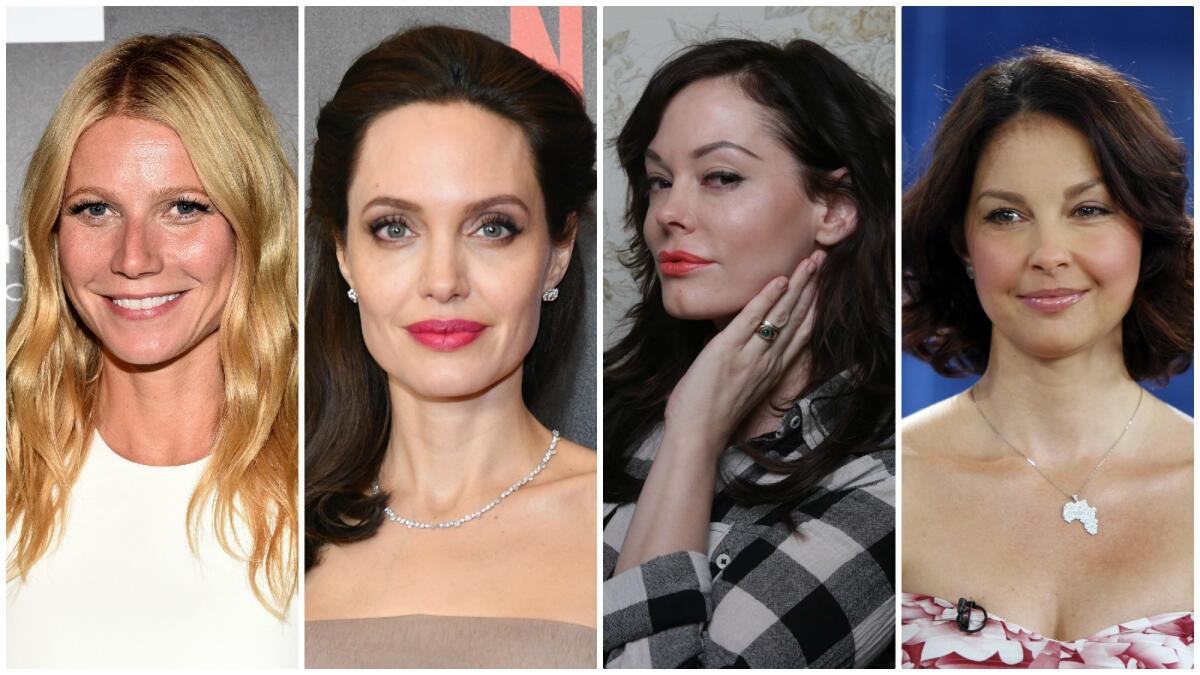 An astounding number of women have shared stories about the once-mighty Harvey Weinstein allegedly victimizing them.
For decades, the powerful producer, known equally as a film impresario and for his volatile temper, has been the subject of sexual misconduct allegations that range from unwanted touching to rape.
The accusations suggest that the "Pulp Fiction" and "Shakespeare in Love" producer had a pattern too: According to allegations, inviting women to his hotels for business meetings, dismissing so-called honey pots (usually female associates) who might have accompanied them, then suggesting that they go to his room for massages or other activities.
Though his alleged impropriety was widely described as an "open secret" in Hollywood circles, the outcry that followed the Oct. 5 New York Times investigation highlighting years of alleged misconduct became his undoing.
He reportedly reached at least eight settlements with women who accused him of harassment, including multiple former employees of the Weinstein Co. and his previous business, Miramax. Weinstein has denied some but not all the wrongdoing and was fired as co-chairman of his namesake production company on Oct. 8 despite a bizarre apology and public pleas for a second chance.
Here's a look at his accusers' allegations. This story will be updated if and when more step forward.
Asia Argento
Actress/director
Argento alleged that Weinstein invited her to what was supposed to be a party at a hotel on the French Riviera in 1997. When she arrived, only Weinstein was there. According to Argento, after changing into a bathrobe, he forcibly performed oral sex on her. Argento entered into what she describes as a years-long coercive sexual relationship with him. "After the rape, he won," she told the New Yorker. Read more »
Rosanna Arquette
Actress
The "Pulp Fiction" actress told the New Yorker that she went to the Beverly Hills Hotel in the early 1990s to get a script from Weinstein. According to her, he showed up at the door in a bathrobe and asked for a massage, then placed her hand on his erect penis. She says her career suffered after she rejected him. Read more »
Jessica Barth
Actress
The "Ted" star told the New Yorker that the producer propositioned her at the 2011 Golden Globe Awards, inviting her to his hotel room to talk about her career. She obliged and found that he had ordered Champagne and sushi. Weinstein allegedly then asked for a naked massage in bed. She left bawling after he told her to lose weight to "to compete with Mila Kunis." Read more »
Zoë Brock
Model
Posting her story on Medium, the New Zealand model said she was 23 when she was "Harveyed" at the Hotel du Cap during the Cannes Film Festival. Though she said she had felt safe with Weinstein at a party beforehand, she detailed an alleged ruse to get her alone in his hotel room. There he emerged naked and kept asking if she wanted a massage, then chased her until she locked herself in the bathroom, according to Brock. She scolded the producer, whom she claims cried and said, "You don't like me because I'm fat."
Upon leaving, Brock claims Weinstein's assistant apologized, saying that "of all the girls he does this to, you are the one I really felt bad about. You deserve better."
"This comment made me nauseous. It was an admission of his sycophantic enabling," she wrote. Read more »
Emma de Caunes
Actress
The French actress alleged that in 2010, Weinstein invited her to his hotel room in Paris to discuss a book he wanted to adapt. According to her, he emerged from the bathroom naked and with an erection. She fled the room. Read more »
Cara Delevingne
Actress/model
Delevingne, who has appeared in the Weinstein Co. films "Paper Towns" and "Tulip Fever," wrote Wednesday on Instagram that when she first began acting, Weinstein called her up to ask whether she had slept with any women. She claims he also gave her unsolicited advice about her sexuality and the effects it might have on her career in Hollywood. A year or two later, she alleges, she took a meeting with him that started in a hotel lobby and ended up with her and another woman with the producer in a hotel room where he asked the two of them to kiss and then tried to kiss her on the lips as he walked her out of the room.
"I still got the part for the film and always thought that he gave it to me because of what happened," Delevingne wrote. "Since then, I felt awful that I did the movie. I felt like I didn't deserve the part. I was so hesitant about speaking out....I didn't want to hurt his family. I felt guilty as if I did something wrong." Read more »
Dawn Dunning
Actress
In 2003, Dunning met the producer at a nightclub where she was waiting tables. Promised a screen test for Miramax, she said she was invited to his Manhattan hotel suite for a meeting. She was 24. When she got to his room, she told the New York Times, he was waiting in his bathrobe behind a coffee table filled with contracts for his next three films. She could sign them if she would have a threesome with him, she said. She laughed it off but he got angry, she said, and told her she'll "never make it in this business." Read more »
Ambra Battilana Gutierrez
Model
The Italian model and beauty pageant contestant claims that Weinstein groped her during a meeting in 2015. She reported the alleged assault to the New York Police Department, and the next day, wearing a wire, she says she met with Weinstein at the Tribeca Grand Hotel. In audio footage obtained by the New Yorker, Gutierrez objects to Weinstein's behavior the day before, and an agitated Weinstein can be heard telling Gutierrez, "I'm a famous guy ... I'm used to that," and repeatedly urges her not to "embarrass" him.
Despite the recording, the Manhattan district attorney declined to pursue criminal charges, possibly because Gutierrez had once attended a party thrown by Silvio Berlusconi and was not considered "credible." Read more »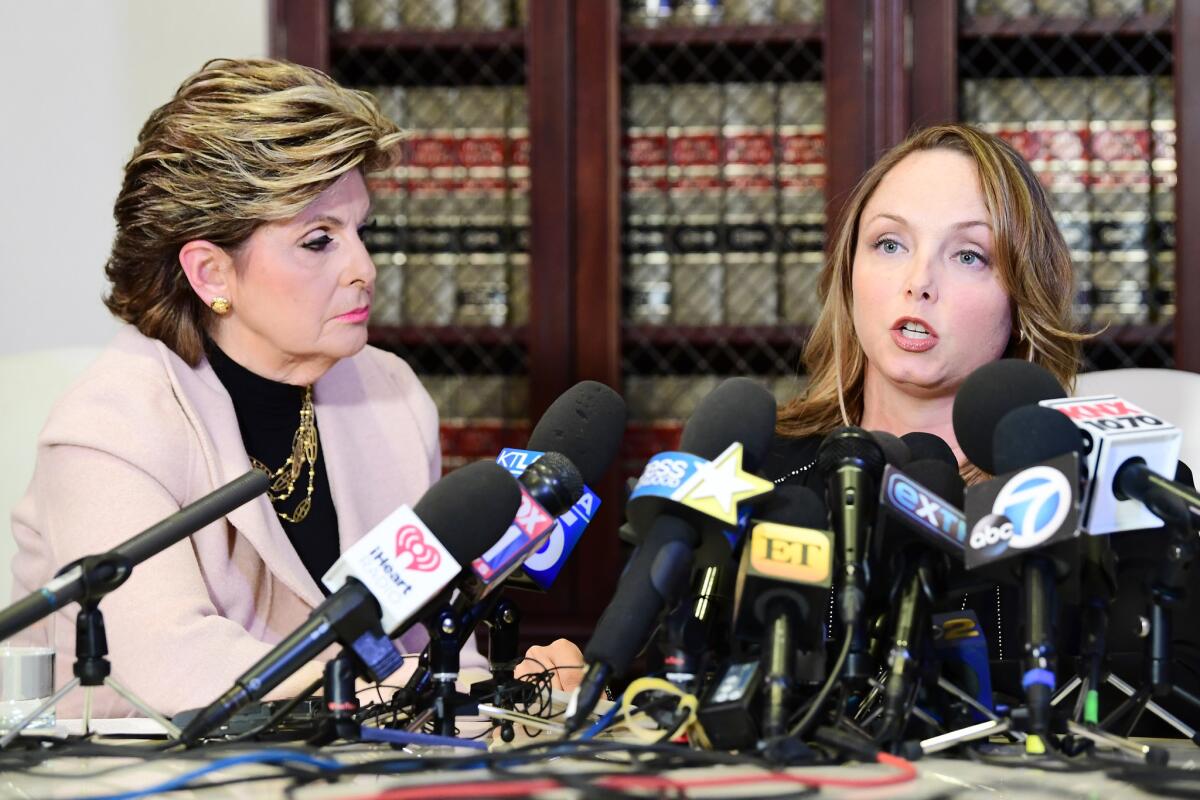 Louisette Geiss
Former actress/screenwriter
Geiss alleged that her encounter with Weinstein took place at the Sundance Film Festival in 2008, where she was shopping a screenplay. Geiss said that she met with Weinstein at a restaurant near closing time to discuss her pitch and that he invited her to his office — adjacent to his hotel room — to continue their meeting.
Geiss claimed that, 30 minutes into the meeting, Weinstein excused himself and returned naked, wearing only a bathrobe, and instructed Geiss to continue talking as he got into the hot tub, before later asking that she watch him masturbate. Read more »
Judith Godrèche
Actress
The leading French actress said she was 24 when she took a breakfast meeting with Weinstein at the Cannes Film Festival in 1996. Unaware of his reputation, she went to his room at the Hotel du Cap-Eden-Roc, where she claims he asked her to give him a massage, arguing that it was an American custom.
"The next thing I know, he's pressing against me and pulling off my sweater," she told the New York Times.
"I tried to negotiate the situation over the years, and negotiate with myself and pretend it kind of never happened," she said. Read more »
Heather Graham
Actress
The "Boogie Nights" star's alleged encounter took place in the early 2000s, when Weinstein summoned her to his office and said he wanted to put her in one of his films, she told Variety.
"Later in the conversation, he mentioned that he had an agreement with his wife. He could sleep with whomever he wanted when he was out of town. I walked out of the meeting feeling uneasy. There was no explicit mention that to star in one of those films I had to sleep with him, but the subtext was there," she said.
Graham said she later declined a follow-up meeting at his hotel because she didn't want to be alone in a hotel room with him. Read more »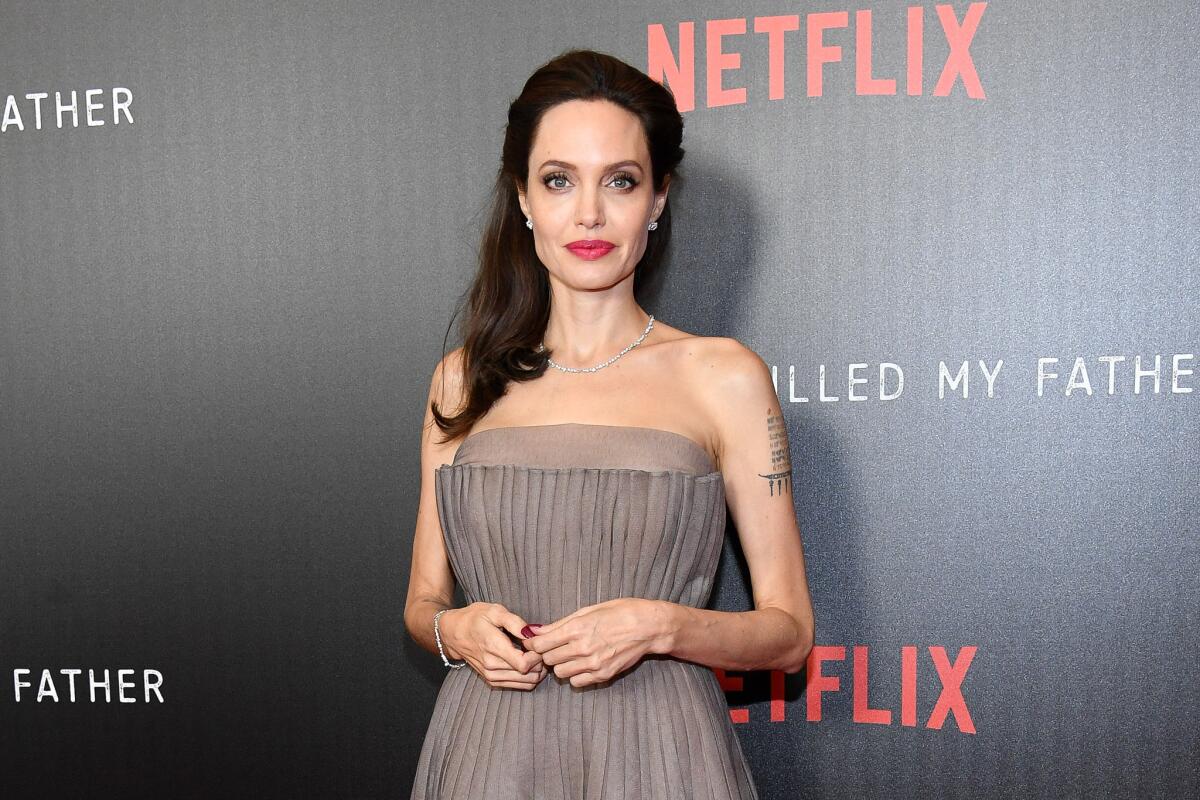 Angelina Jolie
Actress/director
The Oscar winner said the producer made advances in a hotel room during the release of her film "Playing by Heart" in the '90s.
"I had a bad experience with Harvey Weinstein in my youth, and as a result, chose never to work with him again and warn others when they did," Jolie told the New York Times. "This behavior towards women in any field, any country is unacceptable." Read more »
Ashley Judd
Actress
Judd, whose personal account was a key part of the New York Times investigation, told the newspaper that while she was working on the 1997 thriller "Kiss the Girls," Weinstein invited her to the Peninsula Beverly Hills hotel for what she thought would be a breakfast meeting. Instead, he had her sent up to his room, where he appeared in a bathrobe and asked if he could give her a massage or she could watch him shower, the newspaper said.
"I said no, a lot of ways, a lot of times, and he always came back at me with some new ask," Judd said. "It was all this bargaining, this coercive bargaining."
The outspoken actress was applauded by her colleagues for coming forward and also said that "women have been talking about Harvey amongst ourselves for a long time, and it's simply beyond time to have the conversation publicly." Read more »
Katherine Kendall
Actress
The "Swingers" actress recounted a 1993 story of the producer disappearing into a bathroom and reemerging wearing a bathrobe to ask her for a massage. She alleged that he then bargained with her, asking her to at least show him her breasts, she told the New York Times. Read more »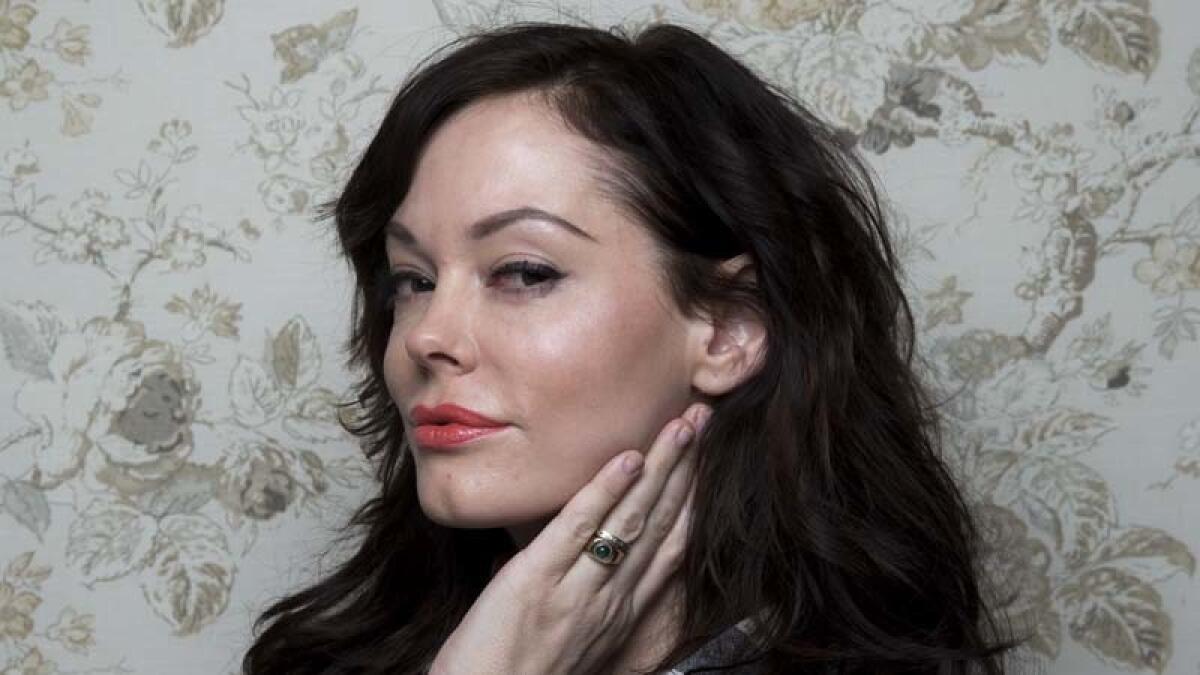 Rose McGowan
Actress
The "Charmed" alum, who appeared in the Weinstein Co.'s "Scream" franchise, reportedly reached a six-figure settlement with the producer in 1997 for an alleged incident in a hotel room during the Sundance Film Festival.
The settlement, however, was "not to be construed as an admission" by Weinstein, but intended to "avoid litigation and buy peace," according to legal documents obtained by the New York Times.
McGowan has been a vocal on Twitter about Weinstein and has publicly condemned him, his brother and the Weinstein Co. board, along with actors such as Ben Affleck who claim they were unaware of Weinstein's behavior.
Emily Nestor
Former employee
After working for just one day as a temporary employee at the Weinstein Co. in 2014, Nestor provided an account to company execs that said Weinstein invited her to the Peninsula Beverly Hills hotel where he said if she accepted his sexual advances, he would boost her career, according to the New York Times. Read more »
Lauren O'Connor
Former assistant
The former Weinstein Co. assistant sent a searing memo to the company asserting sexual harassment and other misconduct by Weinstein, she told the New York Times.
"There is a toxic environment for women at this company," she wrote in a letter addressed to several executives.
Another unnamed female assistant claimed that in 2015, the mogul badgered her into giving him a massage while he was naked, leaving her "crying and very distraught," the New York Times reported. Read more »
Gwyneth Paltrow
Actress
Weinstein was credited with launching Paltrow's career, aiding in her Oscar win for 1998's "Shakespeare in Love" and turning her into the "first lady of Miramax."
Before that, though, Paltrow claimed that the film producer assaulted her when she was 22 after he summoned her to his hotel suite at the Peninsula Beverly Hills for a work meeting about 1996's "Emma." There, according to Paltrow, he placed his hands on her and suggested they go to the bedroom for massages.
"I was a kid. I was signed up; I was petrified," she told the New York Times.
Paltrow said she confided in her boyfriend at the time, actor Brad Pitt, who later confronted the producer. But she said Weinstein threatened to fire her if she talked about it again. The two managed to carry on with a professional relationship. Read more »
Tomi-Ann Roberts
Actress
Roberts met Weinstein while waiting tables as a 20-year-old college junior. In summer 1984, he urged her to audition for a movie, sent scripts, and asked her to meet him where he was staying so they could discuss the film, she told the New York Times.
When she arrived, she said, he was nude in the bathtub and told her that she would give a much better audition if she were comfortable "getting naked in front of him." Read more »
Lauren Sivan
TV reporter
The journalist claimed she was once trapped by Weinstein in the hallway of a restaurant that was closed to the public. According to her, he masturbated in front of her until he ejaculated into a potted plant, she said on "Megyn Kelly Today."
"I could not believe what I was witnessing," Sivan said. "It was disgusting and kind of pathetic.… More than the disgusting act itself, which of course was gross, the demeaning part of it all, that just 20 minutes earlier he was having this great conversation with me and I felt so great and flattered by it. And then [he said], 'Stand there and be quiet,' just a few minutes later, just negated any warm feelings I had, and I realized, 'Oh, that is what this is all about.'" Read more »
Mira Sorvino
Actress
The actress told the New Yorker that Weinstein tried to give her a massage and "chas[ed] her around" a hotel room at the Toronto Film Festival in 1995, and later showed up at her New York apartment in the middle of the night. She believes her rebuff of his advances damaged her career. Read more »
Lucia Stoller
Actress
The actress told the New Yorker that while she was a college student, Weinstein forced her to perform oral sex on him during what was billed as a casting meeting at the Miramax offices in 2004. Read more »
Staff writers Stephen Battaglio, Meredith Blake, Christie D'Zurilla and Libby Hill contributed to this report.
Get our L.A. Goes Out newsletter, with the week's best events, to help you explore and experience our city.
You may occasionally receive promotional content from the Los Angeles Times.