4 Images
Artist J. Michael Walker on all the Saints of the City of the Angels
Painter J. Michael Walker was thumbing through a Thomas Guide when he noticed how many L.A. street names began with "Saint," "San," "Santa" or "Santo." He had an epiphany and decided to visit some of those saints and see how the streets intersected with their namesakes. His work will be on display through Oct. 5 at the Autry National Center Museum of the American West. This image depicts St. Albans Street in Highland Park. St. Albans was a Roman soldier who became the first martyr; the street scene included a pair of sneakers hanging from a telephone line.
(J. Michael Walker)
For San Remo Drive in Pacific Palisades, J. Michael Walker depicts Romulus (Remo in Spanish) with eyes obscured by sunglasses because, the artists says, he is an anonymous saint. Streets in gated communities in Sylmar and Tarzana also carry Romulus' name.
(J. Michael Walker)
Skid row is an appropriate place for San Julian Street, the artist says, because the saint had wondered the earth "in tatters" and ultimately "set up a hovel to serve other travelers."
(J. Michael Walker)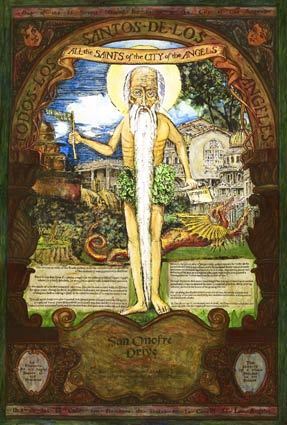 Walker found San Onofre Drive in Pacific Palisades the noisiest street he visited because of the McMansions built out to the curbs. Onuphrius was "an ascetic who started out in a monastery with other monks who had taken a vow of silence. But even there," Walker says, "there was too much noise." So he retreated to the desert.
(J. Michael Walker)