Valerie Harper tackles Tallulah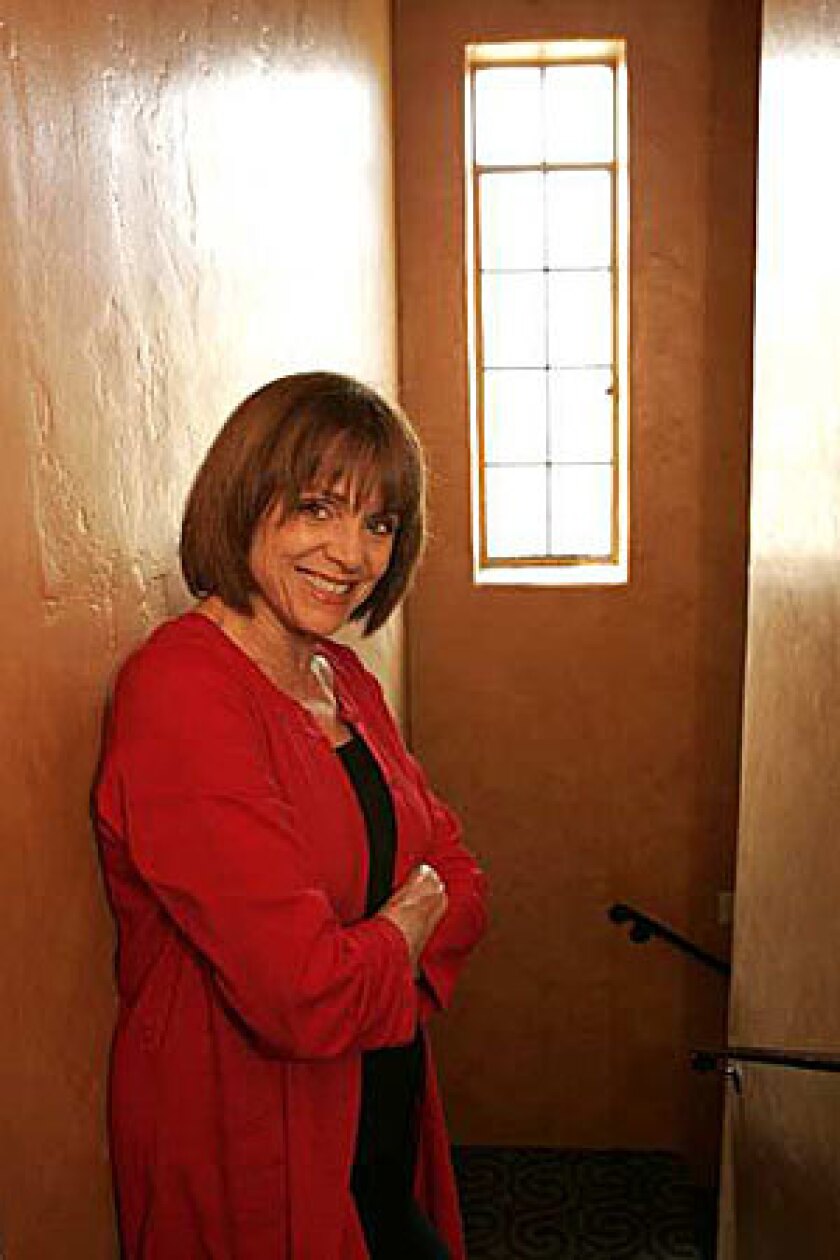 Special to The Times
THESE days, the actress formerly known as Rhoda sports personas vastly different from the straight-talking New Yorker she created for television's classic sitcom "The Mary Tyler Moore Show" and its spinoff, "Rhoda." Three decades later, Valerie Harper still hears "Hi, Rhoda" when she walks down the street, even though the characters the four-time Emmy Award-winner plays now are far more complicated -- real women whose lives were indeed stranger than fiction.
Harper's latest role is the outrageous Southern actress Tallulah Bankhead, whom she resurrects in the Pasadena Playhouse's world-premiere production of "Looped," opening Tuesday. Matthew Lombardo's play was inspired by a tape he discovered of Bankhead's looping session for 1965's "Die! Die! My Darling!," which turned out to be her last big-screen appearance. Recording a single line of dialogue for the British horror film should have taken five minutes, but instead took eight hours, as the over-60 Bankhead -- ailing, drug- and drink-addicted and still entertainingly self-involved -- mangled the flow of words in that long-ago session.
Lombardo has Bankhead revisit her Technicolor life in the play, and at the moment, Harper is personifying the actress' regrets in a spare rehearsal room across the street from the theater. Gone is Rhoda's nasal twang, replaced by Bankhead's smoky contralto. Leaning against a stool, she launches into a long-forgotten chapter of theater history that endured for Bankhead as a heartbreaking memory.
" Tennessee Williams wrote 'A Streetcar Named Desire' for me," she says in the highly burnished American English typical of films of the '30s and '40s. "He walked up to my front door and handed me the greatest role ever written. You know what I said to him? 'No, thank you.' I was scared back then. Terrified. How would it look playing an aging Southern woman who drinks too much? So I watched Jessica Tandy become a star."
At 67, Harper is even older than Bankhead would have been when "Streetcar" opened. Bankhead died at 66 -- her last words were reportedly "codeine. . . . bourbon" -- but Harper's course as an "aging" character actress finds her embracing a fruitful new point in her career with even wider options. Focusing on stage work, which is kinder to older actresses, Harper has been playing larger-than-life women who actually lived and is exploring the kinds of challenging roles that may have been unavailable to her in her heyday.
"When you age, you can do all kinds of roles," Harper says during a rehearsal break. "You don't have to look great. You can be the mom, the aunt. You can have a small part. You're an actor. And that was what was probably disastrous for Tallulah. She was a star beyond all stars, the leading lady."
In 1999 and 2000, Harper portrayed the Nobel Prize-winning author Pearl S. Buck in "All Under Heaven," a one-woman play she co-wrote and performed off Broadway, at Hollywood's Ivar Theatre and around the country. After starring in the title role of Charles Busch's "The Tale of the Allergist's Wife" on Broadway and in the national tour in 2001 and 2002, she played Golda Meir in the U.S. tour of William Gibson's play "Golda's Balcony." The film version, co-produced by her husband, Tony Cacciotti, had a short run in art houses in L.A. and New York last October. The couple, who retain the distribution rights, are making it available for benefits celebrating Israel's 60th anniversary. (Harper is actually Catholic, but she says audiences think she's Jewish because of her signature roles.)
Not surprisingly, while Bankhead may have turned down a role written for her because it came later in life, Harper had no such misgivings when Lombardo, who wrote "Looped" with her in mind, approached her with the role.
"The character is incredible," she says. "She'd say anything. She was brazen and truthful and devil-may-care, and she made the bad girls today look like pikers. What she once said in an interview was, 'I haven't had sex for six months. I want a man.' She actually said, 'I want a man' in a magazine in the '40s. It was unheard of.
"Beyond that, she had an extraordinary wit, and she was a really accomplished stage actress. She had been on the boards for years and years and years. And she kept on working."
Playing the part
AS HARPER speaks, she waves her hands, which are tipped with red nail polish -- Bankhead's favorite -- for the first time in years. She laughs easily and has the same self-deprecating sense of humor you might expect from Mary's best friend Rhoda Morgenstern. Complimented on her chic chin-length bob -- which will be covered onstage by a hairpiece handmade by Broadway wig designer Charles LaPointe -- Harper tosses off: "My hair's really curly. I look a bit like a Q-tip."
Harper may seem to be more like Rhoda, but Lombardo saw in her the ability to embody the promiscuous, openly bisexual Bankhead who was known for stripping down to the buff at parties. "The reason I kept thinking Valerie Harper is because I've seen her onstage, and she has buckets of presence," he says during the rehearsal break. "She's a great stage actress."
Director Rob Ruggiero, who guided Harper in "All Under Heaven" and has also worked with her "Looped" costar Chad Allen, agrees that her range is greater than her TV work may have led audiences to believe.
"Valerie has a much larger scale to her versatility as an actress than sometimes people realize," he says. "She's amazingly specific in how she works, and I knew there was a side to her that we could tap into which would embrace Tallulah's sensibility."
Harper, whose acting teachers included John Cassavetes, launched her career onstage in the late '50s. Theater director Paul Sills was an early mentor; he invited her to join the improvisational company he created, Second City, as well as his Tony Award-winning production of "Story Theatre," which she appeared in on Broadway and at L.A.'s Mark Taper Forum in 1970.
The production of "Looped" didn't come together until the eleventh hour, and Harper has been working ferociously to prepare. Harper has been studying Bankhead's mannerisms in her recordings and films, including 1944's "Lifeboat" directed by Alfred Hitchcock.
The actress says that when she plays real people, she feels "a responsibility to honor them. Not make them nice. Honor who they were. If she's staggering around drunk, that's who she was. I didn't play real people before. I go for the material. Always, always. Who's directing it and who am I acting with?"
"With Golda," Lombardo pipes up, "that was alone." Harper howls with laughter.
Later, Ruggiero talks about how Harper has prepared for the role. "She's really diligent and attuned to detail," he says. "We'd embraced the sensibility and the colors of Tallulah, but we'd be careful not to do an impersonation. You avoid that by basing choices in truthful intention, and you allow a little of Tallulah to blend with a little of Valerie. That allows her to live in it more organically than doing two-dimensional artifice."
So there will still be Harper to spare in "Looped," only audiences won't see all of it onstage. In addition to cashing in her talent chips, she's also reaping the rewards of the good backstage karma she has racked up after decades on the job. As Ruggiero puts it, "There are many women who are lovely and brilliant who would do a great job but who aren't easy to work with. And Valerie is a dream to work with."
After all, directors may want to see complex, coke-sniffing characters like Bankhead onstage, but they want to work with Rhoda.
---
The complete guide to home viewing
Get Screen Gab for weekly recommendations, analysis, interviews and irreverent discussion of the TV and streaming movies everyone's talking about.
You may occasionally receive promotional content from the Los Angeles Times.