12 Images
'American Idol' style file
By Stephanie Lysaght, Los Angeles Times Staff Writer
Syesha Mercado
When we first met Syesha Mercado, her look was decidedly bohemian. Her wild curls, big earrings and striped scarves conveyed her earthy and untamed sense of style.
(Fox)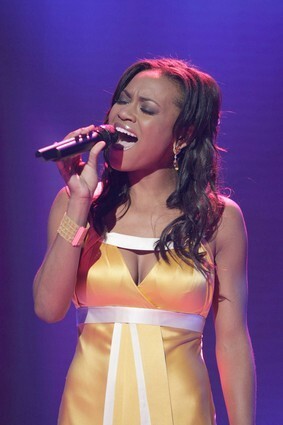 Syesha Mercado
As her song choices became more jazzy and theatrical, Syesha's style changed accordingly. The cute girl with the wild curls was replaced by an old-Hollywood glamorpuss.
(Fox)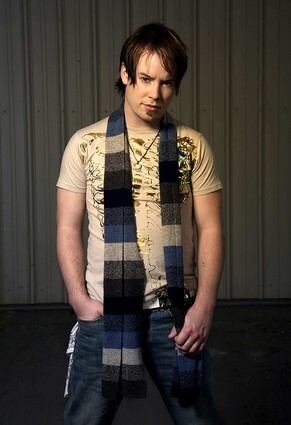 David Cook
Who is this guy? It's hard to believe that the slick and stylish David Cook we've come to know and love once looked like – well – this. The striped blue scarf, the white bandana in the pocket, the gold detailed skeleton t-shirt; there's just a lot going on here. Also, note the long flat locks and questionable patch of facial hair.
(Fox)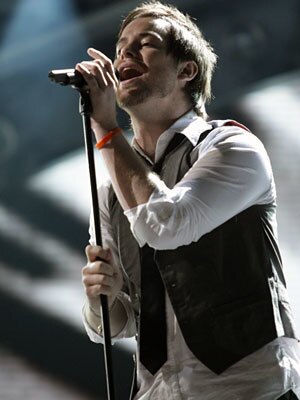 David Cook
Now this is what I call a transformation. David Cook ditched his patch of facial hair for a 5 o'clock shadow, volumized his flat locks, and traded in his clashing duds for a black-and-white ensemble. A star is born.
(Fox)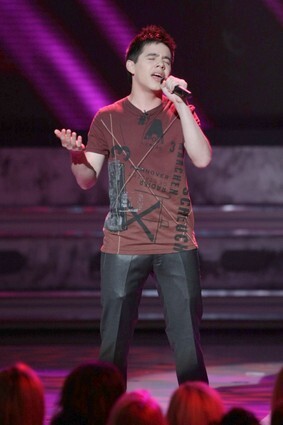 David Archuleta
David Archuleta has not changed his style much during his time on "Idol." He's a tween dream and he dresses the part, in jeans, graphic tees, and the occasional leather jacket.
When David came on stage wearing these pants, however, he set the blogosphere ablaze. According to "Idol" stylist Miles Siggins, "They weren't leather pants, believe it or not.…They were like kind of a shiny wool.... I didn't think they were going to be quite as shiny on camera. And when I saw them in dress rehearsal, I was like, oh, my God, Simon [Cowell] is going to flog me."
(Fox)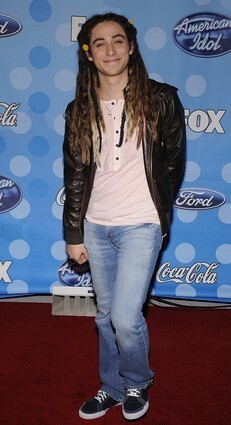 Jason Castro
Jason Castro came to "Idol" with the funky dreadlocked hippie look, and he left with it intact. According to "Idol" makeup artist Mezhgan Hussainy, however, Jason did pick up one style tip on the "Idol" set. "Curling his lashes was one of the things that [Jason] became attached to," dished Mezhgan. "Now he insists on it. There's no way we can forget about it."
(Fox)
Brooke White
During her audition, Simon told Brooke White that he was going to bring the endlessly sunny crooner to the dark side. He didn't succeed, as evidenced here by the sun-yellow dress Brooke wore during her joyful rendition of "Here Comes the Sun."
"I just knew, Brooke, when you were choosing that song that you'd be dressed in yellow and that the lighting would be yellow," criticized Simon.
(Fox)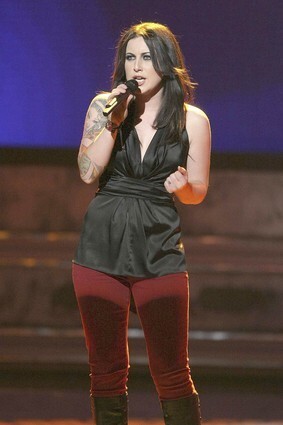 Carly Smithson
Sure, Simon Cowell wears a black T-shirt on every episode of "Idol," but that didn't stop him from dispensing fashion advice to Carly Smithson when she wore this black and red ensemble during Dolly Parton week. "You've got to have a word with whoever's dressing you at the moment," said Simon. "I think at this stage, without being rude, you've got to start looking more like a star, and I'm not seeing that progression at the moment."
(Fox)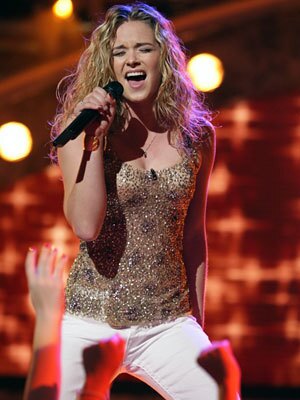 Kristy Lee Cook
Kristy Lee Cook approached the competition with an apathy bordering on resignation. During her rendition of Martina McBride's "Anyway," however, something changed. Kristy was commanding and self-aware. And in her glittery gold tank, crisp white pants and cascading blond curls, even Simon had to admit that Kristy looked like a star.
(Fox)
Michael Johns
When Michael Johns was eliminated from "American Idol," a reporter actually asked him if he thought this ascot was to blame. That's how important "Idol" style is, people!
(Fox)