7 Images
Annie Leibovitz's iconic magazine covers
By Stephanie Lysaght
Los Angeles Times Staff Writer
Annie Leibovitz
Annie Leibovitz sure knows how to cause a stir.
In 2008, she photographed tween idol
Miley Cyrus
for
a spread in Vanity Fair
. In one photo, the 15-year-old Cyrus appears to be topless, clutching a rumpled sheet to her chest. In another, Cyrus appears draped over her father's lap, her belly peaking out beneath her black tank top.
But before snapping the teen queen, Leibovitz shot a string of provocative and noteworthy photos, many of them gracing the covers of such glossy magazines as Vanity Fair, Rolling Stone and Vogue. Here is a look back at some of the iconic covers of the renowned photographer.
(Los Angeles Times)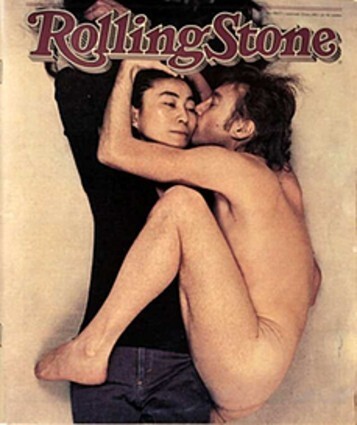 John Lennon and Yoko Ono
On Dec. 8, 1980, Annie Leibovitz met Lennon and Ono at their New York apartment building. There, she photographed the famous couple for the cover of Rolling Stone.
"John took his clothes off in a few seconds, but Yoko was very reluctant," Leibovitz later told Rolling Stone. "She said, 'I'll take my shirt off but not my pants.' I was kinda disappointed, and I said, 'Just leave everything on.' We took one Polaroid, and the three of us knew it was profound right away."
But the image took on another level of tragic profundity later that evening, when Lennon was murdered on his way home from the recording studio.
(Annie Leibovitz / Associated Press)
Demi Moore
In August 1991, Leibovitz photographed Moore in the buff for the cover of Vanity Fair. The kicker? Moore was very pregnant at the time of the shoot.
Responses to the cover were mixed, and some newsstands even sold the issue in a white paper bag with the words "More Demi Moore" printed across it.
In a New York Times article, Vanity Fair editor Tina Brown called the cover "Anti-Hollywood, anti-glitz, a new young movie star willing to say, 'I look beautiful pregnant,' and not ashamed of it."
One year later, Demi returned to the cover of Vanity Fair to commemorate her pregnant nude shot. This time, she appeared with a men's suit painted on her body.
(Annie Leibovitz)
Scarlett Johansson, Tom Ford, Keira Knightley
But not every actress is willing to bare all for Leibovitz. According to Vanity Fair's guest art director Tom Ford, Rachel McAdams was scheduled to appear on the cover of the magazine's March 2006 Hollywood issue with Scarlett Johansson and Keira Knightley. Leibovitz was the photographer. At the last minute, McAdams backed out and the cover ran without her. Why the change of heart? The cover was scheduled to be a nude shoot.
"She did want to do it, and then when she was on the set I think she felt uncomfortable, and I didn't want to make anybody feel uncomfortable," Ford told ABC's "Good Morning America." In the end, a clothed Ford appeared with the nude actresses on the cover.
(Annie Leibovitz)
Gisele Bündchen and LeBron James
Leibovitz made history when she shot Gisele Bündchen and LeBron James for the April 2008 cover of Vogue. The issue marked the first time a black man had graced the cover of the magazine.
In the photo, James wears athletic clothing and dribbles a basketball, his muscles and teeth on full display. Bündchen, by contrast, wears a silky gown and smiles gaily. The stark juxtaposition caused a stir, with one critic on espn.com concluding, "Vogue's quest to highlight the differences between superstar athletes and supermodels only successfully reinforces the animalistic stereotypes frequently associated with black athletes."
(Annie Leibovitz / Associated Press)
Vogue supermodels
She is best known for her work with celebrities, but here Leibovitz photographed three decades of supermodels for the November 1999 issue of Vogue.
(Annie Leibovitz)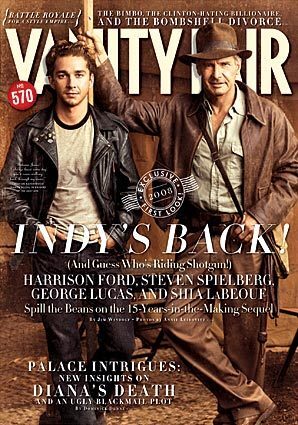 Harrison Ford and Shia LaBeouf
Leibovitz was given the honor of shooting Harrison Ford and Shia LaBeouf for the February 2008 Vanity Fair cover touting their new film,
"Indiana Jones and the Kingdom of the Crystal Skull."
With all information about the film kept strictly under wraps, fanatics in the blogosphere dissected every morsel of Indy wisdom they could grasp. This cover was no exception.
(Annie Leibovitz)