10 Images
Big-time basketball movies
March Madness is over and Duke is once again the reigning college basketball champ. The North Carolina team beat out Butler in its home state of Indiana. And as any good basketball fan knows, basketball is never better than when it's played in Indiana. And someone in Hollywood figured that out, too, as two of the biggest basketball movies were filmed in the Hoosier state.
Though college basketball fans will have to wait for the next season to begin, they can get their fix with the NBA or one of Hollywood's many fictional takes on the sport. (Though if reality is your thing, there's always the magnificent documentary "Hoop Dreams.") Here are some of basketball's biggest big screen ventures.
(Charlie Neibergall / Associated Press)
Many consider this small film loosely based on the real-life 1954 championship winning basketball team of Milan, Indiana, as one of the best basketball movies ever made.
Gene Hackman
played the volatile coach who took his small-town basketball team to the state championships.
Dennis Hopper
earned
an Oscar
nomination playing the town drunk who becomes an assistant coach.
(Los Angeles Times)
Woody Harrelson
, left, and
Wesley Snipes
proved to be a winning combination as a pair of street-smart basketball hustlers who run their mouths off as much as they run on the court. The film was a box office hit and earned Woody and Wesley a semi-sequel with "Money Train," which didn't feature basketball and bombed.
(Neil Leifer / 20th Century Fox)
Kevin Bacon
starred as a U.S. basketball coach who travels to Africa to recruit the 6'10" basketball player that will earn him the promotion to head coach. Charles Gitonga Maina played the (very) tall African who teaches Bacon those essential life lessons that no self-respecting sports movie should be without.
(Anthony Bannister / Disney)
Director
William Friedkin
came at college basketball from the behind-the-scenes approach.
Nick Nolte
stars as a college basketball coach determined to keep his program "clean" from the under-the-table big money deals that taint other college programs. Nolte apparently modeled a lot of his performance on raging former IU coach Bobby Knight and like "Hoosiers," the film was shot in the basketball mecca state of Indiana. Shaquille O'Neal and several other
NBA
players and coaches had cameos in the film.
(Bob Greene / Paramount)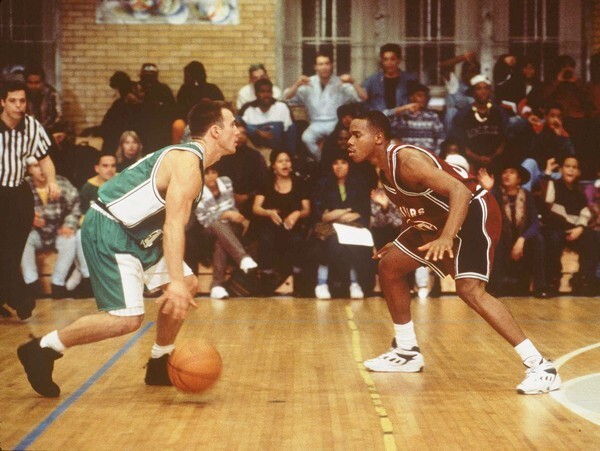 A high school player must choose between a basketball scholarship or following the path of the local drug hoodlum (played by
Tupac Shakur
) in this small dramatic film that got a big boost from its soundtrack, which featured the hit single "Regulate" by Nate Dogg and Warren G.
(E. Liebowitz / New Line Cinema)
Dan Aykroyd
and Daniel Stern played two obsessed
Boston Celtics
fans who kidnap the star player from a rival team (
Damon Wayans
) to give the Celtics a chance to win. This poorly received
comedy
was an early script from future comedy bigwig
Judd Apatow
. And, like every other movie about basketball, it featured several cameos from real-life
NBA
players.
(Richard Cartwright / Hollywood Pictures)
Chicago Bulls superstar Michael Jordan made his big screen debut in the 1996 Looney Tunes/live action mash-up, "Space Jam." Warner Bros. built a dedicated practice facility on its lot for Jordan to use during production.
(Warner Bros)
Spike Lee
's take on the basketball genre deliberately turned conventions on their head. For instance, instead of a pulsing and vibrant soundtrack, Lee chose to use classic American composer
Aaron Copland
's music. Several
NBA
players and coaches had cameos in this story of a former prisoner (
Denzel Washington
) whose son is a hot college basketball prospect. The son was played by
Boston Celtics
guard
Ray Allen
.
(David Lee / Touchstone Pictures)
Will Ferrell
took basketball back to the '70s with this comedy about singer Jackie Moon (Ferrell) who uses the profits from his hit single to purchase a semi-pro basketball team, the Flint Tropics. Not noted for its inspirational basketball message or its pro-ball shine as much as its goofy period costumes. Big afros never get old.
(Frank Masi / New Line Cinema)