12 Images
Billboard Music Awards: Best & Worst
Rihanna & Britney start things off raunchy
The 2011 edition of the Billboard Music Awards -- the first time the show has been held since 2006 -- opened with
Rihanna
sitting provocatively on a silver chair. The sparse stage, torture imagery and cold beats lent the feeling of a stripper performing in a jail cell. Yet that may have been the point, because Rihanna's "S&M" doesn't leave much to the imagination.
Nor did
Britney Spears
' tiny leather outfit.
Spears, who can lip-sync with best of 'em and awkwardly dance like no other, strutted and grinded, all while backup dancers poked their hands out from the floor. While the backing crew was clearly trying to lay their hands on the stars, it looked more like they were making finger puppets.
Or perhaps that's some new dance move ("The Periscope"?).
RELATED:
Billboard Music Awards: Arrivals
Compiled by Todd Martens
(Ethan Miller / Getty Images / ABC)
The Periscope!
The new dance move sweeping the nation! (See previous slide.)
(Ethan Miller / Getty Images / ABC)
Tension!
Look,
Taylor Swift
is in the crowd at the Billboard Music Awards! Think the top-selling artist of 2010 will win? And "album artist of the year" goes to . . . ?
Swift!
Shocking!
If the awards return next year, perhaps each issue of the magazine's charts should come with a "spoiler alert."
(Ethan Miller / Getty Images / ABC)
Ken Jeong begs for you to stay
"This show won't blow," Jeong sang with Nicki Minaj near the start of the telecast. Since it's been five years since the Billboard Music Awards graced network television, it wasn't a joke so much as a desperate plea.
Yet throughout the night, the "Community"/"Hangover" star smashed a banjo and impersonated Flavor Flav, doing his high-energy best to stand out in the Top 40 world of pop music. By and large he succeeded, even if
Train
lead singer Patrick Monahan joked, "Why are you here?" Sure, some in the audience may have been wondering the same thing, but amid an industry that celebrates Train's nondescript adult pop, Jeong is downright electrifying.
(Ethan Miller / Getty Images / ABC)
We still love you, Canada!
When
Justin Bieber
accepted an award for selling a lot of digital singles, he thanked a number of those responsible for helping to shape his career.
Then he said, "I want to thank everyone who's helped me get out of my hometown." Soooo ... someone is too good for
Stratford
, Ontario, are we?
(Ethan Miller / Getty Images / ABC)
Have you booked Black Eyed Peas for your birthday yet?
There doesn't appear to be a party invite in the universe the Black Eyed Peas would ever turn down, and oh boy oh boy does the L.A. pop act love the award shows.
At the Billboard awards, the Peas went the medley route, and once the act got past the cringe-worthy "Love You Long Time," things perked up. The Peas are one of the few acts whose songs are actually made for medleys, because their songs aren't so much songs as they are a collection of commercial jingles.
(Ethan Miller / Getty Images / ABC)
Beyonce: She brings Bono and the first lady together
Before performing her new single,
Beyonce
was named this year's Billboard Millennium Artist and honored with video featuring praises from
Bono
, First Lady
Michelle Obama
and
Lady Gaga,
among others.
Yet she performed the first half of her "Run the World (Girls)" without any assists — unless one counts the dozens of digitized Beyonces who surrounded her. Outfitted with worldly samples and militaristic beats, "Run the World" sees Beyonce getting close to M.I.A. territory, but this isn't divisive dance-pop activism. "Who run this mutha?" Beyonce screamed, and then answered herself by shouting "girls!"
That's a motto that should work in red and blue states.
(Ethan Miller / Getty Images / ABC)
Always graceful
Mary J. Blige
doesn't usually disappoint, and she gave a smoldering take on her "Somebody to Love Me (Naked)." Indeed, one could have listened to Blige holler and improvise for hours, as no doubt she could command any cabaret in Las Vegas. It was a slight shame, then, that
Lil Wayne
appeared with a host of not-safe-for-TV lyrics.
(Ethan Miller / Getty Images / ABC)
And then there was Ke$ha
Were those dancers with Ke$ha dressed as unicorns? Were they shooting confetti?
At the very least, Ke$ha disguises her go-for-the-blatant hooks with some cleverly head-scratching smoke-and-mirror tricks (unicorns!).
Katy Perry
would be proud.
(Ethan Miller / Getty Images / ABC)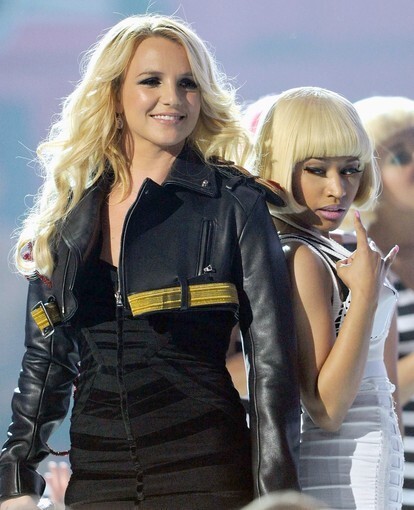 Who stole Nicki Minaj?
Minaj was kooky fun as she performed her "Super Bass," and her dancers were cartoonish and colorful as they shimmied in their cotton-candy-colored wigs. If not the kind of commanding vocal performance Minaj is capable of (see
Kanye West
's "Monster"), it was one of the few moments of the Billboard Music Awards that was enjoyably weird.
Then along came
Britney Spears
for part of "Till the World Ends," and the charismatic Minaj did nothing but get in line behind the blond
Barbie doll
, who walked back and forth to once again show off her lip sync skills. Spears didn't look like a pop star; she looked like a prop.
(Ethan Miller / Getty Images / ABC)
JUSTIN BIEBER! SELENA GOMEZ! KISS!
Just giving the people want they want. The people want this, right?
(ABC (Screen grab))