8 Images
Adam Sandler: Life in Pictures
Humble beginnings

In 1990, before he became a movie star, Adam Sandler was stoked to be cast as Drug Dealer in an "ABC Afterschool Special."
(Friedman, Gary / Los Angeles Times)
Early success
Sandler's stint on "SNL" opened the door to roles in outrageous comedies like ""Coneheads"" in 1993 and ""Airheads"" (pictured with Brendan Fraser) in 1994.
(Merie W. Wallace / Paramount Pictures)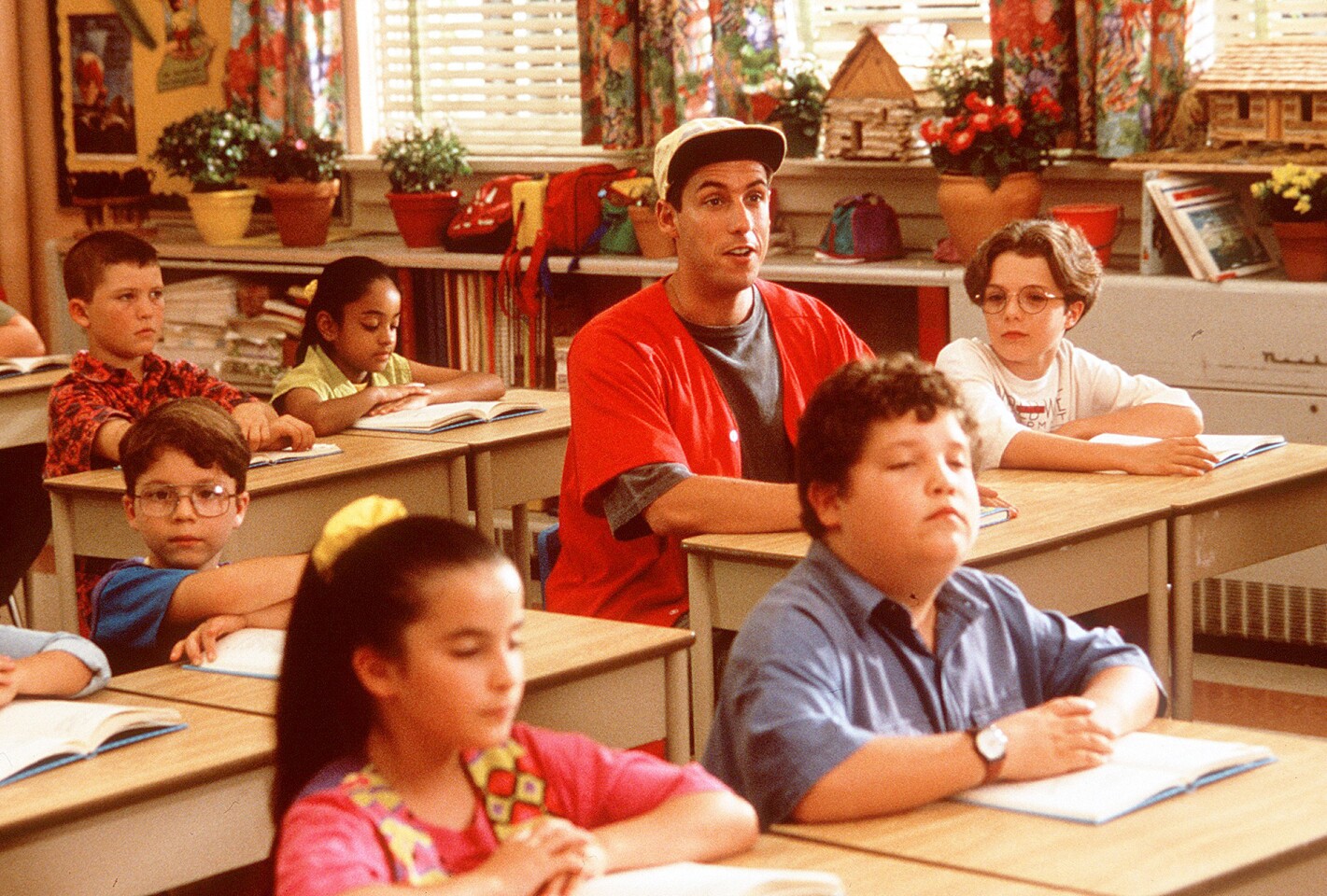 Cult classic
His career-defining role came in the infinitely quotable "Billy Madison" in 1995. The title character seemed like it was written for Adam – and perhaps it was; he cowrote the film.
(Bruce McCaulay / Universal Pictures)
King of comedy
Adam's star status grew with goofball comedies like "Happy Gilmore" and "The Waterboy," along with more sentimental comedies like "Big Daddy" and "The Wedding Singer," pictured.
(Kimberly Wright / New Line)
Put on your yarmulke …
Throughout his career, Adam has also played music. Remember that hilarious ditty, "The Chanukah Song"? Well it was back again, with new lyrics, for the 2007 holiday season. It also helped inspire the animated movie "Eight Crazy Nights" in 2002.
(Columbia Pictures)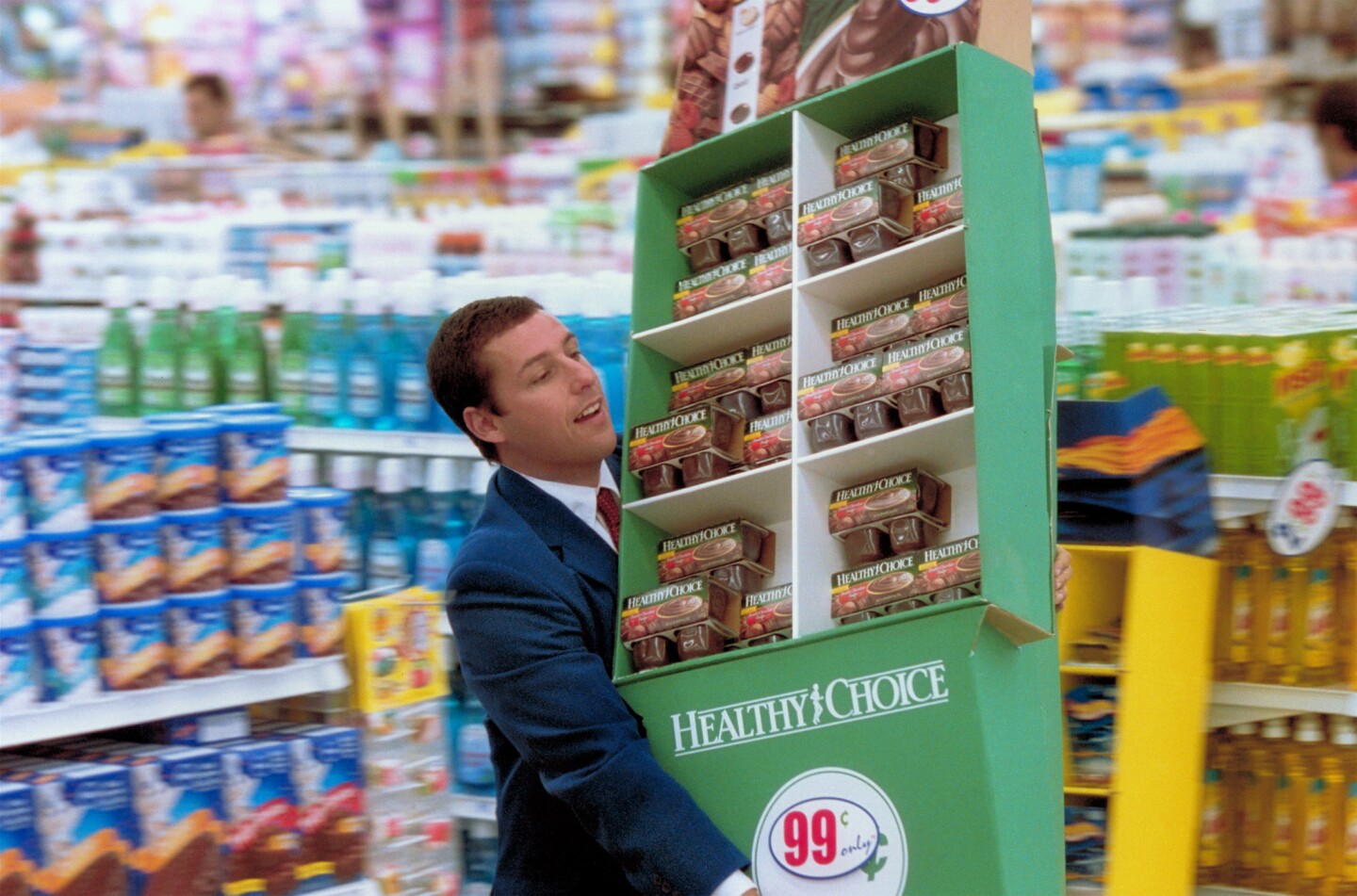 Sandler gets serious
After cracking people up for years on end, Sandler decided to change his tune. He starred in the staggeringly dark, staggeringly sweet film ""Punch-Drunk Love"" in 2002. Reviews were positive, with Roger Ebert writing that "Sandler, liberated from the constraints of formula, reveals unexpected depths as an actor." Sandler was nominated for a Golden Globe.
(Bruce Birmelin)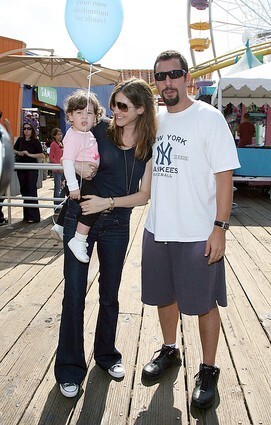 Love life
Sandler met Jacqueline Samantha Titone on the set of the 1999 movie "Big Daddy" in which she had a bit part as a waitress. They married in 2003 and in 2006, the pair had a daughter named Sadie Madison Sandler.
(Frazer Harrison / Getty Images)
Branching out
Sandler owns Happy Madison Productions, which has produced numerous high-profile films including ""Deuce Bigalow: Male Gigolo,"" ""Little Nicky,"" ""Joe Dirt,"" ""Mr. Deeds,"" ""The Hot Chick,"" ""Anger Management,"" ""50 First Dates,"" ""Click,"" and ""I Now Pronounce You Chuck and Larry."
(Tracy Bennett / Universal Pictures)