18 Images
Gwyneth Paltrow: Life in pictures
No wonder Gwyneth Paltrow pursued a career in show biz. It was in her blood! Her dad, Bruce, was a director, and her mom, Blythe Danner, is an actress.
(Michael Quintanilla / Los Angeles Times)
After a smallish part in "Hook" in 1991, Paltrow landed a leading role (and the lead guy -- Brad Pitt!) in the intense thriller "Se7en" in 1995. The following year, "Emma" (pictured) cemented her star status.
(David Appleby / Miramax Films)
Paltrow played Estella, the object of Ethan Hawke's Finnegan Bell's affections, in director Alfonso Cuarón's modernization of the Charles Dickens tale.
(Phillip Caruso)
It was "Shakespeare in Love" in 1998 that made Paltrow the Hollywood heavy she is today. The movie brought her an Oscar.
(Laurie Sparham / Miramax Films)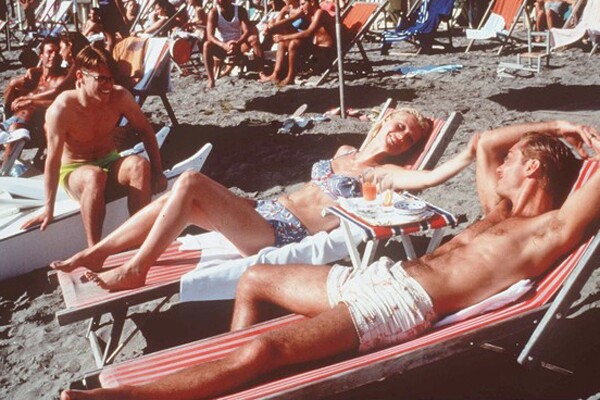 Paltrow played supporting character Marge, the pampered fiancee happily living the jet-setting life with
Jude Law
's Dickie Greenleaf -- until
Matt Damon
's manipulative Tom Ripley appears.
(Phil Bray / Paramount Pictures)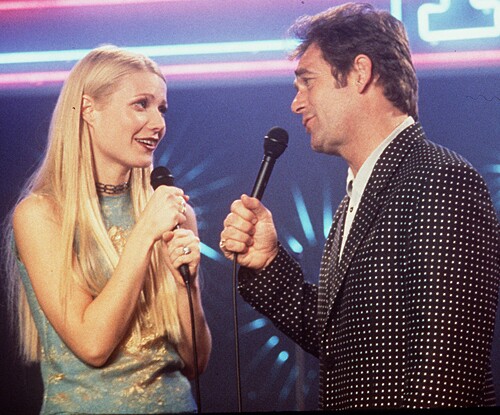 When Paltrow sang Smokey Robinson's "Cruisin' " in the film "Duets" in 2000 (the film also featured Huey Lewis, pictured), fans went nuts.
And get this: she also sang with Jay-Z during one of his concerts!
(Rob McEwan / Karaoke Productions Inc.)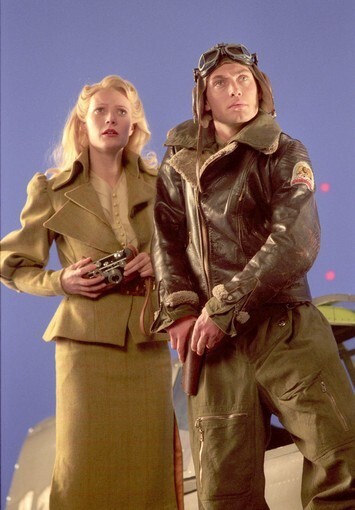 Paltrow re-teamed with "Ripley" costar Jude Law in the sci-fi action adventure "Sky Captain and the World of Tomorrow," about a journalist (Paltrow) and a sky captain (Law) seeking out what's causing the evil in their bizarre version of 1939.
(Keith Hamshere)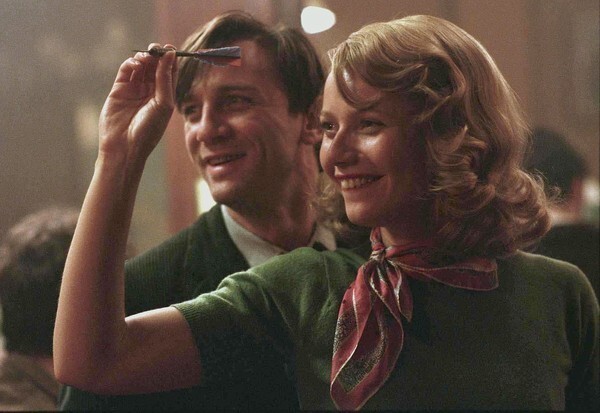 Paltrow played the famously damaged yet talented poet
Sylvia Plath
.
Daniel Craig
, pictured, played her husband, Britain's future poet laureate,
Ted Hughes
.
(David Appleby / Focus Features)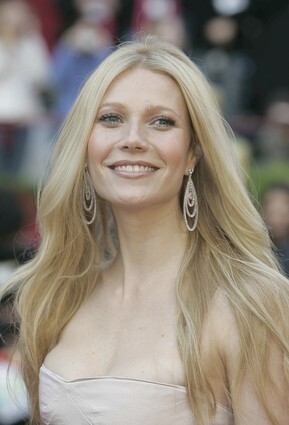 In 2005, Paltrow loaned her famous face to Estée Lauder's Pleasures perfume.
(Mark Boster / Los Angeles Times)
Based on David Auburn's Tony-award and
Pulitzer Prize-winning
play, Paltrow plays Catherine, the troubled daughter of
Anthony Hopkins
' mathematical genius.
Jake Gyllenhaal
, pictured, plays Hopkins' former student and Catharine's eventual love interest.
(Chuck Hodes / Miramax Films)
In 2007, an article in W had this to say: "For all her acting ability and natural glamour, she has never exuded the easy likability of Cameron Diaz or Reese Witherspoon. There's nothing goofy or girl-next-door about her. She attended the poshest of posh Manhattan private schools; she's a champion of gloomy art-house fare (think Sylvia); she's talked in the past, at length, about her devotion to all things detoxed and macrobiotic; and she's an ardent Anglophile who, for the past few years, has spent the preponderance of her time in Martin's native England."
(Damon Winter / Los Angeles Times)
Paltrow's often-shocking fashion sense has made her red carpet looks tabloid staples and her inner circle includes designers like Stella McCartney. Paltrow made waves in 2002 when she wore this goth-like, sheer
Alexander McQueen
gown to the Oscars.
(Frank Micelotta / Getty Images)
The devoted yogini and macrobiotic muncher has long been known for her healthy ways. In 2008, Paltrow launched the weekly newsletter Goop, which encourages readers to "nourish the inner aspect," and focuses on one of these themes each week: Make, Go, Get, Do, Be and See.
(Goop)
Paltrow's long-standing relationship with Madonna seemingly lasted longer than most Hollywood marriages (here they are with
Chelsea Clinton
at the Versace spring-summer 2002 Haute Couture show in Paris). But it has hit a snag, as rumors circulated in summer 2010 that the two former best friends
do not speak anymore
.
(Steve Wood / Associated Press)
Paltrow and longtime friend Mario Batali co-hosted the documentary "Spain ... On the Road Again," in 2008. The actress is seen here listening to archeology assistant Jesus Bermudez at the Alhambra castle in Granada, Spain.
(EPA / Alhambra)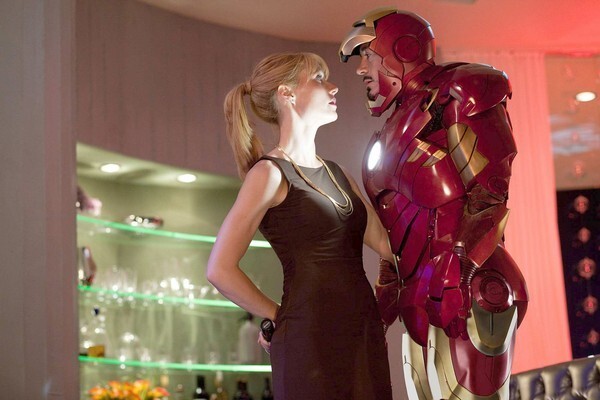 Like all stars with bankability, Paltrow eventually found her way to the superhero flicks. But she doesn't exactly play the stereotypical damsel in distress in the "Iron Man" movies; Paltrow's Pepper Potts tends to put her brains before her other assets.
(Francois Duhamel / Marvel Entertainment)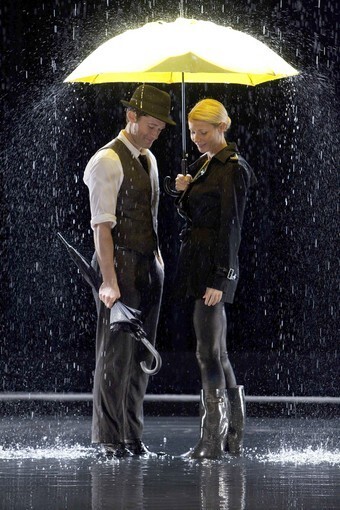 The Internet was abuzz about
Gwyneth Paltrow
's guest appearance on Fox's wildly popular comedy, "Glee." In this scene, she performs "Singing in the Rain" and "Umbrella" with Will (Matthew Morrison).
She'll return to the land of face slushies soon.
(Adam Rose / Fox)
Paltrow plays a fallen country singer trying to resurrect her career in this December 2010 film, which also stars country singer Tim McGraw and "Gossip Girl" star Leighton Meester.
(Scott Garfield / Screen Gems)