16 Images
Blondes who let us have fun
Jessica Simpson
By Susan King, Los Angeles Times Staff Writer
They say blonds have more fun -- and these blonds are certainly having the last laugh. They're part of a coterie of platinum-haired performers -- from Mae West to such contemporary faves as Cameron Diaz, as well as Oscar-winners Meryl Streep, Jessica Lange and Reese Witherspoon -- who have tickled audiences' funny bones. And, yes, we begrudgingly give props to Jessica Simpson, who gave new meaning to the expression "dumb blond" in her MTV "reality" series "Newlyweds: Nick and Jessica" but nonetheless showed some comic flair. Here's a look at performers who have the film archetype of the Blond and turned it on its head:
(MTV, xx)
Cameron Diaz
Cameron Diaz
Diaz became a star with her first film, 1994's "The Mask," in which her personality and charm won over audiences and critics alike. Even as a 21-year-old newbie, she held her own opposite the movie's frenetic star, Jim Carrey. She also managed to steal 1997's "My Best Friend's Wedding" from under the nose of its female lead Julia Roberts. And she picked up a New York Film Critics Circle best actress award for her goofy turn as a doctor being pursued by many men in the Farrelly brothers' 1998 hit, "There's Something About Mary." Her hair "gel" scene with costar Ben Stiller is a thing of brilliance. Nothing she's done since "Mary" has been as laugh-inducing, but she's had her share of hits with the "Shrek" animated franchise, the two "Charlie's Angels" movies and the quirky "Being John Malkovich." And Diaz again demonstrates she's a pratfall master as a New York career woman who marries a working-class guy during a drunken spree in Las Vegas in the predictable
"What Happens in Vegas,"
which opens Friday.
(Alberto E. Rodriguez / Getty Images)
Gwyneth Paltrow
Gwyneth Paltrow
Though the long, leggy blond actress, 35, is best known for her dramatic roles in such films as "Flesh and Bone," "Proof," "The Talented Mr. Ripley" and "Se7en," Paltrow has more than proved herself as a comedic performer. Ironically, she's proved to be funnier with a British accent than an American one. She received glowing notices as Jane Austin's heroine in the 1996 version of "Emma" and won the lead actress Oscar as the Bard's muse in the 1998 best picture winner, "Shakespeare in Love." But the daughter of actress Blythe Danner has had more than her share of comedic missteps, including the wan 1996 David Schwimmer vehicle "The Pallbearer," the misguided 2001 Farrelly brothers' comedy "Shallow Hal." and the mind-numbing 2003 stewardess comedy "View from the Top."
(Nina Prommer / EPA)
Amy Poehler
Amy Poehler
The newest blond funny gal on the block. The "Saturday Night Live" regular -- described by Entertainment Weekly as a "brilliantly inventive sketch comedian" -- has worked her way up the movie ladder in supporting roles in films such as "Mean Girls," "Mr. Woodcock" and "Blades of Glory" to a starring role opposite "SNL" alum Tina Fey in "Baby Mama." Poehler plays the crass working-class Angie who agrees to become the surrogate mother for an unmarried executive named Kate (Fey) and ends up finding herself during her pregnancy. Next up for Poehler are the features "Hamlet 2" and "Spring Breakdown" and the Nickelodeon animated series "Mighty B," for which she is producing, writing and providing the lead voice.
(Evan Agostini / Associated Press)
W.C. Fields
Mae West
With her platinum blond hair, hourglass figure and hot-to-trot voice, West is considered to be the first major sexual comedian of the talkies. She began in vaudeville at the age of 14 and at 33 was jailed on obscenity charges for her 1926 Broadway show, "Sex," which she wrote, produced, directed and starred in. Two years later, she became the toast of Broadway in "Diamond Lil," and in 1932, West signed with Paramount. She made her film debut in 1932's "Night After Night" -- West was 40 at the time -- but she really made her mark with her ribald, risque 1933 comedies "I'm No Angel" and "She Done Him Wrong," which was the movie adaptation of "Lil." Unfortunately, when the production code clamped down on suggestive material, West's subsequent comedies were diluted shadows of her pre-code comedies. Her last hit film was 1940's "My Little Chickadee," in which she costarred with W.C. Fields. She died in 1980 at the age of 87.
(Courtesy AMPAS)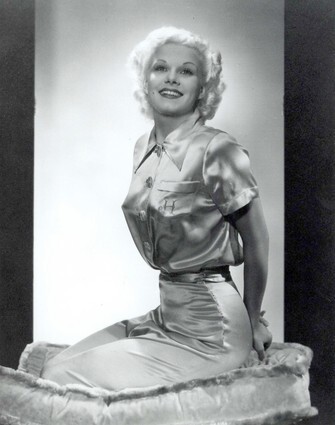 Jean Harlow
Jean Harlow
The brassy, bubbling platinum blond -- who never felt obligated to wear underwear -- came into her own in the early pre-code comedies at MGM. She excelled at playing wisecracking sexpots going innuendo-to-innuendo with such stars as Clark Gable in 1932's "Red Dust" and 1933's "Hold Your Man." And she stole the 1933 ensemble comedy-drama "Dinner at Eight" as the quintessential dumb blond Kitty Packard. When the production code arrived, Harlow's films became less suggestive. She even let her hair go back to its natural honey blond. At the age of 26, she died of cerebral edema from kidney failure during the production of the 1937 romantic comedy "Saratoga."
(George Hurrell)
Carole Lombard
Carole Lombard
Blond, beautiful, bright, Lombard was one of the top stars of the frenetic screwball comedies of the mid-1930s, earning a lead actress Oscar nomination for 1936's "My Man Godfrey," in which she played the delightfully ditsy rich girl who falls for her butler (William Powell). Not only did Lombard have crack comedic timing, she also was a flawless physical comedian -- just check out the shower scene in "Godfrey" or the punch in the jaw sequence in 1937's "Nothing Sacred." Equally adept at drama, Lombard was beloved by audiences and by the movers and shakers in Hollywood for being one of the best eggs around. She was married to Clark Gable and died tragically at 33 in a 1942 airplane crash after selling war bonds during a drive in the Midwest.
(Courtesy LACMA)
Judy Holliday
Judy Holliday
The multitalented blond performer won the lead actress Oscar for 1950's "Born Yesterday" -- beating out such veterans as Bette Davis for "All About Eve" and Gloria Swanson for "Sunset Boulevard." She reprised her Broadway triumph as Billie Dawn, the "dumb blond" mistress of a wealthy gangster (Broderick Crawford) who isn't quite as dimwitted as she looks. Her best moment was winning cards with boyfriend Harry while humming "I Can't Give You Anything but Love." In real life, Holliday was nothing like her characters -- she had a near-genius IQ and was a voracious reader. After "Born Yesterday," she made several comedies at Columbia in which she played endearing, quirky and eccentric heroines in such films as "The Marrying Kind" and "It Should Happen to You." She took a break from Hollywood when she appeared on Broadway in the 1956 hit musical "Bells Are Ringing." Holliday did the 1960 film version of "Bells." That same year, she began battling breast cancer. Holliday succumbed to the disease in 1965, two weeks shy of her 44th birthday.
()
Marilyn Monroe
Marilyn Monroe
The legendary superstar followed in a grand tradition of "Fox Blondes" that included Alice Faye, Betty Grable and June Havoc. Though she did fine dramatic work during her short-lived career, most notably in her final feature, 1961's "The Misfits," Monroe is best known for her picture-perfect comedic timing. She made a great dumb blond in the 1953 comedies "Gentlemen Prefer Blondes" and "How to Marry a Millionaire." Of course, she became the object of every man's desires when her white dress flipped up thanks to the subway grating on a New York sidewalk in 1955's "The Seven Year Itch."
Monroe grew only stronger as a comedic actress after heading to New York and studying the Method with Lee Strasberg. And in her first post-Strasberg film, 1956's "Bus Stop," she's funny, winsome and poignant as Cherie, a young entertainer who is traveling by bus to get to "Hollywood and Vine." Her performance of "That Old Black Magic" will make you laugh and cry at the same time. And despite dealing with enormous personal problems and demons, she is absolutely spot-on as Sugar Kane in Billy Wilder's 1959 comedy, "Some Like It Hot." She tragically died of a drug overdose in 1962 at the age of 36.
(Matty Zimmerman / AP)
Doris Day
Doris Day
The former band singer who became one of Hollywood's top stars in dramas, musicals and comedies never really was cast as a "dumb blond." She was spunky, spirited, intellectual and curious in such films as 1948's "Romance on the High Seas," which marked her film debut, 1958's "Teacher's Pet" and 1959's "It Happened to Jane."
But starting with 1959's sex comedy "Pillow Talk," which marked her first collaboration with Rock Hudson, Day frequently found herself cast as thirtysomething virgins, a fact that led actor-composer Oscar Levant, who appeared on "Romance on the High Seas," to quip: "I can remember Doris Day before she was a virgin." Day, now 84, quit films in 1968 and did a TV series, "The Doris Day Show," for five seasons. She's been retired in Carmel for more than three decades.
()
Candice Bergen
Candice Bergen
The daughter of famed ventriloquist Edgar Bergen made her career as a dramatic actress in such films as 1965's "The Group" and 1966's "The Sand Pebbles," but she has found her true calling in comedy.
The blond, blue-eyed Bergen got a chance to strut her comedic stuff with funny results way back in 1975 when she hosted "Saturday Night Live" for the first time. Then in 1979 -- sporting darker locks -- she received a supporting actress Oscar nomination for her amusing turn as a budding composer in "Starting Over." Bergen, 62, became a true comedic superstar -- and the recipient of five Emmys -- on the long-running CBS comedy series "Murphy Brown" as the acerbic, difficult and competitive recovering alcoholic anchor-reporter on a TV newsmagazine. She's also appeared in several feature comedies, including "Miss Congeniality," and currently brings her wry comedic sensibility to the role of a high-powered attorney on ABC's "Boston Legal."
(Peter Iovino / Touchstone Pictures)
Christina Applegate
Christina Applegate
The former child star, now 36, came to major fame in 1987 as the ultra-dumb-blond teenager Kelly Bundy on Fox's long-running ribald sitcom "Married . . . With Children." But since the series left the airwaves 11 years ago, she has broadened her blondness, earning an Emmy as Rachel's sister on "Friends," playing a working-class single mom on the 1998-2000 comedy series "Jessie," receiving a Tony nomination for the musical "Sweet Charity" and demonstrating her comedy prowess in such feature comedies as "Anchorman: The Legend of Ron Burgundy."
Applegate received Golden Globe and Screen Actors Guild nominations for her current ABC comedy series, "Samantha Who?," in which she plays a difficult career woman who gets a second chance at life when she suffers amnesia after an accident.
(Randy Holmes / ABC)
Goldie Hawn
Goldie Hawn
After a stint as a go-go dancer and a singer and dancer in theater and TV chorus lines, Hawn, now 63, was first seen by TV audiences as a ditsy neighbor in the 1967-68 CBS comedy series "Good Morning, World." That role led to her being cast in 1968 as a regular on the landmark NBC sketch comedy series "Rowan & Martin's Laugh-In." With her close-cropped blond hair and big blue eyes, Hawn won over the hearts of America -- and earned two Emmy nominations -- with her giggles and verbal faux pas. British critic David Thomson wrote: "I don't think any film has ever captured the lyrical blonde naivete that Goldie showed on TV's 'Laugh-In.' She is usually pert and engaging: amiability perches on her high, child's voice and gurgles from her baby's mouth."
Hollywood quickly snapped Hawn up, casting her as the sweetly dimwitted Greenwich Village salesgirl who is the mistress of a "married" dentist (Walter Matthau) in the 1969 comedy "Cactus Flower." She won the supporting actress Oscar for her delightful performance. Over the subsequent decades, Hawn's demonstrated her comedic versatility in such films as 1975's "Shampoo," 1978's "Foul Play," 1980's "Private Benjamin," for which she received a lead actress Oscar nod, and 1996's "The First Wives Club."
(Vince Bucci / Getty Images)
Kate Hudson
Kate Hudson
Like mother like daughter, Goldie's 29-year-old daughter has established herself as one of the sunniest comedians working in films today. She picked up an Oscar nomination for supporting actress as the charismatic, free-spirited groupie, Penny, in Cameron Crowe's 2000 coming-of-age flick "Almost Famous," and she hit box-office pay dirt with 2003's romantic comedy "How to Lose a Guy in 10 Days." However, some of Hudson's subsequent comedy choices, such as "You, Me and Dupree" and "Fool's Gold," have wasted her talents.
(Chris Jackson / Getty Images)
Owen Wilson
Owen Wilson
Not every funny blond is an actress. The blond bad-boy, who had battled substance abuse problems, made headlines last year after an apparent suicide attempt. But despite his off-screen problems, the actor and screenwriter, 39, is still one wild and crazy guy in such hits as "Wedding Crashers," "The Royal Tennenbaums," the animated film "Cars" and "Night at the Museum." Though some of his recent films ("Drillbit Taylor") have been critical and box-office disappointments, his career seems to be back on track. He's currently filming "Marley & Me," based on the bestseller, and is set for "Night at the Museum II: Escape From the Smithsonian."
(Spencer Weiner / Los Angeles Times)
Julia Duffy
Julia Duffy
Though she continues to act in such films as "Dumb and Dumberer: When Harry Met Lloyd" and appear in guest and regular roles on TV series, the diminutive blond actress, 56, hasn't found a character as memorable as Stephanie on the 1980s CBS comedy series "Newhart." She received rave reviews and seven Emmy nominations for her delectable performance as a shallow, self-absorbed yuppie who was not the sharpest knife in the drawer. Her scenes with Peter Scolari, who played her equally yupster spouse, were golden.
()