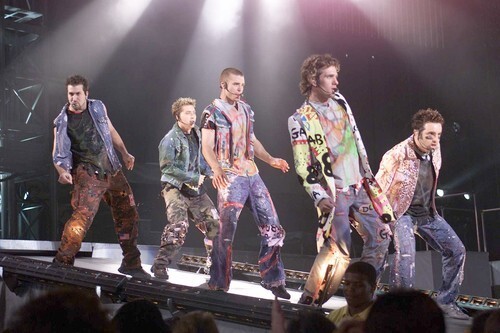 19 Images
Boy bands through the years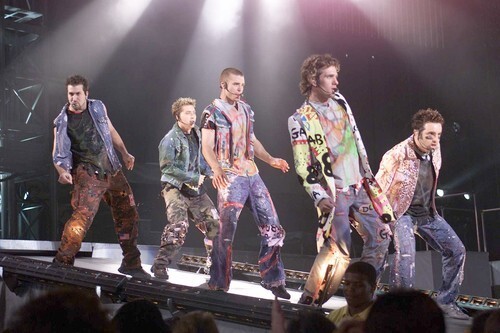 The Monkees to Day26: Boy band evolution
By Sheigh Crabtree, Stephanie Lysaght and Todd Martens, Los Angeles Times Staff Writers
The Spice Girls got back together last year, and now the boys are getting in on the reunion action. The members of New Kids on the Block announced in early April that they will tour and record new material.
And the timing, perhaps, couldn't be better. When the New Kids on the Block made its announcement, the top of the charts featured the likes of Danity Kane and Day26, one girl group and one boy band, respectively. Indeed, boy bands and girl groups are a formula that the music business and the music fans never seem to tire of, even as generational looks and sounds may change.
From pop to hip-hop and R&B, the Monkees to the Osmonds to Boyz II Men to Day26, here's a look at some notable boy bands over the years.
Click here to read:
New Kids returning to the block
Click here to read:
Supremes to Destiny's to Dolls: Girl group evolution
Pictured: 'N Sync on tour
(Al Seib / Los Angeles Times)
Menudo
Look:
With their omnipresent sleeveless tops and sweatbands in primary colors, Menudo welcomed cheesiness with open arms.
Sound:
Then: Peppy, synth-laden dance-pop, with an occasional air-guitar-worthy guitar line. Today: Peppy, electronic dance-pop, with a bit of an urban inflection.
(WireImage)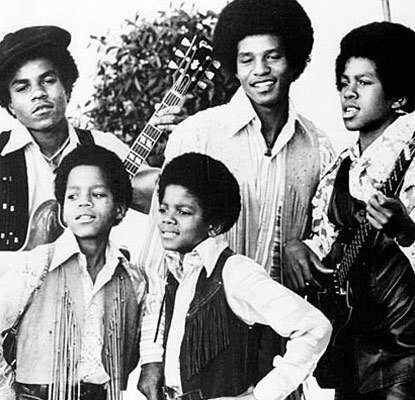 Jackson 5
Look:
The Jackson 5 style formula was simple: pointy starched collars, afros, and bell bottoms for days.
Sound:
The five Jackson boys and their pure, high voices produced the catchiest tunes of their time. The mere mention of "ABC" will leave the tune running through your head for days. You're welcome.
(Associated Press)
The Osmonds
Look:
What could have passed for a department store-bought family portrait, with a slight rock 'n' roll edge. Only a traveling band would wear those flashy white suits, but not a hair was ever out of place.
Sound:
A mix of '70s soul and rock 'n' roll sounds, but cleaned up and safe for a musical parade down Disneyland's Main Street. The Osmonds answered the Jackson 5 with "One Bad Apple (Don't Spoil the Whole Bunch)," and then went classic rock with "Crazy Horse."
(WireImage)
The Temptations
Look:
As dapper as they come. Matching suits, bow ties, thick black glasses, and not a hair out of place. (Pictured here in 2007.)
Sound:
One of the acts most closely associated with the Motown sound ("My Girl"), the Temptations are included here for two reasons: One, their lineup has changed so often they're more a brand than a band, and two, they laid the foundation for a host of R&B boy bands that would follow.
---
FOR THE RECORD: A previous image featured in this gallery portrayed an incorrect photograph of the Temptations.
---
(WireImage.com)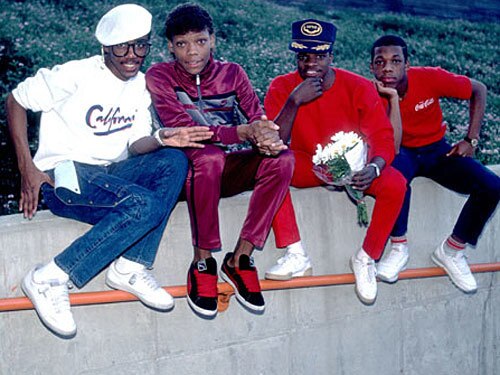 New Edition
Look:
A joyful explosion of street style; think burgundy velour jump suits, skin-tight jeans, newsie caps and white sneakers.
Sound:
Chipmunk-like vocals? Check. Lyrics that define cliché? Check. New Edition hits like "Candy Girl" were the definition of bubblegum pop. But just try to watch the "Candy Girl" video without smiling.
(WireImage)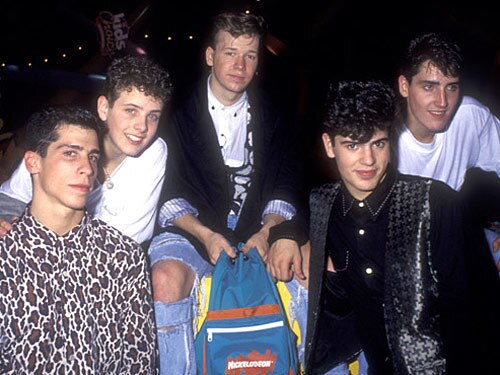 NKOTB
Look:
One of the most memorable boy bands of all time, New Kids on the Block were guilty of any and all crimes of '80s fashion. From their suspenders and oversized sports coats to their pompadours and inside-out jeans, NKOTB style reminded us that in the '80s, more was always more.
Sound:
Bringing breakdancing to the masses, and serving up some ballads for the ladies, New Kids on the Block had a string of hits with "Hanging Tough," "I'll Be Loving You (Forever)" and "You Got It (The Right Stuff)," marked largely by spacious beats and heavy '80s synths.
(WireImage)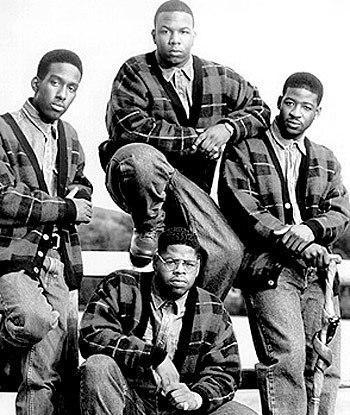 Boyz II Men
Look:
Polished and chic, with sweater vests and crisp dark jeans, Boyz II Men represented a stylistic departure from the more-is-more philosophy of the '80s.
Sound:
If "End of the Road," "I'll Make Love to You" and "On Bended Knee" don't instantly conjure up images of a quartet of swaying, harmonizing men from Philly, then you weren't listening to pop radio in the early '90s. You may recall their trademark sound, the Boyz traded bars like nobody's business — from texturized tenor to silky tenor to a baritone and a deep bass.
(PolyGram)
Bell Biv DeVoe
Look:
With names like Ricky "Slick" Bell, Michael "Biv" Bivins and Ronnie "R.D." DeVoe, you know BBD dresses to impress. The New Edition spinoff group's casual wear ranged from athletic jerseys with nylon shorts to shredded acid-washed jeans and Timberland boots, all topped off with Kid 'n Play-like fades. The "Poison" boys sported evening wear that leaned toward triple-thick shoulder pads on suits with matching turtlenecks and pocket squares.
Sound:
BBD spearheaded a move to hip-hop, inflected with R&B and pop loops. The lyrical hook from the group's No. 1 hit "Poison" ("It's drivin' me out of my mind! ... Can't get it out of my head!) is true for most listeners of the song, as a high-key DeVoe whines his way over a kicky drum beat.
(Lori Shepler / Los Angeles Times)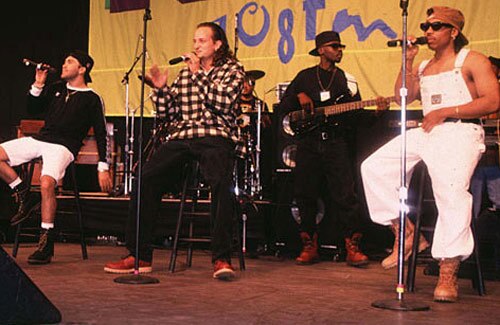 Color Me Badd
Look:
There was actually a time when people who wore overalls with no shirts underneath were not questioned for mental instability. In fact, back when Color Me Badd reigned supreme, such people were considered cool.
Sound:
Tick tock ya don't stop. This all-male a capella group from Oklahoma City just loved to hit the high notes. And if you haven't yet heard Color Me Badd's signature hit, "I Wanna Sexx You Up," don't start now.
(WireImage)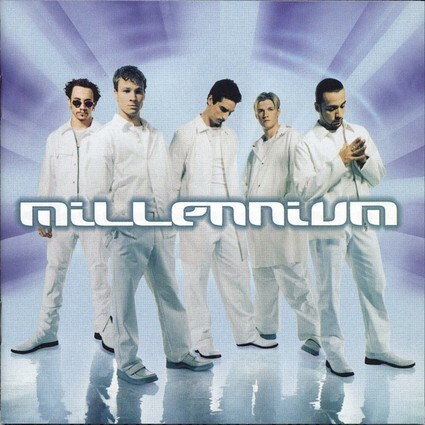 Backstreet Boys
Look:
Late-'90s all the way. Spiked hair, goatees and all-white suits were the epitome of cool.
Sound:
This is over-the-top pop, the kind of glossy snyth beats and gigantic harmonies that make junior high girls scream.
()
'N Sync
Look:
'N Sync provided the soundtrack to an age when frosted tips, paint-splattered clothing and wallet chains reigned supreme. They dressed accordingly.
Sound:
Through the course of three proper albums, 'N Sync became one of the biggest bands on the planet, thanks to spunky club numbers like "Bye Bye Bye" and finger-picked tearjerkers like "Gone." By the time 'N Sync released "Celebrity" in 2001, the act was copping more from hip-hop, and setting the stage for Justin Timberlake's solo career.
(Al Seib / Los Angeles Times)
Westlife
Look:
One of the prettiest foursomes in the boy band biz, Westlife opted for sleek, sophisticated suits over anything artfully torn or splattered.
Sound:
Championed by Simon Cowell and inspired by the Backstreet Boys that came before them, Irish sensation Westlife was a ballad-heavy boy band. They made waves with a cover of Barry Manilow's "Mandy."
(Gareth Cattermole / Getty Images)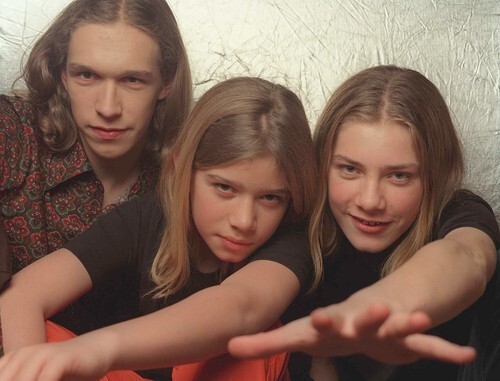 Hanson
Look:
This is one boy band you can take home to mother. The boys of Hanson were best known for baby faces, framed by long, beach-blond locks. As for clothes, the Hanson brothers kept it simple in T-shirts, jeans and the occasional necklace.
Sound:
Blasting onto the pop scene in the mid-'90s with "MMMbop," a song that arrived like a burst of sunshine on the fading grunge era, the Hanson brothers were all harmonies and easy-to-strum guitar notes. Like it or not, the teeny-poppers set the stage for a pop landscape that would soon be bombarded with the likes of Britney, Christina and 'N Sync, but Hanson was echoing a simpler, more wholesome time.
(Joe Pugliese)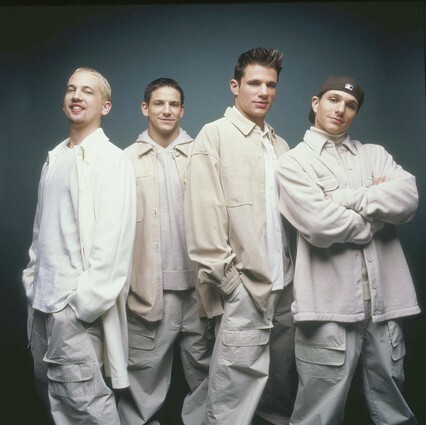 98 Degrees
Look:
Their garments were crisp, oversized and always matching. White, beige and pale gray were the palette, and frosted tips fit in perfectly.
Sound:
If the music of 'N Sync was fit for clubs and prom themes, Nick Lachey's 98 Degrees was responsible for the kind of light, effortless pop tunes that were built largely for romancin' — or the dentist office, depending on your tolerance for the act.
(Fox)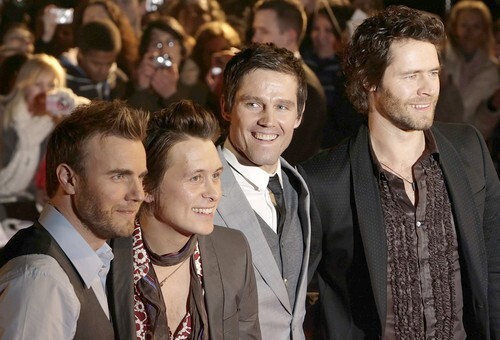 Take That
Look:
These guys were a welcome departure from their overly manicured boy band predecessors, opting for five o'clock shadows in lieu of artfully shaven facial hair.
Sound:
Advertised as the most successful British band since the Beatles, Take That birthed the career of Robbie Williams and built soundtracks fit for a junior high dance — a hearty dose of peppy pop numbers mixed with slow-dance ballads.
(Leon Neal / AFP / Getty Images)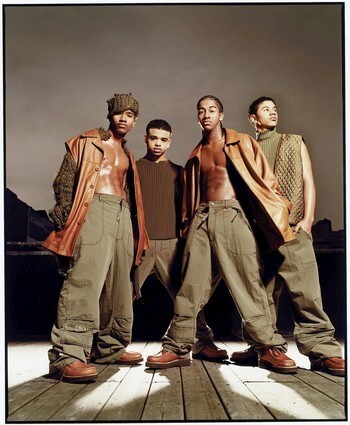 B2K
Look:
B2K's style was experimental and they shifted effortlessly between fluorescent orange threads and muted earth tones. The one common factor in all of B2K's garments, however, was their prominently displayed abdominal muscles.
Sound:
It was Bell Biv DeVoe 2.O, but it wasn't just a swinging urban dance sound B2K was pulling from. Check single "Bump, Bump, Bump," in which the act, with a little help from P. Diddy, came of age as a PG version of R. Kelly.
(Sony Records)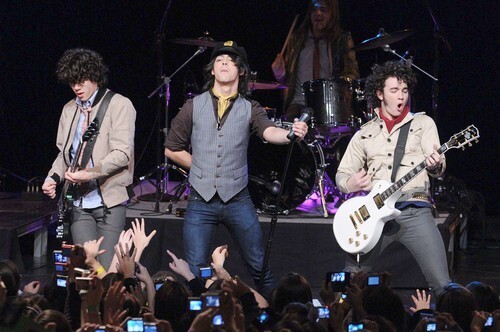 Jonas Brothers
Look:
Safely tousled, and very of the moment. Think longish messy hair, funky sunglasses, striped sweaters, and of course, vintage-inspired suits.
Sound:
We don't actually know what they sound like. It's hard to hear them over all the screaming prepubescent girls.
(Bryan Bedder / Getty Images)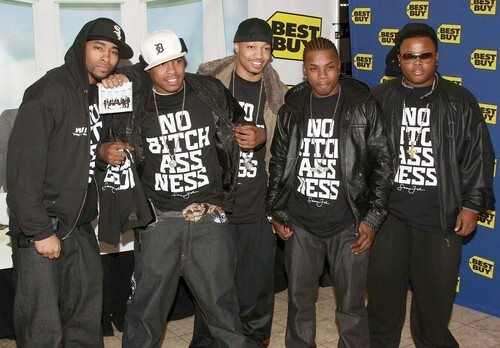 Day26
Look:
All Sean John, all the time. Well, what do you expect? They
are
Diddy's band.
Sound:
It's 'N Sync updated with a bit of P. Diddy flash. Day26 brings dance floor-ready R&B, the all-male accessory to "Making the Band" peers Danity Kane.
(Will Ragozzino / Getty Images)