6 Images
New face of cable
Created by the Emmy nominated writer Vince Gilligan ("The X-Files"), "Breaking Bad" stars Emmy-nominated actor Bryan Cranston ("Malcolm in the Middle") as Walter White, a chemistry teacher who becomes a manufacturer of crystal meth.
(Doug Hyuni / AMC)
"The Real Hustle,"a truTV series that premieres Jan 22, 2008 at 10 p.m., gives viewers first-person access into how an elite team of con experts can steal a person's money, possessions and even your identity. The show stars Apollo Robins, an expert pick-pocket and personal security consultant; Ryan Oakes, a sleight-of-hand and psychology specialist; and Diani Marco, a profesionally trained actress skilled in distraction techniques.
(truTV)
On Jan. 1, "Ocean Force" will launch a series on the lifeguards of Huntington Beach.
(truTV)
Maggie's (center, Nikki Blonsky) friend Chelsea (R, Lilly Hollemon) tries to warn her about the cruel prank some of their classmates are planning in the Lifetime original movie "Queen Sized."
(Lifetime Television)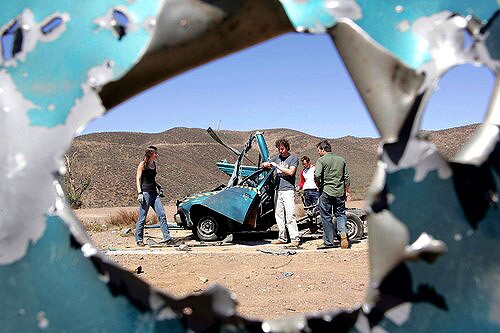 Though the Discovery Channel is attracting more male viewers, it is moving away from boy-toy shows like "American Chopper" and toward new series like "Smash Lab," featuring experiments that destroy equipment to explore new improvements.
(Stefano Paltera / Discovery Channel)
The new spots for FX announcing its tag line "There is no box," will tell you what it is not. "Nip/Tuck" for instance isn't about miracle cures, "Rescue Me," isn't about heroes, "Damages" (pictured, bottom) isn't about law, or order, and "Dirt" (pictured, top) isn't about perfect men or good girls.
(FX)