23 Images
Clooney through the decades
lat-cloonintro-jymmrnnc20080402162127
By Susan King, Whitney Friedlander and Robert W. Welkos, Los Angeles Times Staff Writers
George Clooney is a good, old-fashioned movie star. One of Hollywood's major movers and shakers -- and let's not forget his two People magazine "sexiest man alive" honors and the supporting actor Oscar for "Syriana" -- he has that undefinable "star quality" on the big screen. In fact, he's often compared to Clark Gable -- minus Gable's big ears and mustache.
And Clooney has embraced the past in his movies. Just look at the films he's directed -- his debut, "Confessions of a Dangerous Mind," spanned the 1950s through the early '80s. "Good Night, and Good Luck" explored the Communist witch hunts of the 1950s. And his latest film, "Leatherheads," which opens Friday, is a screwball football comedy set in the Roaring Twenties.
Here's a look at Clooney -- a man for all decades:
(Kevin Winter / Getty Images)
<b>'E/R,' 'Roseanne' and 'The Facts of Life'</b>
Clooney got his first break on TV at the age of 23 in the CBS comedy "E/R." And for the rest of the decade and into the early 1990s, he was a staple on the small screen. With his mullet hair and pierced ear, Clooney of the 1980s looks a lot different than he does now. Check out some of his earliest work as the carpenter on "The Facts of Life" and as the womanizing boss on "Roseanne."
(Handout)
<b>'ER' (1994-2000)</b>
Clooney went from a veteran of several failed series to a heartthrob and superstar in 1994 when he was cast as the womanizing pediatrician Dr. Doug Ross on the long-running NBC medical series. Even when the feature film world came calling, Clooney opted not to leave the series until his five-year contract had expired.
(Richard Cartwright / NBC)
<b>'Batman & Robin' (1997)</b>
"ER" led to movies like "From Dusk Till Dawn," "One Fine Day" and "Batman & Robin" -- the fourth before the recent Christopher Nolan reboot of the franchise. At the time, some critics felt he was physically the best Batman but a 2010 Empire magazine poll
voted
the movie the "worst film of all time."
(Robert Isenberg / Warner Bros.)
<b>South Park (1997)</b>
Matt Stone and Trey Parker knew George was a South Park addict, so they threw him a bone and hired him to voice a gay dog named Sparky. It wasn't even a speaking role -- George just made dog noises! But even barking on command (or appearing in the show's movie!) could not immunize Clooney from the wrath of "South Park"; he was mocked by Parker and Stone in "Team America: World Police." They took aim at him again in an episode about storms created by excessive smugness.
(Melinda Sue Gordon / Paramount Pictures)
<b>'The Thin Red Line' (1998)</b>
Clooney fights World II on the Pacific front in Terrence Malick's acclaimed adaptation of James Jones' novel which focuses on the U.S. armed forces fighting during the bloody Battle of Guadalcanal. In the all-star ensemble film, Clooney makes a short but forceful presence as Company C's new commander.
()
<b>'Three Kings' (1999)</b>
Clooney hit his stride in this David O. Russell film. Set during the immediate aftermath of the Persian Gulf War, Clooney played an American soldier who sets out with his buddies to steal a cache of gold hidden at a desert base. The film costarred Mark Wahlberg and Ice Cube. It fell short of blockbuster status, however, grossing only $60.6 million in North America.
(Murray Close / Warner Bros.)
<b>'The Perfect Storm' (2000) </b>
Clooney played the captain of a swordfishing boat in this effects-laden thriller from director Wolfgang Petersen. The film grossed $182.6 million domestically, proving that Clooney, when paired with an action director, can deliver the goods.
(Claudette Barius / Warner Bros.)
<b>'O Brother, Where Art Thou?' (2000)</b>
Clooney ventures into the 1930s -- make that Mississippi 1937 -- in Joel and Ethan Coens' quirky comedy, which is very, very loosely based on Homer's "Odyssey." Clooney won the Golden Globe for best actor in a comedy or musical for his outlandish, no-holds-barred turn as the fast-talking pomade-wearing con man Ulysses Everett McGill. He and his two buddies (John Turturro and Tim Blake Nelson) escape from a chain gang to retrieve a cool million that Everett says he buried before he went to prison for practicing law without a license. But the real reason he has escaped is to prevent his wife (Holly Hunter) from taking their kids and running off with another man.
(Melinda Sue Gordon / Universal)
<b>'Fail-Safe' (2001)</b>
Clooney loves the Golden Age of live television in the 1950s, when several anthology series such as "Playhouse 90" and "Climax!" offered the best and brightest in drama. While doing "ER," Clooney even convinced the producers to do a live episode of the NBC medical series. And in 2000, Clooney returned to TV to do a live, black-and-white version of the Cold War thriller "Fail-Safe," based on the 1964 film directed by Sidney Lumet and the 1962 novel by Eugene Burdick and Harvey Wheeler. Directed by Stephen Frears, the chiller featured a strong ensemble cast, including Clooney, Richard Dreyfuss and Noah Wyle.
(Tony Esparza / CBS)
<b>'Ocean's 11' (2001)</b>
Clooney takes on the role of Danny Ocean, the role Frank Sinatra made famous in the 1960 original, in this caper flick also starring Brad Pitt and Matt Damon and directed by Soderbergh. Though it's set in contemporary Vegas, the whole film is actually a paean to the supercool Rat Pack original and the bygone days of Vegas glitz and glamour.
(Bob Marshak / Warner Bros.)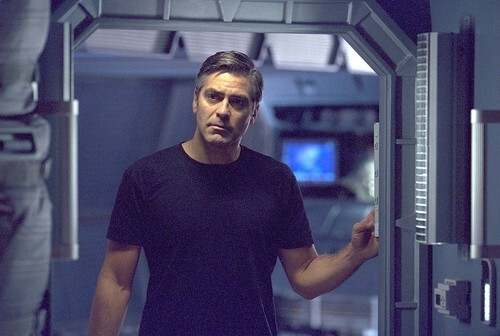 <b>'Solaris' (2002)</b>
It wasn't "Alien" and certainly wasn't "Star Wars." In fact, one critic said it was like taking Nembutol. But give Clooney credit for his intensity. The Steven Soderbergh-directed film grossed just $15 million. So, if Clooney is such a hunk, where were the female fans? Chalk it up to space dust, we guess.
(Bob Marshak / Twentieth Century Fox)
<b>'Confessions of a Dangerous Mind' (2002)</b>
Clooney made his feature directorial debut with his wacky comedy based on the "unauthorized autobiography" of "The Gong Show" host and creator, Chuck Barris (Sam Rockwell), who claims he was a hit man for the CIA during the 1960s and 1970s. Clooney's father, Nick, hosted the 1974-75 ABC game show "The Money Maze." With his attention to period detail, it's obvious Clooney loves this time in American pop culture. Clooney plays Jim Byrd, the CIA operative who recruits Barris.
(Takashi Seida)
<b>'Intolerable Cruelty' (2003)</b>
This Coen brothers film, a battle-of-the-sexes farce that starred the all-too-gorgeous duo of Clooney as a womanizing divorce lawyer and Catherine Zeta-Jones as a revenge-minded gold digger, simply didn't click with audiences. The box office tally: $35.3 million. Proving that even Cary Grant could star in some clunkers.
(Melinda Sue Gordon / Universal Studios)
<b>'Syriana' (2005)</b>
He won best supporting actor for his role as a CIA agent in this politically charged thriller. The Stephen Gaghan-directed film grossed $50.8 million domestically. Could Clooney be blamed for its lackluster box office performance? Not really. Everyone knows American audiences often avoid films that dabble in politics -- and this one also had a plot that was difficult to follow.
(Glen Wilson / Warner Bros.)
<b>'Good Night, and Good Luck' (2005)</b>
Clooney visits the 1950s with the multi-Oscar-nominated black-and-white drama he directed, co-wrote and appears in. Always the political animal, Clooney explores the conflict during this politically charged era between famed CBS journalist Edward R. Murrow and the infamous Communist witch hunter Sen. Joseph McCarthy of Wisconsin. Clooney takes a supporting role as Fred Friendly, the co-producer of Murrow's program "See It Now," who supports Murrow's battles with McCarthy despite pressure from CBS and advertisers. Clooney said of the film, "I thought it was a good time to raise the idea of using fear to stifle political debate."
(Melinda Sue Gordon / Warner Independdent Pictures)
<b>'The Good German' (2006)</b>
Clooney travels to post-World War II Berlin in Steven Soderbergh's atmospheric but convoluted tribute to 1940s black-and-white film noir. He plays Capt. Jacob "Jake" Geismer, an American war correspondent in the German city during the Potsdam negotiations. He certainly looks good in a trench coat, but the film is an experiment gone awry.
(Melinda Sue Gordon / Warner Bros.)
<b>'Michael Clayton' (2007)</b>
Clooney earned his first lead actor Oscar nomination for playing a "fixer" with a gambling problem at a high-powered New York law firm in Tony Gilroy's engrossing, suspenseful thriller. Even though the film is set in contemporary times, "Michael Clayton" has its roots in such classic 1970s political thrillers such as "The Parallax View," "Three Days of the Condor" and "All the President's Men." And with "Clayton," Clooney became the modern-day Robert Redford, Warren Beatty and Paul Newman.
(Myles Aronowitz / Warner Bros. Pictures)
<b>'Leatherheads' (2008)</b>
Clooney starred in and directed this lighthearted romantic comedy set in Minnesota in 1925 during the earliest days of pro football, when the only rule was no rule at all. Clooney played an aging football hero with the Duluth Bulldogs who finds himself in competition with football's shining star and a World War I hero (John Krasinski). The target of their desire? A snappy-pattered reporter played by Renée Zellweger. The role fit Clooney like a comfortable rumpled suit. Not only did he look great in 1920s togs -- especially that very cool leather jacket -- the slapstick high jinks and romantic wordplay with Zellweger recalled the comedic timing of Clark Gable, Cary Grant and even William Powell.
(Melinda Sue Gordon / Universal Pictures)
<b>'Fantastic Mr. Fox' (2009)</b>
Why you sly fox ... Clooney became an animated fox essentially dressed as writer-director
Wes Anderson
in the cartoon version of
Roald Dahl
's classic children's story about a fantastic fox who can't fight his natural desire to cause mischief.
(Fox Searchlight Pictures)
<b>'Up in the Air' (2009)</b>
Rather timely as it was filmed and came out during the most recent recession, Clooney stared as Ryan Bingham -- an independent-minded bachelor who would rather fly around the country firing people than open his heart to someone and settle down. Based on Walter Kirn's 2001 novel, the film was adapted for the screen by
Jason Reitman
and Sheldon Turner, with Reitman also directing. It earned Clooney his second lead actor Oscar and
Golden Globe
nominations.
(Dale Robinette / Paramount Pictures)
<b>George Clooney: Humanitarian</b>
It's been several years since Clooney's been a TV series regular, but that doesn't mean he's forgotten the small screen. In recent years, Clooney's shown he's more than just a pretty face and has organized Hollywood to raise funds for various world causes. He's held TV telethons to help with disaster relief after the
Haiti earthquake
, South Asian tsunami and the Sept. 11 terrorist attacks. He's also worked with Darfur refugees and donated to Hurricane Katrina relief. In appreciation of his efforts, the Television Academy awarded him the
Bob Hope
Humanitarian Award at the 2010 Emmy awards.
(Mark Boster / Los Angeles Times)
<b>'The American' (2010)</b>
Clooney plays an assassin hiding in Italy in what The Times' film critic Kenneth Turan describes: "An exercise in style and withheld sentiment, a bleak and atmospheric art house thriller that's more of an aesthetic experience than an emotional one. If
Robert Bresson
, the austere French minimalist, had directed a James Bond film, it might have turned out like this."
(Giles Keyte / Focus Features)