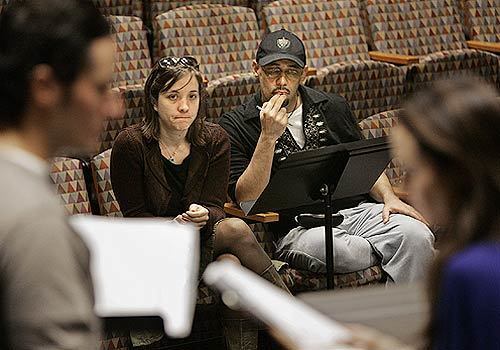 21 Images
FROM THE PAGE TO THE STAGE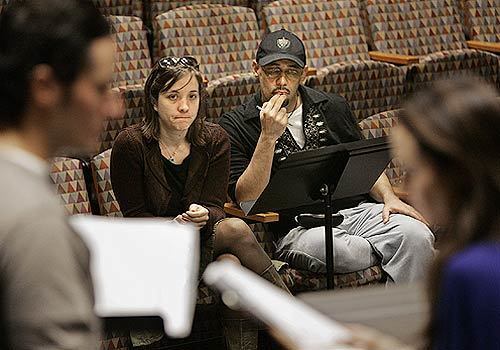 Director Kate Whoriskey, left, and playwright Nilo Cruz have front-row seats for an in-house preliminary workshop for "Life Is a Dream" at South Coast Repertory. Cruz, who won the 2003 Pulitzer Prize for drama for "Anna in the Tropics," is providing a fresh translation of the nearly 400-year-old dark romance by Spanish playwright Pedro Calderón de la Barca.
(Don Bartletti / LAT)
During the November workshop in a small studio theater, specially brought-in actors take a "test drive" of Cruz's translation—to see how it sounds and to give the director ideas for how the action should look. The final cast for the show would not be determined until later.
(Don Bartletti / LAT)
Getting Cruz on board was an easy sell. The Cuban-born playwright saw a traditional student production of "Life Is a Dream" while attending Miami Dade College, and translating it had been on his to-do list. Although seldom performed in the United States, the play is an enduring classic of the Spanish theater and has been translated or adapted by three other leading contemporary Latino playwrights: Maria Irene Fornes, Jose Rivera and Octavio Solis.
(Don Bartletti / LAT)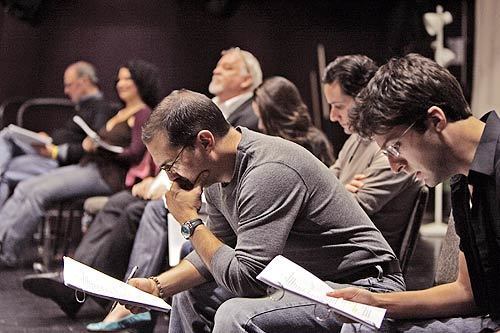 Actors at the workshop check their scripts. This group of eight was hired specifically for the workshop; only Richard Doyle, far left, a regular performer at South Coast Repertory for more than 40 years, is among the 15 actors in the actual production.
(Don Bartletti / LAT)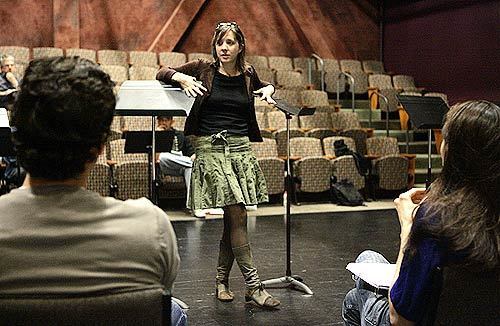 At the workshop, Whoriskey sets the scene for the actors before a reading. The New York-based freelance director works frequently at South Coast Repertory, as well as at other theaters around the country. She's known for bringing a visual flair to classic plays while underscoring their parallels with current events. She chose "Life Is a Dream" partly because of parallels she sees between Calderon's drama and the Iraqi war.
(Don Bartletti / LAT)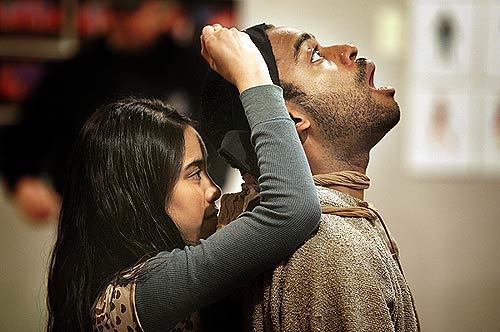 On the third day of rehearsals in mid-January, actor Daniel Breaker, playing Segismundo, a prince imprisoned since birth because of a prophecy that he will destroy his father's kingdom, rehearses a scene in which he is finally to be freed. Breaker sings much of his role, using music composed specifically for this production.
(Don Bartletti / LAT)
Choreographer Warren Adams demonstrates how he wants a potion to be administered to Breaker's Segismundo. One of Whoriskey's trademarks as a director is using ritualized or dance-like movement in ways not typically seen either in mainstream drama or in Broadway-style musicals.
(Don Bartletti / LAT)
Breaker is dragged across the floor of South Coast Repertory's main rehearsal studio. It's part of the trial-and-error experimentation to determine how the drugged and unconscious Segismundo should be removed from his remote mountain prison before getting his first taste of freedom in his father's court.
(Don Bartletti / LAT)
Cruz, right, and Whoriskey use a portable light on a scale model of the stage to get a sense of how the lighting might look. The orange mountains and planet-like orb are miniatures of actual set pieces.
(Don Bartletti / LAT)
Scenic artist Tabatha Daly works onstage at South Coast Repertory, painting what will become the plywood sides of mountains for "Life Is a Dream." The four mountains were conceived by scenic designer Walt Spangler.
(Don Bartletti / LAT)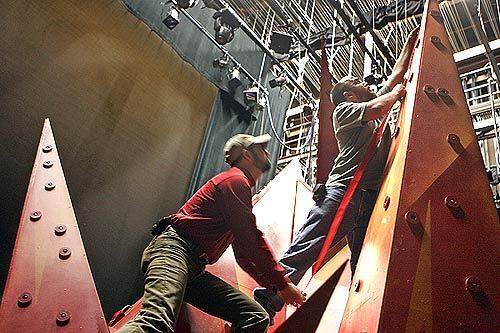 After the paint is dry, carpenters assemble the sections into mountain set pieces. The tallest is 24 feet high, and they rotate automatically so they can be redeployed as wall-like enclosures for scenes set at the royal court. Actors will clamber about the mountains – hence the attached discs, which serve as hand- and footholds.
(Don Bartletti / LAT)
Material samples accompany an artist's rendering of a dress to be worn by Estrella, a noblewoman in the play. Ilona Somogyi's costume design is inspired by a variety of periods and styles; in one scene, courtiers appear in 1960s go-go dancer outfits, and some of the king's soldiers wear "Buck Rogers"-like space-trooper suits and helmets.
(Don Bartletti / LAT)
Jennifer Chu, left, as Estrella, chats with other actors during a break in a dress rehearsal.
(Don Bartletti / LAT)
Pattern-maker Carol Cooley, in the costume shop at South Coast Repertory, assembles a soldier's armor. It includes this vest modified from protective gear used by extreme-sports BMX bicyclists.
(Don Bartletti / LAT)
Choreographer Adams and director Whoriskey work out how Segismundo should move onto a gurney just before he is given the potion that will knock him out, setting him up to later conclude that he never left his prison, and that everything he experienced at court was just a dream.
(Don Bartletti / LAT)
Adams, Whoriskey and fellow actors look on as Breaker, wearing a dreadlocks hairpiece as part of his costume, tests the gurney before a dress rehearsal of his drugging scene.
(Don Bartletti / LAT)
Strapped to a gurney, Breaker gets in character as the drugged Segismundo.
(Don Bartletti / LAT)
Adams stands downstage, supervising Segismundo's ordeal during a rehearsal of "Life Is a Dream."
(Don Bartletti / LAT)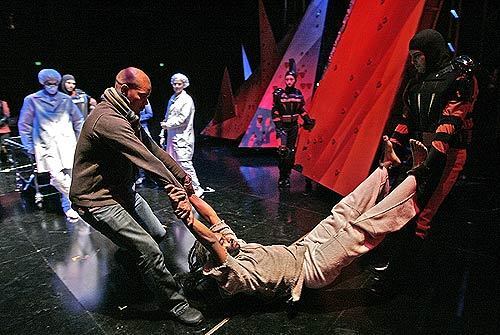 Adams gives instructions on how Breaker should be handled after his character has been rendered unconscious.
(Don Bartletti / LAT)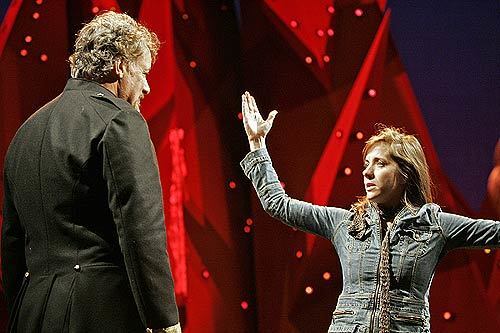 Whoriskey shows actor John de Lancie an idea for a stage gesture. De Lancie, whom fans of "Star Trek: The Next Generation" know as Capt. Picard's nemesis, Q, plays Segismundo's father, King Basilio.
(Don Bartletti / LAT)
De Lancie, kneeling as Basilio, has a terrifying vision during a dress rehearsal for "Life Is a Dream." The backlit Breaker performs a shadow play behind him.
(Don Bartletti / LAT)